What Is Indexcoop.com (INDEX)?
Indexcoop.com is described to be a community-led decentralized organization focused on enabling the creation and adoption of crypto index products. To achieve this, Index aims to collaborate with the world's best index experts and brands to launch/maintain desirable indices, govern critical system parameters with growth in mind and embed its products into as many distribution channels as possible.
It also aims to collaborate with the growing DeFi community of enthusiasts to generate widespread awareness of its mission and products. The INDEX Governance Token is an ERC20 token used for maintaining and upgrading the Index protocol. Maintenance and upgrades to the protocol will initially be done via a multisig, but will eventually be moved to a complete on-chain voting scheme.
Indexcoop.com Facts
Price
The live Index Cooperative price today is $32.25 USD with a 24-hour trading volume of $559,385 USD. Index Cooperative is up 32.74% in the last 24 hours. The current CoinMarketCap ranking is #2801, with a live market cap of not available. The circulating supply is not available and a max. supply of 10,000,000 INDEX coins.
What is the Index Coop?
The Index Coop is a collective aimed at creating and maintaining the best crypto indices on the market. The coop creates crypto ETPs (exchange traded products) that help users get broad exposure to different sectors or themes across crypto. As the first flagship product, Index has created the DeFi Pulse Index that provides broad DeFi exposure for its users by holding one token.
Token Characteristics
INDEX is an ERC-20 token deployed on the Ethereum blockchain. It has a capped maximum supply of 10,000,000 tokens. INDEX is used to vote in changes to the Index Coop including but not limited to:
Smart contract upgrades to the Index Coop
How to allocate the Index Coop treasury
Add new Index Coop products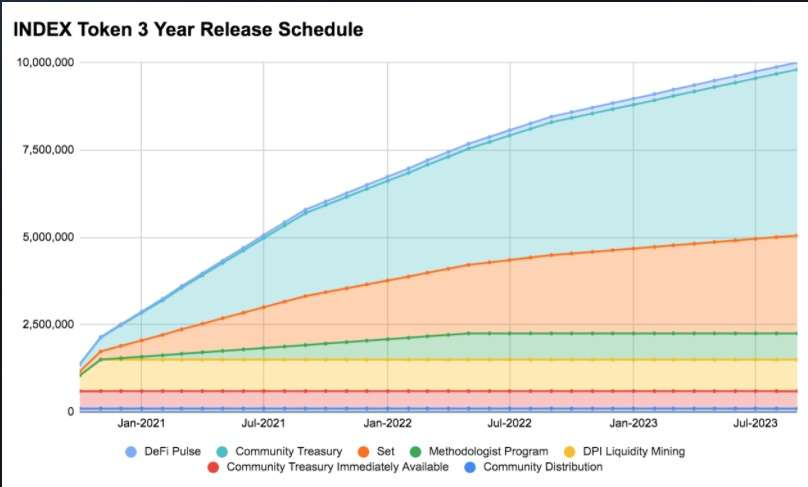 Token Distribution Breakdown
1% allocated to historical DPI holders
7.5% allocated to the Index Methodologist program over a period of 18 months, beginning 60 days after Index Coop launch
9% allocated to a 60 day liquidity mining program for the DeFi Pulse Index Set
52.5% community treasury (with 5% available immediately and 47.5% vested over 3 years)
28% allocated to Set Labs Inc
2% allocated to DeFi Pulse
What is the Index Coop?
Diversified Risk Products
Index Coop creates and maintains the world's best crypto index products. All index products are always fully collateralized.
Decentralized & Autonomous
Index Coop is a Decentralized and Autonomous Asset Manager governed, maintained, and upgraded by INDEX token holders.
Built with DeFi Leaders
The products are built on Set Protocol's battle-tested V2 infrastructure. Product methodologies are sourced from industry experts like DeFi Pulse.
Integrated Products & Tools
Index Coop
Earn INDEX tokens by staking Uniswap ETH/DPI LP tokens.
Alpha Homora
Earn leveraged yield in the ETH/DPI Pool by Alpha Homora.
Moonswap
Earn yield by providing liquidity to the ETH/DPI Pool by Moonswap.
Zerion
Track your portfolio performance and buy DeFi Pulse Index in the Zerion app for Desktop, Android & iOS.
Argent
Buy & Sell the DeFi Pulse Index natively in the Argent wallet app for Android & iOS.
Dharma
Get exposure to DeFi Pulse Index with this easy to use crypto wallet for Android & iOS.
Opyn
Earn premiums or hedge your risk buying and selling Put & Call Options on the DeFi Pulse Index.
CREAM Finance
Lend your DPI for yield, or borrow DPI to hedge your DeFi exposure.
Nexus Mutual
Buy Smart Contract Cover for the Set Protocol V2 contracts used to power the DeFi Pulse Index.
Exchange
Uniswap
Trade DeFi Pulse Index and the Index Coop governance token on crypto's biggest DEX.
1inch
Trade the DeFi Pulse Index and Index Coop governance token on the 1inch DEX aggregator.
SushiSwap
Trade DeFi Pulse Index and the Index Coop governance token on one of crypto's leading DEXs.
Balancer
Trade the DeFi Pulse Index and the Index Coop governance token on multiple Balancer pools.
Prices & Analytics
Dune Analytics
View the dashboard tracking DPI distribution, DEX liquidity, total mint & redeem volume, and more.
DeFi Pulse
Track DeFi Pulse Index project rankings.
Coin Gecko
Compare DeFi Pulse Index with the wider crypto market.
CoinMarketCap
Compare DeFi Pulse Index with the wider crypto market.

Rewards
Monthly contributor rewards distributor
Note: Use a web3 wallet only, not a centralized exchange accountIf you have further questions, please ask on Discord.