About Cowrium.net
Cowrium.net is a multidimensional blockchain project that comprises of a number of advanced blockchain solutions/apps with the aim to make blockchain adaptability easier, affordable and profitable for small businesses & enterprises. The top applications on the Cowrium platform are: A multidimensional smart contract Cowrie – A mass-oriented crypto CowDEX – An highly secured decentralized Exchange Errand Boy.
Cowrium is a Multidimensional Decentralized Blockchain Platform created with the aim to encourage SMEs to use the advanced technologies for better growth and to enable people to use cryptocurrency as a method of payment for buying products and services.
A Global Decentralized blockchain Network, Smart contracts, Interoperability, Mining, Masternodes with AI Support for Crypto Stability that aim to bridge the Gap between Crypto & Fiat. A multidimensional smart contract. Cowrium.net is a blockchain project being developed to help Small and Medium Enterprise to easily adopt comprehensive blockchain solutions to better reach thousands of customers who conduct business through the SME industry..
Cowrie is the native cryptocurrency of Cowrium. The name was adopted from a marine mollusk which was used as money in ancient times. Besides the currency similarity, the process of extracting Cowrie is also known as mining, which also denotes the blockchain mining.
| ICO | DETAILS |
| --- | --- |
| Company Name | Cowrium.net |
| Token Symbol | CWR |
| Accepting | BTC, ETH, LTC, BCH, BNB, DASH, XRP, TRX, USDT, USD, NGN |
| Type | Utility |
| Start | Jan 1, 2020 (00:01AM UCT) |
| End | May 30, 2020 (11:59PM UCT) |
| Whitelist/KYC | None |
| Price | 1 CWR = 0.075 USD |
| Restricted areas | USA |
| Softcap | N/A |
| Language | English |
| Country | Nigeria |
| Website | Homepage |
The Cowrium Platform
Cowrium is a blockchain project being developed to help Small and Medium Enterprise to easily adopt comprehensive blockchain solutions to better reach thousands of customers who conduct business through the SME industry..
The Cowrie coin, which is the official cryptocurrency of the Cowrium platform, represents a digital currency that will effectively replace the physical money. The aim is to increase the adoption of blockchain technology through an easy-to-use platform.
Cowrium.net uses a 2-Hop network. In the first hop, miners identify blocks and record transactions on to the blockchain. The miner, of course, is rewarded with the new coin mined in return. The other hop consists of Masternodes that are hosted on virtual private servers (VPS). These are special servers that enable instant and private transactions, budgeting as well as decentralized governance.
Mining : 
The Cowrium.net blockchain combines in-browser mining with Mobile Mining as a support system for the CPU and GPU miners, allowing for Cowrium's hash rate to be truly decentralized, protected against 51% attacks and providing better profitability for web and mobile miners.
Masternodes : 
The Cowrium POS Masternodes is similar to Dash's, which provides to the network near-instant and secures payments as well as anonymous transactions. The Cowrium Blockchain allows CWR holders to earn fixed rewards through staking, in return for their help to secure the network.
Multicurrency Payment System – enabling Merchants and Consumers to make/receive payments in any Coin via dedicated mobile and web apps.
Smart Contract interaction between child chains – capability permits the interoperability of block chains through Cowrium and Private Masternodes.
Multicurrency ICO Platform – that gives ICOs the ability to accept payments in any Cryptocurrency of their choice.
Smart Contract Library – that implements the 2-hop – Proof of Work vs. Proof of Stake – protocol as compared to the traditional PoW (1-hop) for higher security and easier implementation.
InstantSend – The near-instant payments known as InstantSend technology, is designed to average at 0.5 secs per transaction compare to Dash 1.3 seconds.
PrivateSend – The technology mix your funds through the Masternodes network, making near-impossible to trace back the origin of the funds.
Enterprise Private Contracts which can be executed only by users willing to participate in the contract but can be verified publicly.
Intelligent Pooling System – effectively resolves the Mempool overload issue of traditional blockchains by prioritizing transactions to prevent delays.
Hyperblock technology – provides higher performance & scalability by regularly compressing transactions, thus reducing blockchain size and ensuring less RAM/ drive space requirements.
Support multiple cryptographic algorithms, signing & address via Polysig – Providing protection against quantum attacks .
Atomic Swap – a smart contract feature enabled in the Cowrium wallet of users that allows exchange between different cryptocurrencies (coins) without a third-party.
Recurring & Scheduled Payments a feature that enables users to schedule recurring or subscription payments via their wallets.
Referral Rewards Program – Enable customers and merchants to earn more by referring others to join the platform.
Merchants Loyalty Program – Allow Merchants through their website/app to give back to Users, rewards in the form of Mined CWR coins.
Cowrium Roadmap
Q1 – 2020
PRE-ICO | Prototype Release | Wallet Launch.
Q2 -2020
New Website | CPU/GPU Mining | Masternodes | IEO / Major Exchange Listing.
Q3 – 2020
POS Launch | Payment Gateway Plugins.
Q4 – 2020
Decentralized Exchange Launch (CowDex) | Mobile Mining | Recurring Wallet Payments | ErrandBoy (BETA) Launch.
Q1 – 2021
Cowrium Summit | ErrandBoy Official Launch | Smart Contract / ICO Token Launch.
Q2 – 2021
Discussion with Financial Institution | Expansion on Scope of Work | Worldwide Promotion.
Q3 – 2021
Interoperability Solution Testnet | Partnership with Conventional Financial Institution | Investment in Acquisition of Conventional Financial Institution.
The Cowrium Masternode!
It provides much-needed security, speed, and anonymity to the digital payments and transactions processing through the Cowrium.net network. The staking system of the Cowrium blockchain will enable the existing CWR holders to earn a fixed, yearly income in the form of rewards, in exchange for their contribution to maintaining the security of the network. Apart from VPN based Masternodes, users can also engage in web and mobile based staking of CWR coins.
The Cowrium Blockchain Project
The Cowrium project consists of the following 5 entities:
A multidimensional smart contract
Cowrie – A mass-oriented cryptocurrency
CowDEX – An highly secured decentralized Exchange
ErrandBoy – A DAP that allows you to send crypto & receives in Fiat
Cowrie Stability AI – An artificial intelligence system that can predict the market and help suggest a foreseeable solution – while the buffer system helps stabilize Cowrie and protect it from market volatility.
Token Sale
The Crowdfunding Sale of Cowrie will be held in 5 phases, from Jan 1 to May 30. The coin price opens at 0.035USD (Phase 1) and closes at 0.0450USD (Phase 5).
The Cowrium Team
Cowrium is working with experts from all sectors of the industry who act as advisors for our project. Their opinions and guidance is helping us design a detailed product which will enhance every participant's experience on our platform.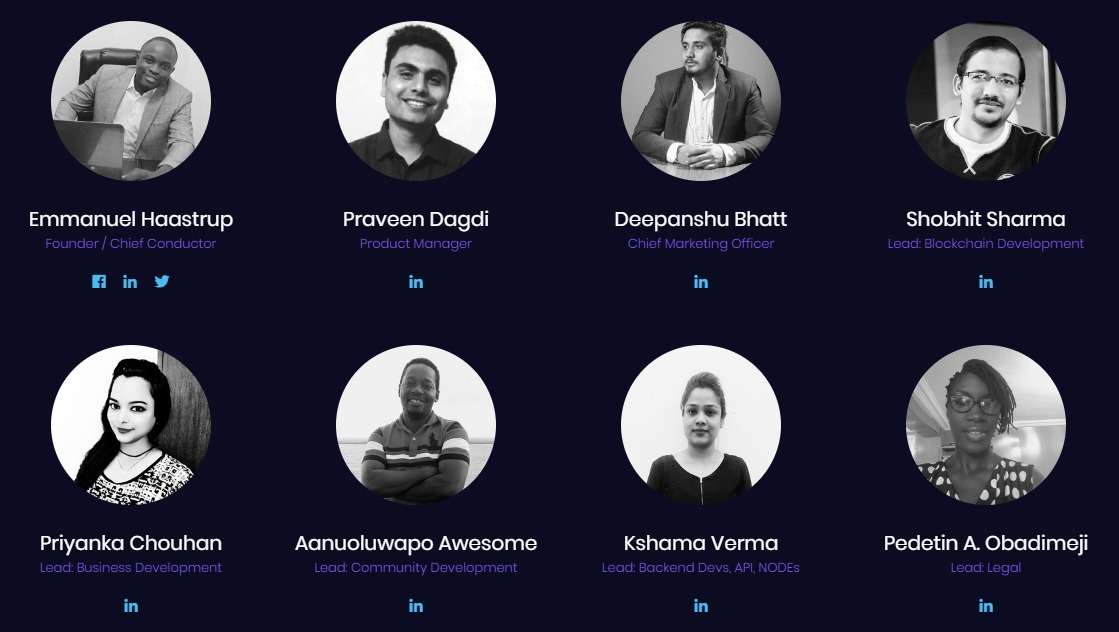 Cowrium Interconnected App
CowDex Decentralized Exchange
A dedicated, decentralized, highly-secure Cryptocurrency Exchange platform that utilizes Atomic Swaps for easy trading between multiple ICO tokens.
ErrandBoy Crypto to Fiat Direct Transfer
A money transfer app through which users can send money in any cryptocurrency, which is then converted to Fiat currency & sent to the recipient anywhere in the world.
Cowrie Stability AI – Artificial Intelligence against Volatility
The Cowrie Stability AI is an Independent but interconnected program that predicts the market, provides possible balance and protects Cowrie from Volatility.