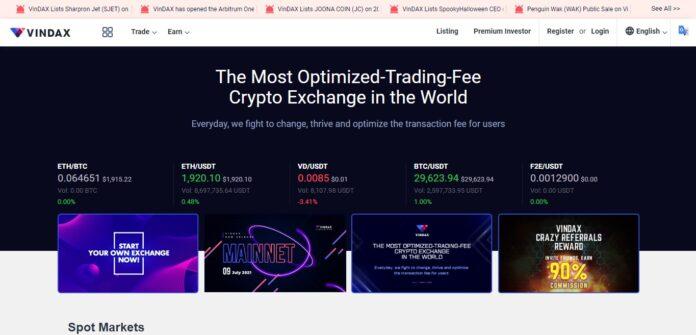 About VinDAX Exchange
Since Mar 2019, VinDAX Exchange has been live for cryptocurrency trading for global users The exchange focus on providing exchange services for digital cryptocurrency transactions with high security level, excellent efficiency and well-optimized trading fee.
Everyday, VinDAX takes their best efforts to change, thrive and optimize all exchange functions for users, serving more than 1.5 million users from almost countries and regions. This is the place where multi devices are supported: Desktop (Window, Mac), IOS, Android
They also introduce VD, a functional coin designed to facilitate simple, successful trades using user-friendly tools.
How To Sign Up & Start Trading
| Exchange | Details |
| --- | --- |
| Exchange Name | VinDAX Exchange |
| Exchange Type | Cryptocurrency |
| Withdraw Fee | 0.0005 BTC |
| Support | 24/7 |
| Langugae | English |
| Taker Fee | 0.10% |
| Maker Fee | 0.10% |
| Website | Homepage |
How To Sign Up & Start Trading
Invalid date
You Sign Up For A User Account By Providing Basic Information.
On Every Exchange You Will Get Option For Sign Up Or Create Account . Just Fill Some Basic Details Like Name , Email , Password , Security Question Etc For Registration . It Is First Step To Start Trading On Any Exchange
Invalid date
Invalid date
You Then Receive An E-mail In Your Mailbox To Activate Your Account.
Before You Can Login, You Must Active Your Account With The Code Sent To Your Email Address.Then You Will See A Message That Your Financial Account Is Activated And Ready To Go. This Means That You Can Log In And Start Trading In Cryptocurrency.
Invalid date
Invalid date
Identity Verification
For Successful Verification You Will Need Identity Documents. For Example, You Can Use A Driver's License Or Passport, Where The Name Is Duplicated In Latin Letters.Confirmation Of Identity On Exchange Is An Optional Step. The Procedure Must Be Completed Only If You Want To Remove The Restrictions Of Btc On Deposit Or Withdrawal Of Funds Per Day.

Invalid date
VinDAX Trading fees
This Vietnamese trading platform doesn't charge different fees between takers and makers. Their fee model is instead something called a "flat fee model". The flat fee offered here is quite low: 0.10%. 0.10% is substantially below the global industry average, which according to this report is 0.221% for takers and 0.177% for makers.
VinDAX Withdrawal fees
Many exchanges have competitive trading fees but then hit you on the way out with their withdrawal fees. VinDAX charges a withdrawal fee amounting to 0.0005 BTC when you withdraw BTC. This is almost 40% lower than the global industry average of 0.000812 BTC.
All in all, the fees at VinDAX are very competitive.
Deposit Methods
This trading platform does not accept any other deposit method than cryptocurrencies, so new crypto investors are actually restricted from trading here. If you don't have any crypto but want to start trading at this trading platform, you will first have to purchase cryptocurrencies from another exchange and then, as a second step, deposit them here. Don't worry though, we will help you find an exchange where you can purchase your first cryptos by the help of our Exchange Finder. Do the test there now and you will see what alternatives you have
VinDAX Exchange Features
Trading Pairs
VinDAX provides customers with access to a variety of trading pairs, including BTC, ETH, USDT, and others.
Security
Two-factor authentication (2FA) and cold storage of funds are just two of the security mechanisms VinDAX uses to protect its users' money.
User-friendly interface
Even for novice users, VinDAX provides a user-friendly layout that is simple to explore and comprehend.
Low fees
VinDAX is a popular option for traders because it has some of the lowest trading fees on the market.
Fast transactions
Fast and dependable transactions are made possible by VinDAX's high-performance trading engine.
Margin trading
Margin trading is a service provided by VinDAX that enables users to trade using leverage and boost their potential profits.
Staking
VinDAX allows users to stake a variety of cryptocurrencies to receive rewards on their holdings.
OTC trading
For high volume traders, VinDAX provides over-the-counter (OTC) trading facilities.
Support for API
VinDAX offers an API to developers so they may connect their trading bots or other programmes to the exchange.
Support for multiple languages
VinDAX has support for multiple languages, including English, Chinese, Korean, and more.
VinDAX Conclusion
In conclusion, VinDAX exchange is a well-known cryptocurrency exchange that gives users access to a variety of features, such as a large selection of trading pairs, security precautions, affordable fees, an intuitive user interface, quick transactions, margin trading, staking, OTC trading, API support, and multilingual support. For traders who wish to trade cryptocurrencies and take advantage of the many trading possibilities available, it is a trustworthy and effective platform. Users should take caution and do their homework before investing in any cryptocurrency, as with any exchange for cryptocurrencies.
VinDAX FAQ
What is VinDAX exchange?
VinDAX is a cryptocurrency exchange that offers users the ability to trade a wide variety of cryptocurrencies.
Is VinDAX exchange safe to use?
VinDAX prioritizes the security of its users' funds and employs a number of security measures, including two-factor authentication (2FA) and cold storage of funds. However, as with any cryptocurrency exchange, users should exercise caution and perform their due diligence before investing in any cryptocurrency.
What fees does VinDAX charge?
VinDAX has some of the lowest trading fees in the market, with a flat 0.1% fee on all trades.
Does VinDAX support margin trading?
Yes, VinDAX offers margin trading, which allows users to trade with leverage and increase their potential profits.
What cryptocurrencies does VinDAX support?
VinDAX supports a wide variety of cryptocurrencies, including BTC, ETH, USDT, and many others.
Does VinDAX offer staking?
Yes, VinDAX supports staking of various cryptocurrencies, which allows users to earn rewards on their holdings.