About Legends Coin
Legends Coin a stunning lands and discover catastrophic events that plunged land of legends into darkness and restore the land to its glory. Prior to launch of the game, $fwcl holders may choose to stake $fwcl to access the liquidity mining program (a type of 'yield farming' that has become popular with DeFi protocols where the founding teams seek to decentralize the governance of the protocol).
Once the game is launched, users can stake $fwcl as a signal of belief and support in the game and its governance model and receive access to governance and distributions from in-game fees. A greater the size of the legends community, the greater the prospects of decentralised governance as well as a self-regulating community that discourages bad actors and manipulation of governance and the game.
Legends Coin Point Table
Game
Game has been made for entertainment and obtaining income in legendary adventure which is rich in graphic, new technologies and excitement. Explore 11 stunning lands and discover catastrophic events that plunged land of legends into darkness and restore the land to its glory.
Legends, is an open-world exploratory, action, strategic, intellectual and enigmatic game and collector of NFT cards that has been built on binance chain and will be published on personal computers and Mac and mobile phones (ios and android) until 2025.
What exactly is NFT?
NFTs (non-fungible tokens) are unique cryptographic tokens that exist on a blockchain and cannot be replicated. NFTs can represent real-world items like artwork and real estate. "Tokenizing" these real-world tangible assets makes buying, selling, and trading them more efficient while reducing the probability of fraud.
Nft cards
over 500+ characters, discover and possess mortal persons who govern this holy land and each one has synthetic synergy and extraordinary abilities. Update your cards and change them to powerful evolutions so that promote their power and value for battle to the max level so you can form unbeatable team of legends.
Token
Anyone who holds legends governance token can influence the protocol's future direction. Having a larger number of tokens means more voting power when it comes time to vote on proposals. You can influence decisions on everything from how to spend the project's budget, to what features should be developed in the coming months. Legends Governance token is considered to be a key decision-making mechanism when it comes to Rules of the game.
What is legends Governance token?
Legends Governance token is given by developers to $fwcl holders for the purpose of making decisions that will dictate a protocol's future. Token holders have a say in decisions about new feature proposals and changes to the project's governance system. Legends Governance token is designed to provide holders with ownership in a fully decentralized protocol.
Why Choose Legends Coin?
Then the blockchain technology integrated game was discovered, and the NFT in the chain game was considered by people in the industry as the key to pry open the mysterious door of the meta universe. NFT can enter the meta universe world of virtual social networking through the chain game interface, and all NFTs may enter the meta universe and have dream-like linkage with the meta universe.
Facebook CEO Mark Zuckerberg once said that the description of meta "It is a reified internet, where you are not only browsing content, but in it." In the development of the meta universe, chain game is the perfect carrier to experience its concept and show the meta universe world in the way of game.
Where Can You Buy Legends Coin?
Tokens Can Be Purchased On Most Exchanges. One Choice To Trade Is On PancakeSwap (V2) As It Has The Highest FWCL/WBNB. e Trading Volume, $8,947 As Of February 2021. Next is OKEx, With A Trading Volume Of $6,180,82. Other option To Trade Include FWCL/WBNB And Huobi Global. Of Course, It Is Important To Note That Investing In Cryptocurrency Comes With A Risk, Just Like Any Other Investment Opportunity.
Market Screenshot

Legends Coin Supported Wallet
Several Browser And Mobile App Based Wallets Support Legends. Here Is Example Of Wallet Which Legends – Trust Wallet For Hardware Ledger Nano.
Team
Fwcl founder team plays an important role in planning , development and implementation of your vision regarding the products and services that provide . Fwcl team has a transparency, novelty and autonomy that supports variety among members and that enhances your development.
Roadmap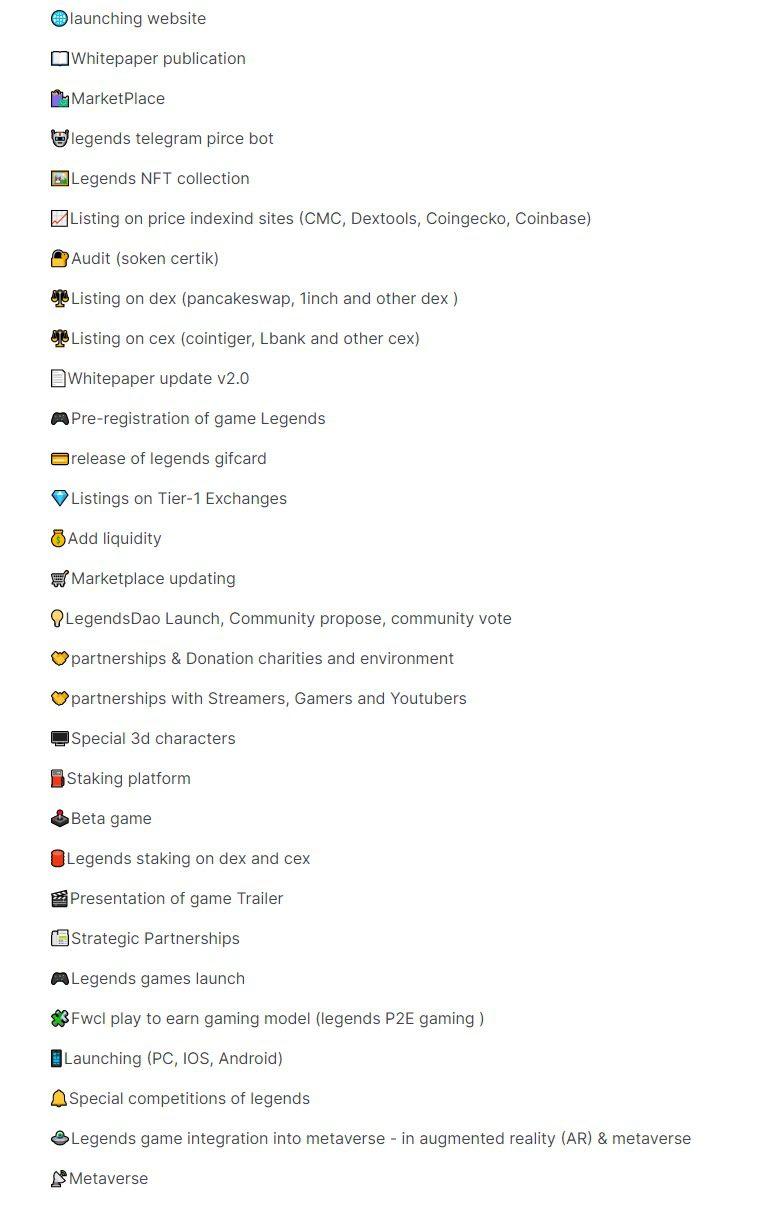 FAQ Of Legends Coin
Where I Can Find Legends Whitepaper?
You Can Find Legends Whitepaper By Clicking Here.
Where I Can Buy/Sell Balancer Token?
ou Can Buy or Sell Balancer Token On Some Popular Exchange For Example – PancakeSwap (V2).
What is Circulating Supply Of Balancer Token?
Circulating Supply Of Balancer Token Is 100,000.00 FWCL.