About Cannaland Token Coin
Cannaland Token Coin path to providing a truly immersive consumer experience starts with creating a Web 2 platform that incorporates the latest technology allowing consumers to engage in real time, learn, visualize and leverage the insight of fellow cannabis consumers providing a personalized shopping experience. This will also create immediate access to help test, learn, and
experience today prior to Web 3's full debut, and expand business verticals around it including
launch of your token utility and ecommerce platform.
CANNALAND will provide existing and new cannabis companies virtual access to leading service providers within banking, branding and marketing, legal and regulatory, distribution, logistics, and much more. The most powerful aspect of CANNALAND for cannabis enterprises will be the access to the largest cannabis community globally while providing a truly immersive shopping experience for residents that far exceeds any current retail experience.
Cannaland Token Coin Point Table
The Global Cannabis Industry
The global cannabis industry (high THC and low THC-CBD/Hemp) is witnessing tremendous growth throughout the globe. Perceptions and changes in legislation regarding medical and recreational use are paving the way for new product entrants and more outlets within the global marketplace. Consumer attitudes and usage is changing rapidly with 268M people having consumed cannabis at least once in 2020. Globally 70 countries have legalized some form of cannabis for medical use.
Sales of high THC cannabis through legal regulated markets totaled $24B in 2020 and is projected to grow to $51B by 2025 while sales of low THC (CBD/ Hemp) cannabis through legal regulated markets totaled $3B in 2020 and is projected to grow to $19.5B by 2025. Most notably, 94% of cannabis spend was in unregulated channels (Sources: New Frontiers & Fortune).
Challenges in Cannabis
Globally, in most countries cannabis (THC) is prohibited for recreational use and laws around the world vary in the areas of possession, distribution, cultivation, how it can be consumed, and what medical conditions it can be used to treat. In the US, because cannabis is still illegal under federal law there are many restrictions for marketing and branding cannabis.
Questions about the legality of cannabis in different states regarding usage, cultivation, and distribution create complexity for companies to establish brand identity both here in the US and globally.
The CANNALAND Proposition
CANNALAND's Unique Value Proposition focuses on building a global cannabis platform and community that eliminates geographic restrictions and boundaries associated with cannabis, and features an ecommerce and land acquisition component to anchor the platform in revenue producing assets. Cannaland will deliver a Unique B2B AND B2C consumer Metaverse experience that is quite simply "Out of This World."
While many other players in the Metaverse singularly focus their business models on the consumer experience, CANNALAND's unique point of difference is its community that has been designed to appeal to BOTH the consumer AND B2B brand and business owners who seek more reach, visibility, and consumer engagement for their brands, products or services through an immersive experience. Web 2 will act as the proving grounds to successfully launch CANNALAND.
Why Choose Cannaland Token Coin?
Web 2.0 Meets Web 3.0
Experience online entry to cutting edge, immersive technologies that enhance user experiences through an integrated ecosystem.
Retail Branding
Immerse yourself in virtual retail venues where companies and brands can showcase their products to consumers.
Virtual Land
Develop residential and commercial properties within virtual neighborhoods and commercial zoned areas unique to you and your business.
Entertainment
Enjoy interactive and immersive experiences that take the audience to a level that far surpasses its physical world counterpart.
Education
Learn from unique curriculums based on the top cannabis science and research from leading universities around the world.
Business Services
Benefit from a vast selection of business services including legal, marketing, finance, testing services, and agriculture.
Where Can You Buy Cannaland Token Coin?
Tokens Can Be Purchased On Most Exchanges. One Choice To Trade Is On Uniswap (V3), As It Has The Highest CNLT/USDC. e Trading Volume, $8,947 As Of February 2021. Next is OKEx, With A Trading Volume Of $6,180,82. Other option To Trade Include CNLT/USDC And Huobi Global. Of Course, It Is Important To Note That Investing In Cryptocurrency Comes With A Risk, Just Like Any Other Investment Opportunity.
Market Screenshot
Cannaland Token Coin Supported Wallet
Several Browser And Mobile App Based Wallets Support Cannaland Token Coin. Here Is Example Of Wallet Which Cannaland Token Coin – Trust Wallet For Hardware Ledger Nano.
Roadmap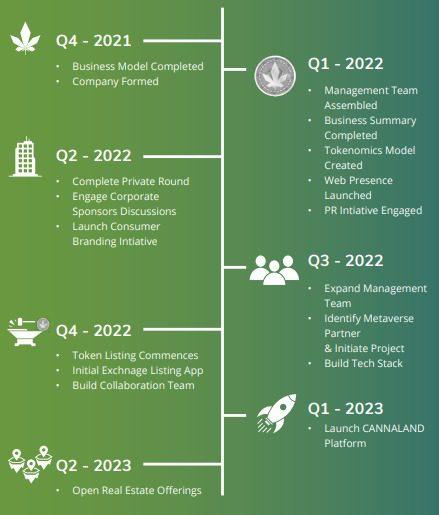 FAQ Of Cannaland Token Coin
here I Can Find Cannaland Token Coin Whitepaper?
You Can Find Cannaland Token Coin Whitepaper By Clicking Here.
Where I Can Buy/Sell Balancer Token?
You Can Buy or Sell Balancer Token On Some Popular Exchange For Example – Uniswap (V3).
What is Circulating Supply Of Balancer Token?
Circulating Supply Of Balancer Token Is 22,500,000 CNLT.