About YCLUB Coin
YCLUB Coin marketplace offers its members access to the exclusive world of Superyachts. Community members enjoy revenue share opportunities and member-only access in the Metaverse and IRL.The emergent NFT market suffers from a perceived division between digital and physical asset NFTs. YCLUB's proposed NFT strategy blurs these lines. Furthermore, YCLUB's real-world asset ownership NFTs will be so unique that ownership validation is part of the value proposition: real-world asset-backed NFTs, with real utility, representing real assets.
YCLUB Coin Point Table
YCLUB NFTs
As NFTs, or non-fungible tokens, rise in popularity, there is an opportunity to establish a fluid ecosystem that blurs the perceived divide between real-world and digital-asset NFTs. YCLUB offers high-value clients the opportunity to engage in YCLUB NFT investments and real-world Super Yacht Crowdfunded investments via an exclusive marketplace: the entrance to which is guaranteed by the ownership of scarce NFTs.
YCLUB offers its community a complete ecosystem that provides a primary marketplace for NFTs and a secondary marketplace for exchanging NFTs. The YCLUB NFT proposition bridges the community into the wider ecosystem, which includes two further components: YCLUB DeFi and YCLUB Metaverse.
YCLUB DeFi
As DeFi establishes itself as a robust alternative investment mechanism, customers seek sound investment opportunities. The YCLUB community is able to engage in DeFi investment opportunities to reap rewards in the native YCLUB coin: Superyacht Coin, or SYC. Such rewards will be readily available as Fiat currency, with a hard link between the YCLUB wallet and a debit card.
YCLUB Metaverse
YCLUB will provide its community members with access to an immersive Metaverse. Each Superyacht NFT collection will be launched into your Metaverse, starting with the launch of the Metaverse Superyacht Lana a 107m Benetti Yacht. This Metaverse will provide a rich user experience of the Superyacht NFTs and act as a hub for the community. The Metaverse not only acts as a social club to mesh the community together in the virtual – it also creates revenue streams.
The Metaverse supports an eCommerce marketplace and events mechanisms where users may spend, invest, trade NFTs, and be rewarded in Bitcoin, Ethereum, USDT, or the native coin SYC. The revenue generated within the Metaverse will be divided between the YCLUB community and the Superyacht owners.
Why Choose YCLUB Coin?
The interesting issue posed by NFTs, especially by pNFTs, is that they depend on a robust compliance chain to demonstrate proof of ownership (or proof of attendance). It is relatively easy to verify the ownership of dNFT assets and transfer them – just as you would transfer tokens between owners, thanks to their being held on distributed ledgers such as Ethereum.
However, due to the challenge of verifying pNFTs, secondary market places are generally not well placed to handle both dNFTs and pNFTs. OpenSea, the most popular NFT marketplace, for example, places full responsibility on the seller with regards to ensuring the legality of the transfer and coordinating with the buyer in order to ensure the sale proceeds as anticipated.
Where Can You Buy YCLUB Coin?
Tokens Can Be Purchased On Most Exchanges. One Choice To Trade Is On Uniswap (V2) As It Has The Highest SYC/WETH. e Trading Volume, $8,947 As Of February 2021. Next is OKEx, With A Trading Volume Of $6,180,82. Other option To Trade Include SYC/WETH And Huobi Global. Of Course, It Is Important To Note That Investing In Cryptocurrency Comes With A Risk, Just Like Any Other Investment Opportunity.
Market Screenshot

YCLUB Supported Wallet
Several Browser And Mobile App Based Wallets Support YCLUB. Here Is Example Of Wallet Which YCLUB – Trust Wallet For Hardware Ledger Nano.
Roadmap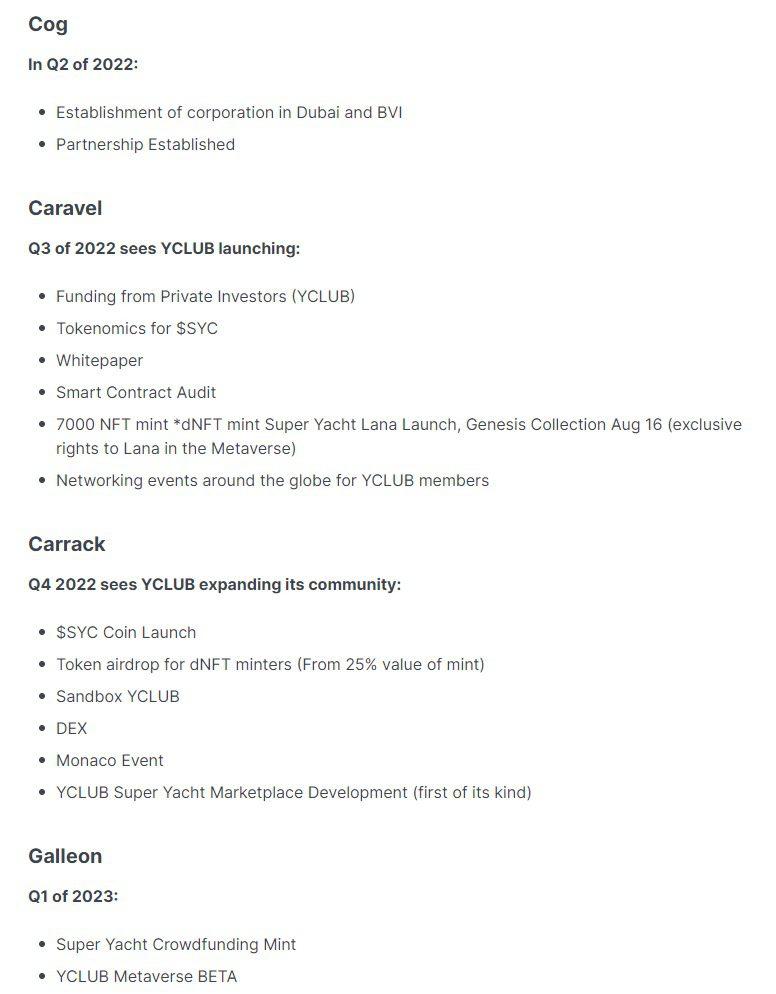 FAQ Of YCLUB
Where I Can Find YCLUB Whitepaper?
You Can Find YCLUB Whitepaper By Clicking Here.
Where I Can Buy/Sell Balancer Token?
You Can Buy or Sell Balancer Token On Some Popular Exchange For Example – Uniswap (V2).
What is Circulating Supply Of Balancer Token?
Circulating Supply Of Balancer Token Is N/A.