About UMA
UMA Project, or Universal Market Access, is a protocol for the creation of synthetic assets based on the Ethereum (ETH) blockchain. UMA was launched in December 2018.
Synthetic assets are a class of assets that represent different, underlying assets and have the same value. UMA specifically enables its users to design and create self-executing, self-enforcing financial contracts secured by economic incentives and run them on Ethereum's blockchain.
In essence, UMA allows counterparties to digitize and automate any real-world financial derivatives, such as futures, contracts for differences (CFDs) or total return swaps. It also enables the creation of self-fulfilling derivative contracts based on digital assets, like other cryptocurrencies.
UMA Project Facts
| Compound | Facts |
| --- | --- |
| Defi Coin Name | UMA Project |
| Short Name | UMA |
| Platform | Decentralized Finance |
| Ethereum Contract | 0x04Fa0d235C4abf4BcF4787aF4CF447DE572eF828 |
| Chat Option | Click Here To Visit UMA Chat |
| Circulating Supply | 55,643,758 UMA |
| Official Website | Click Here To Visit |
UMA's Mission?
UMA Project mission is to make financial markets universally accessible—unrestrained by censorship, pre-existing financial and social capital, or beliefs and values. The economic freedom created by universal market access creates equal opportunity to pursue prosperity and build financial independence .
What is UMA's Optimistic Oracle?
UMA Project, priceless contracts leverage an optimistic oracle known as the Data Verification Mechanism (DVM). The DVM provides the price of an asset at a requested timestamp only when network participants dispute the value of collateral backing a synthetic token. This differs from non-optimistic oracle solutions which constantly write prices on-chain to ensure contracts are properly collateralized. Minimizing oracle usage increases the security and scalability of decentralized financial contracts.
When a dispute occurs, the DVM aggregates price data submitted by UMA token holders. UMA token holders respond to price requests by referencing the asset's price off-chain and reporting the price to the DVM. This price is used as an input by the DVM to determine the final price of the asset. If the price returned by the DVM determines the disputer was correct, the disputer is rewarded with a penalty charged to the liquidator; conversely, if the disputer was incorrect, the disputer forfeits a bond to the liquidator.
Market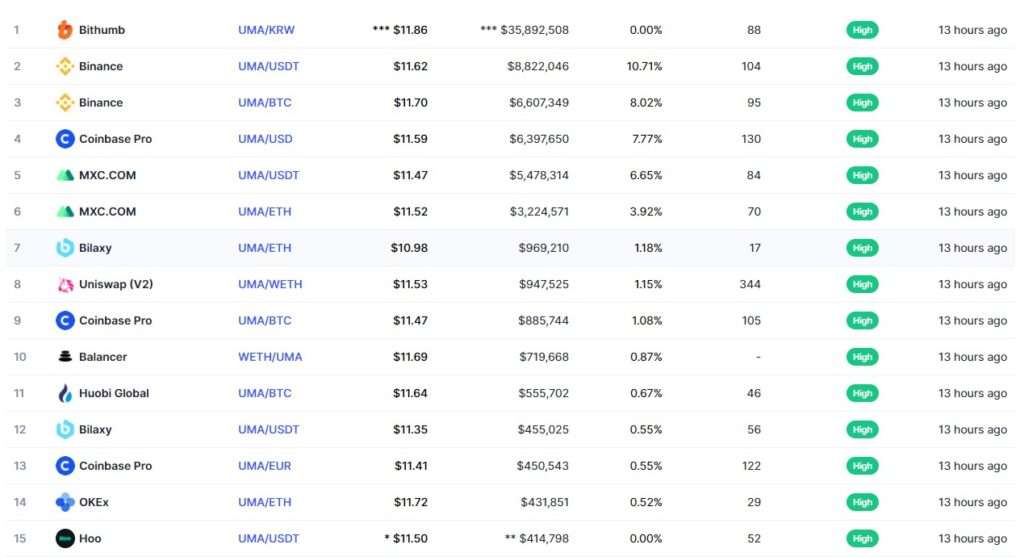 Why Use UMA?
Time to Launch
UMA Project Defi Coin Quickly create synthetic assets with priceless contract templates.
No Limits on Design
Create tokens that track the price of anything.
Provably Secure
Economic guarantees ensure your contract cannot be manipulated.
Minimize Oracle Usage
Increase security and reduce costs with minimal on-chain transactions.
What Makes UMA Unique?
The fundamental concept in the back of Universal Market Access is contemplated in its name: with the aid of using growing a protocol for the introduction of artificial property and monetary contracts at the blockchain, it seeks to democratize and decentralize the monetary derivatives marketplace.
UMA Project Defi Coin conventional monetary markets have excessive obstacles to access withinside the shape of policies and custody requirements, which have a tendency to forestall people from collaborating in them. It is frequently specifically tough for would-be buyers and traders to participate in markets outdoor in their neighborhood monetary system. This prevents the emergence of a simply inclusive international monetary marketplace and boundaries participation to a handful of establishments that may have the funds for the important due diligence and felony procedures.
UMA contracts, on the opposite hand, are primarily based totally on Ethereum's blockchain, whose permissionless nature permits any consumer to create, run and exchange digitized derivatives from everywhere withinside the world. This accessibility is specifically crucial for the growing economies across the globe, wherein monetary establishments are regularly some distance from maturity, forcing neighborhood marketplace individuals into relative isolation.
How Is the UMA Network Secured?
UMA Project Defi Coin runs on top of Ethereum's blockchain and as a consequence, they are protected by the same proof-of-work hash function Ethash.
Where Can You Buy UMA [UMA]?
UMA can be bought at multiple major cryptocurrency exchanges, some of the largest of which are: