About Re:water
Re:water Ico is Сompetitive MULTISTAKING PLATFORM created on a private blockchain network designed to provide utility function for *all tokens on the market. The platform unfolds as a limited digital surface where people can compete for their APYs and even take away big bucks from whales. Exploit inner community-building tools and strengthen your native token.
Re:water network is a Cosmos based blockchain with additional proprietary smart contracts implementing its gamified crypto Colosseum logic. The network runs on Tendermint Proof-of-Stake (PoS) consensus mechanism Water (WTR) is the native utility coin that is used for: Mining Rainwater drops Attacking Tiles of others to loot their assets Defending your property in a conflict auction Gaining reach on the communication platform
| ICO | DETAILS |
| --- | --- |
| Company Name | Byepix |
| Token Symbol | EPIX |
| Token For Sale | 131,868,132 WTR |
| Ico Price | 131,868,132 WTR |
| Fundraising Goal | $120,000 |
| Soft Cap | $30,000 |
| Personal Cap | $120,000 |
| Accept | USDt, BUSD |
| Support | 24/7 |
| Whitepaper | Click Here To View |
| Website | Homepage |
The Fundamentals
Re:water is a Competitive MULTISTAKING Platform. It is designed to REVIVE your tokens and provide them with utility and gains. *Whatever chain. *Whatever crypto.
Re:water decentralized applications were created on a private blockchain network designed to serve millions of people by providing second life to their assets. The Re:water ecosystem offers unique concepts:
Universal Multistaking – no matter what tokens and on which blockchain – YES, you can use them here.
Social and Competitive platform – on the second phase of its roadmap, Re:water provides features to build and develop crypto communities and earn tangible gains by competing with others for publicly staked assets.
HOW TO PARTICIPATE IN NFTB IDO
You need to stake your NFTb in a tiered model to participate in the IDOs and INOs. For instance The entry required for each tier (Private pool) Bronze – 20000 NFTb tokens Silver – 37500 NFTb tokens Gold – 50000 NFTb tokens Platinum – 100000 NFTb tokens (Guaranteed allocation for tier 4) And to participate in the public pool, You need to stake at least 1 NFTb in the tiered model. 
REVENUE MODEL
The company generates operational funds and revenues through several instruments of its platform's functionality:
5% of WTR tokens used for conflict auctions
5% of WTR tokens from each Raindrop
Transaction fees for each WTR operation on re:water chain
30-85% of all Staked assets melting
Sale of advertisement on its communication platform
What Makes re:water Unique?
The platform is a cross-chain infrastructure, allowing users to use *any existing tokens to participate in the staking and conflict for assets' ownership. Unique "mining" principle. One can get a hold of an NFT Tile and earn water rewards from Rain passively !84,77% of the total WTR coin capacity remains undistributed. Reversible coin supply. Water used in conflicts for assets evaporates back to the Cloud, draining current circulation re:water has created an eco-fund, which is supplied from wars on the platform to improve pure water global conditions.
 Is taking risks game risks is the only way to benefit from WTR coin?
Participating in re:water metaverse surely provides the most beneficial outcomes for WTR owners, but If you are now willing to take any additional risks there are other ways to profit in the re:water ecosystem.
Holding Water. The demand for Water originates from the conflict auctions. The more conflicts there are, the more Water deficit there will be in circulation. I.e. for defending your property. Use Water outside of re:water ecosystem by offering it as liquidity on decentralized exchanges. Own an NFT Tile. Tiles draw water from Rain and will always be in demand for the players. Stake your water in the validating Node. Everstake partners with re:water to service its delegates' stakes.
Team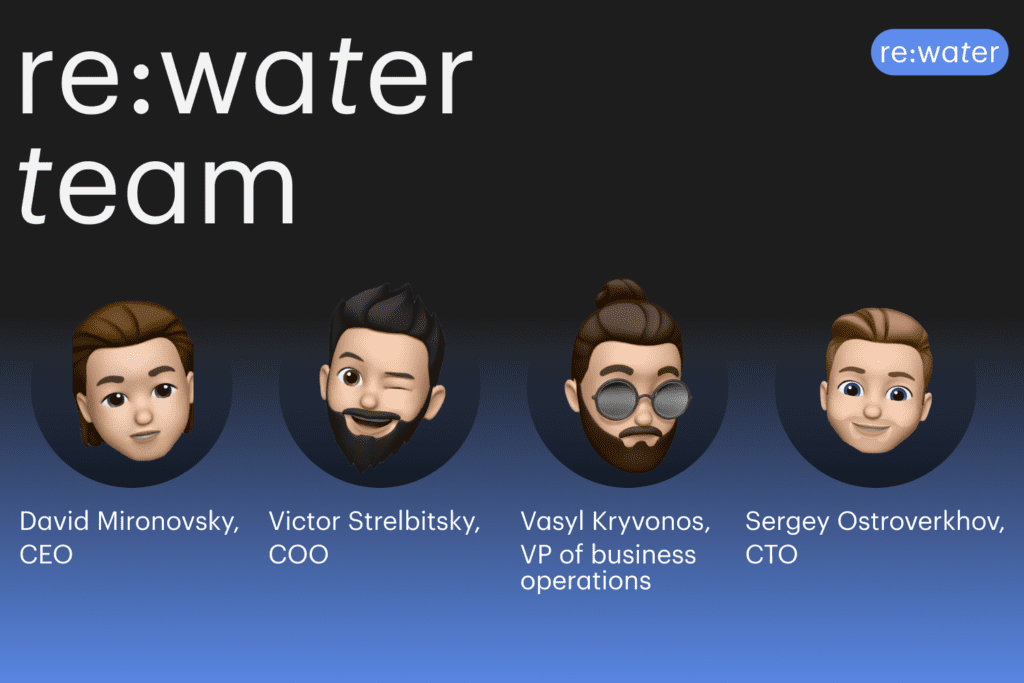 Roadmap
Q4 2020 – Q2 2022
Concept Development
Testnet launch
Apps launch: web, iOs, Android
Rains algorithm
"Multibridges": bridges with the following chains: Avalanche, Binance Smart Chain, Ethereum, Fantom, Polygon Matic, Harmony
Multistaking algorithm
Colonization campaign launch
First WaterDrop
September – October 2022
IDO & ITO: Erax, NFTB, TruePNL, Unicrypt
Grand WaterDrop launch
Multistaking launch
First Rain begins
Listing $WTR token
Q4 2022
Regular Rains & $Water Evaporation
Conflicts begin
Alliances function starts
Q1-2 2023
Deployment of gamified functions
New bridges between Blockchains open