About Ramp Defi
Ramp Defi is a decentralized protocol that intends to boost DeFi adoption by allowing non-Ethereum (ETH) users to stake tokens on ETH platforms; at the same time, Ethereum users can interact with the RAMP protocol and increase their yields. RAMP DeFi allows the staked capital of non-ERC-20 staking blockchains to be collateralized into a stablecoin known as rUSD that is issued on the Ethereum blockchain. The main result of this is the maximization of capital efficiency on stacked digital assets, where users earn staking rewards, unlock liquidity from staked assets and stack multiple yield streams at the same time.
Users who are already on the Ethereum blockchain can mint eUSD by depositing their ERC20 stablecoins into Ramp Defi eUSD liquidity pool. This means that rUSD and eUSD holders can exchange, lend or borrow both tokens freely and in turn create liquidity for users with capital locked into staking arrangements. RAMP's creation was prompted by the rapid growth of the staking economy, which has exceeded $300 billion by 2021, combined with the inefficiency of said economy's markets.
Project Ramp Defi Facts
| Frontier | Facts |
| --- | --- |
| Defi Coin Name | Ramp Defi |
| Short Name | RAMP |
| Circulating Supply | 367,289,238.70 RAMP |
| Explore | Click Here To Visit Explore |
| Chat Option | Click Here To Visit Chat |
| Total Supply | 1,000,000,000 |
| Official Website | Click Here To Visit |
Problem: An Inefficient US$300 Billion Market
With the rapid growth of the staking economy, global staking market cap has rocketed to exceed $300 billion. However, staking by itself is not capital optimal as it gives bond-like returns, while users have to also deal with fluctuating asset prices. Staking also results in substantial asset values locked into illiquid positions. There can be much better ways to maximize the value and returns on these assets for asset owners.
Solution: Collateralize Staked Digital Assets Into Liquid Capital
Users deposit yield-bearing assets into Ramp Defi smart contracts, which redeploys these assets into staking or yield farming on behalf of users.
Users mint rUSD stablecoin on Ethereum against these delegated yield-bearing assets as collateral.
rUSD minted can be deployed into DeFi protocols to stack multiple yield streams, generating higher income yields for users.
Users can exchange their rUSD into USDT or USDC via liquidity pools, giving them access to fiat-backed stablecoins.
Users continue to receive the majority of their staking rewards, and still retain ownership of the underlying yield-bearing asset portfolio.
User Benefits
They help users to double dip and achieve higher capital efficiency. You will love it!
Cross-Chain Liquidity Bridges
Mint liquid capital against staked digital assets on Ethereum and other networks.
Retain Staking Rewards
Ramp Defi Users continue to receive staking rewards on their staked digital assets.
Yield Stacking
Earn yield from multiple revenue streams and farm RAMP tokens.
What Makes RAMP Unique?
To efficiently power token exchanges between blockchain systems, the network takes advantage of liquidity on/off-ramp designs. Within this framework, the tokens that use a non-Ethereum standard are first converted into stablecoins called rUSD for use on the Ethereum blockchain.
ERC-20-based stablecoins can also be converted into eUSD for use in Ramp DeFi's liquidity pool. rUSD holders get the ability to use funds locked in non-Ethereum blockchains as well as the ability to use fully-collateralized stablecoins and earn staking incentives after the conversion. eUSD holders Earn interest from lending their digital wealth as well as a chance to provide liquidity within DeFi protocols.
RAMP DEFI Ecosystem
Ramp Defi focuses on developing a suite of products that act as the "building blocks" to power the RAMP ecosystem and cross-chain liquidity transfer.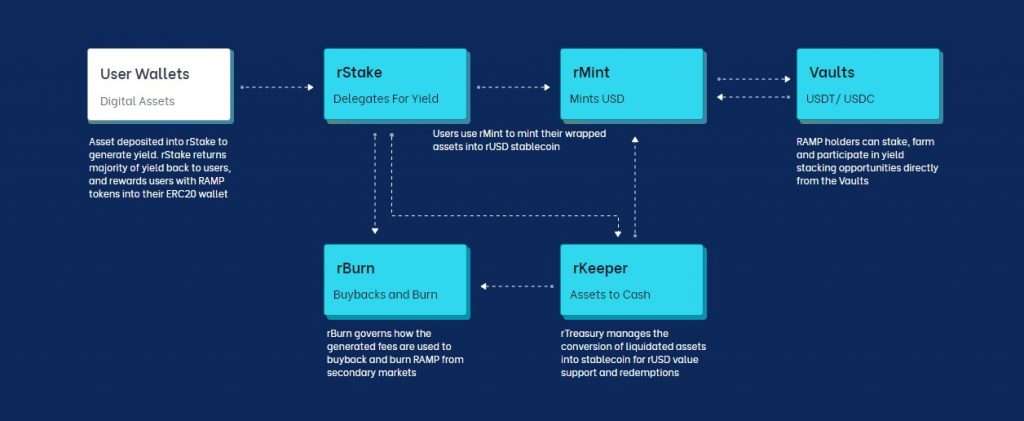 Who Are the Founders of RAMP?
RAMP was co-founded by Lawrence Lim and Loh Zheng Rong. Before RAMP, Lim was the head of international growth at IOST and handled global sales at TradeGecko. He was also responsible for mergers and acquisitions at KPMG Corporate Finance LLC and asset management at JP Morgan Chase & Co.
Lim studied at the Nanyang Technological University and got a bachelor of business degree in banking and finance with First Class Honors.
Loh Zheng Rong co-founded NOX Pte Ltd and was a blockchain consulting partner at Merkle Ventures LLP. He was also the chief innovation officer at 2359 media, as well as the senior advisor of ICONIC Partners. He was also the chief operating officer and co-founder of Toucanapp Pte Ltd. He has a bachelor of business administration (B.B.A) degree in finance wealth management from the Singapore Management University.
What Can RAMP Do For You?
Yield Optimization
RAMP is a multi-chain DeFi protocol that allow you to deposit assets for ultra-high yields in auto-compounding vaults, thereby helping you to optimize the yield received on your assets.
Mint Stablecoin Liquidity
In addition to yield optimization, RAMP allow you to mint rUSD, a collateralized stablecoin against your asset deposits. You can use rUSD immediately on AMMs, such as PancakeSwap or QuickSwap, to swap for any new token asset that you want to buy.
Cross-Chain Liquidity Transfers (Coming Soon)
While your assets continue to generate ultra-high yield for you on the native chain, the rUSD you have minted can be transferred seamlessly across supported networks. This means that you can be staking assets on Binance Smart Chain, and minting rUSD to buy new tokens on Polygon's QuickSwap!
Team and Advisors
The Ramp Defi team and advisors are seasoned professionals with rich experiences across blockchain, artificial intelligence and investments, and have previously served in the following organizations.
How Is the RAMP Network Secured?
RAMP network collaborates with the Crust Network for secure on-chain decentralized data storage. As such, RAMP DeFi is an open finance project and has the potential to unlock liquidity from staked digital assets, allowing all users to collateralize their digital assets while locked in staking into liquid capital.
Crust implements the incentive layer protocol for decentralized storage. It is adaptable to multiple storage layer protocols, including IPFS, and even supports the application layer. The architecture it is based on has the capability to support a decentralized computing layer and build an entire cloud ecosystem.
RAMP Markets

Where Can You Buy RAMP (RAMP)?
Ramp Defi is available to buy, sell and trade on the following exchanges:
Bibox
Gate.io
Hoo
Uniswap (V2)
MXC.COM
Unfamiliar with crypto purchasing? Learn how to buy and trade Bitcoin here.