About PrepayWay
The idea for PrepayWay was born in Switzerland, where computer science, banking, international business, and legal professionals came together to revolutionize business processes. Coming from a plethora of professional backgrounds, the diversely experienced team is dedicated to creating an ecosystem that facilitates secure, swift, transparent commercial transactions, all while reducing transaction costs. PrepayWay is a blockchain ecosystem that simplifies and streamlines international collaboration, contracting, and payments for companies across multiple industries.
| ICO | DETAILS |
| --- | --- |
| Company Name | PrepayWay |
| Token Symbol | INBIT |
| Accepts | BTC ETH BCH LTC |
| Token Type | ERC20 & Ethereum |
| Initial Token Price | Price Including Discount: 0.60 EUR = 100 InBits |
| Hard Cap | € 5000000 |
| Soft Cap | N/A |
| Starting date | October 7th, 2019 |
| Ending Date | October 27th, 2019 |
| Status | Past |
| Participation Restrictions | Switzerland, United States of America, Afghanistan, Bosnia and Herzegovina, Central African |
| KYC | Yes |
| Website | Homepage |
PrepayWay Goals
Disintermediation
They aim to reduce the need for trusted intermediaries while increasing security, removing time and cost bottlenecks.
Increased Speed of Transactions
By speeding up transactions they aim to increase the velocity of money, which will increase cash flow and capital investments.
Global Reach
PrepayWay Ico goal is to become the standard for seamless digital commercial transactions on a global scale and across borders.
PrepayWay Approach
Pragmatic
Prepayway.com are adapting the blockchain technology to eliminate inefficiencies that plague every industry, one step at a time, starting with real estate.
Focused
They are focusing the skills and competence on restructuring business processes to reduce costs, stamp out fraud, speed up transactions, and internationalize markets.
Reliable
Reliability and professionalism is at the core of the services. They are incorporated in Switzerland to take full advantage of the stable political and financial climate and the innovation-friendly regulatory framework.
Values
Customer Satisfaction
Customer satisfaction is Prepayway.com prime priority. They are trustworthy, committed, and flexible. They carefully tailor solutions to customer needs.
Trust
Trust is at the heart of the relationship with people and businesses that they work with. They set the commitment to data protection and security at the highest level.
Integrity
Integrity is the foundation of the uncompromising standard of honesty, transparency, and openness in every action.
Team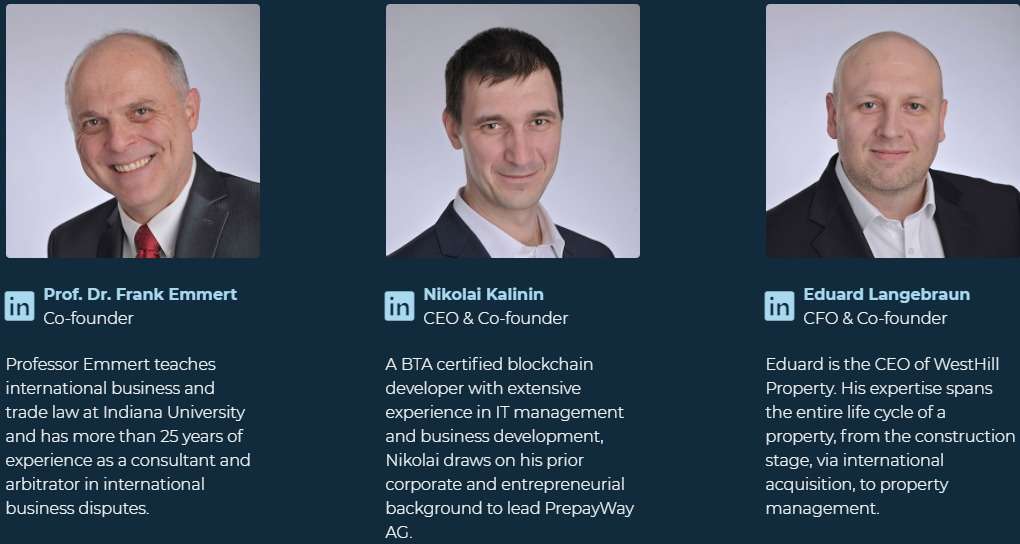 What is PrepayWay?
Integrated Payment Gateway
Embedded secure money transfer mechanism and integrated gateway for transactions in both digital and fiat currencies powered by licensed escrow partners.
Smart Contracts
Automated enforcement of contractual conditions minimizes fraud risk and the need for third party intermediaries, reducing legal fees, arbitration, and other transaction costs.
Tamper-Proof Transactions
Prepayway.com combination of self-executing smart contracts with decentralized storage of all transaction data on the blockchain ensures complete transparency and lowers fraud loss.
Smart Dispute Resolution
Efficient and enforceable dispute resolution by SmartArb, the International Smart Mediation and Arbitration Institute.
Agreement Customization
User-friendly interface for agreement customization with detailed explanations and recommendations in multiple languages.
Enforceable Agreements
Legally binding country-specific agreement templates developed by legal experts in accordance with national laws and regulations.
How PrepayWay Blockchain Ecosystem Works
PrepayWay Blockchain Ecosystem has been designed to be self-expanding and effortlessly scalable to support all types of international business operations, ranging from real estate to global commercial trade, with market size of up to 15 trillion USD.
Service Providers – Contribute to the development of the core elements of the Ecosystem.
Core Elements – Used by the Ecosystem participants as building blocks for the development of innovative Blockchain solutions.
Ecosystem Users – Both business and private users reap the following benefits to improve performance:
Blockchain Solutions – Every solution developed by PrepayWay or any other Ecosystem participant smoothly integrates some or all of the core elements of the Ecosystem to boost business processes.
InBit Token
As long as the Smart Contract remains in force and effect, the service fee paid in tokens is locked as part of the Smart Contract.
The more Smart Contracts are in use at any point in time, the more tokens are locked.
The number of InBit tokens frozen at any point in time has a direct correlation with the demand for our Smart Contracts.
InBit Token Demand Key Factors
Demand for the services delivered by PrepayWay Blockchain Ecosystem.
Development of a proprietary blockchain.
Growing volume of transactions concluded in InBit tokens.
Expansion of PrepayWay Blockchain Ecosystem by attracting businesses from multiple industries and regions.