About Osage Casino
As Indian gaming received federal approval and became more prevalent, the Osage Casino Tribal Council created the Osage Tribe Gaming Enterprise Board. This group today provides oversight for the business entity known as Osage Casino. Hominy opened in Spring 2002 under Osage Nation Gaming; Pawhuska, opened Spring 2003; Sand Springs, Summer 2004; Tulsa, Summer 2005; Bartlesville, Spring 2006; Skiatook, Fall 2007 and Ponca City, opened Winter 2007.
A Responsibility We Take Seriously
All of us at Osage Casino know that Indian gaming is a pastime to be enjoyed responsibly and in moderation. For more information on playing within your limits, please visit www.oapcg.org. Problem gambling 24-hour, toll-free confidential hotline: 800-522-4700.
CLUB OSAGE
Take your casino experience to the next level with Club Osage! Ready for a real VIP experience? When you join Club Osage, you instantly gain access to a world of exclusive, members-only benefits that go way beyond ordinary. Use your card to earn points each time you play! Advance to the next tier to experience even more service and rewards!
Osage Casino Dining
Feed your appetite for excitement! The experienced chefs at Osage Casino bring extraordinary care and attention to a menu of classic comfort food. So whether you're looking for a fast snack to fuel your night or a full meal, dining options are the best around.
Need a quick bite? Visit Deli for lunch or dinner. Enjoy a handmade pizza or we have snack items available. Everything is reasonably priced and served by our friendly staff.
Need a quick bite? Visit Roni Peppo's for a handmade pizza, or we have snack items available. Everything is reasonably priced and served by our friendly staff.
What are you hungry for? If pizza is what you're hungry for, order one to your liking or try one of specialty pizzas!
Experience the exhilaration! Osage Casino offers a world-class casino experience, from the rush of the high-stakes tables (Tulsa), to electronic gaming options. Combined with our unmatched hospitality, Osage Casino is where Oklahoma can find the unforgettable gaming experience it's been waiting for!
Hotel Rooms
Get 15% off room rate when you present concert tickets from any downtown Tulsa venue. Click here to learn more.
Escape your everyday and experience an unforgettable stay in our all-new Osage Casino Hotels! From the ground up, everything in our hotels was designed with your comfort in mind. Guests will appreciate the thoughtful furnishings and luxury finishes apparent in every room. The artwork, crafted by Osage tribal artists, will transport you. And, as always, you can expect to experience the height of service and hospitality.
The Grand Luxury Suite + Patio Luxury Suite'
The Grand Luxury Suite + Patio Luxury Suite's comfort and style will exceed all expectations. The loft-style environment includes multiple TVs viewable from every area in your suite. With a freestanding tub and all-glass shower, getting ready for a casual yet elegant dinner is majestic.
Osage Casino King Room
Break away from your every day and stay with. Gaming, entertainment and dining are right at your fingertips. What else could you ask for? King bed with plush pillow top mattress, 49" flat-panel TV and work center are all in the privacy of your luxurious suite.
Double Queen Room + Patio Double Queen Room
The Double Queen Room + Patio Double Queen Room provides two double beds with plush pillow top mattresses. Unwind in front of a 49" flat-panel TV and get ready for a fun evening of play and entertainment. Our Casino Hotel has everything you need to make your stay uniquely inclusive.
Osage Casino GROTTO
The Grottos at Osage Casino Hotel Tulsa are the perfect place to dine and unwind in ultra-luxury bliss. Designed with a vast array of events in mind, each space is crafted with hospitality and comfort at the forefront.
Whether you are looking for the perfect destination for your bachelor party or to watch the next big game, we have everything you need to please.
Filled with two expansive televisions, surround sound, bistro seating, wet bar, and an oversized master bath, we spare no expense. Kick back, relax, and enjoy each and every amenity that Osage Casino Hotel has to offer.
Osage Casino Entrainment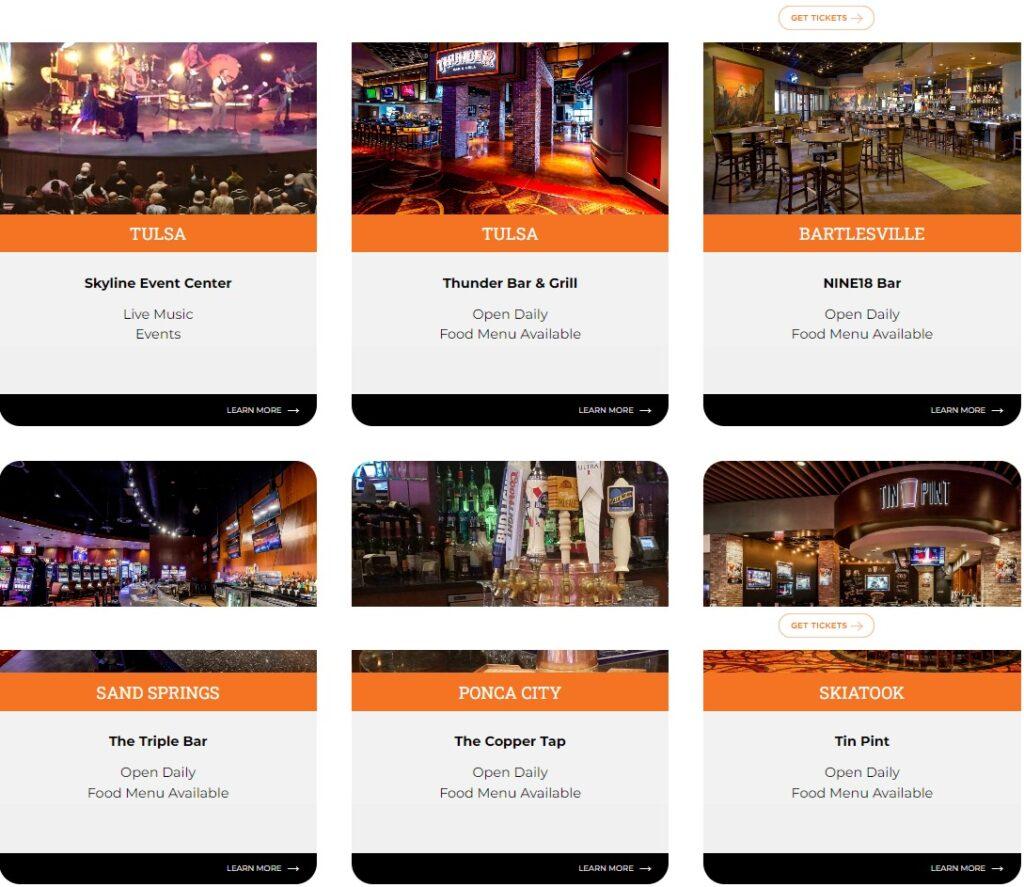 OC STORES
Fuel your excitement! The OC convenience stores at Skiatook and Ponca City always promise clean restrooms and safe, brightly-lit fuel pumps. Looking to fill up your tank? OC Stores carry a huge assortment of quick drink and food options to keep you moving.
Osage Casino Support
Must be 18 to participate. Table Game availability and live entertainment based on Casino location. Guests must be actively playing with their Club Osage card to be eligible for promotional drawings. Must be 21 and over to rent a hotel room, purchase or consume alcoholic beverages. Management reserves all rights. If you think you have a gambling problem, please call 1-800-522-4700.