About Ontology Coin
Ontology Coin is a high performance, public blockchain specializing in decentralized identity and data. Ontology's unique infrastructure supports robust cross-chain collaboration and Layer 2 scalability, offering businesses the flexibility to design a blockchain that suits their needs. With a suite of decentralized identity and data sharing protocols to enhance speed, security, and trust, Ontology's features include ONT ID, a mobile digital ID application and DID used throughout the ecosystem, and DDXF, a decentralized data exchange and collaboration framework. For more, visit ont.io.
Ontology Coin helped to quickly establish both organic price discovery and a passionate community and helped the project to avoid subsequent regulatory scrutiny. For example, for a brief period any person who signed up for the Ontology newsletter received an airdrop of free 1,000 ONT, which reached a value of $10 per token soon after the token became listed on major exchanges like Binance. Ontology launched its own MainNet on June 30, 2018 and now operates independently from the NEO blockchain.
Important Points Table Of Ontology
How to Buy the Ontology Coin & Trade On Exchange?
First Step
Buying Ontology Is Very Easy Task . Just Find Exchange Where Ontology Available & Buy Through Your Credit & Other Altcoin .
Second Step
Once You Purchased Ontology. Now It Is Time To Store Your Ontology Or Start Trading On Exchange.

ONT ID
ONT ID is a decentralized identity framework that helps users manage their own data and enables blockchain-based multi-dimensional authentication provided by global verifiers.
DDXF
DDXF is a decentralized data exchange and collaboration framework. DDXF allows for the tokenization of data, data traceability, and cross-system data processing.
ONTO
ONTO, Ontology's self-sovereign data wallet, is a one-stop mobile application for the management of your digital identity, data, and assets, giving users the power to control the value of their data.
SAGA
SAGA is a decentralized data marketplace designed to allow individuals and organizations to monetize and acquire data in a trusted, standardized, and cost-effective way.
Wing
Wing is a credit-based, cross-chain DeFi lending platform. Its decentralized governance model and risk control mechanism aim to promote a mutually beneficial relationship between borrowers, creditors, and guarantors. In addition, Wing innovatively showcases a credit evaluation module as a strong example of credit-based decentralized lending.
The Solution
Automotive Solutions
Ontology Coin next generation of in-vehicle operating systems will provide human-vehicle interaction and micro-payment scenarios based on smart contracts. This is looking forward to building an open and intelligent advanced driving platform OS, powered by unique blockchain features.
Data Marketplace
Ontology's decentralized data marketplace is designed to allow individuals and organizations to monetize and acquire data in a trusted, standardized, and cost-effective manner.
Data Attestation
Ontology-powered decentralized attestation methods for blockchains include certification, identity, and existence proofs which help make the process cryptographically publicly-verifiable and transparent.
Digital Finance
Ontology makes it easier for established and emerging companies to move into the banking and financial sector using blockchain-powered technologies such as stablecoins, payment networks, and crypto-backed cards.
Ontology Decentralize
Ontology Coin is committed to building a transparent ecosystem. Through the partnership with Flipside Crypto, continuous efforts to update and improve blockchain explorer, dedication to providing regular updates on our token distribution and lock periods, as well as the delivery of weekly and monthly updates across our social channels, they endeavor to create an unparalleled experience.
Who Are the Founders of Ontology?
Ontology was established by Li Jun, Founder of Ontology. During Ontology's early stages of development, received technical support from some members of Onchain's developer team. However, the two have always been officially separate projects pursuing their own goals.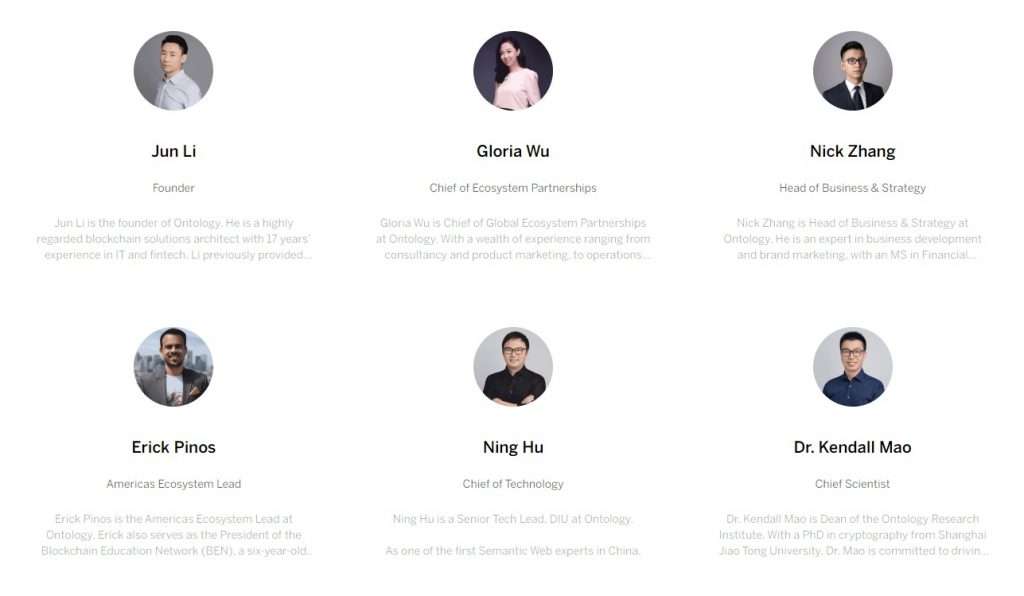 What Makes Ontology Unique?
Ontology Coin offers a variety of real-life use cases and allows businesses to build their own blockchain on top of the Ontology blockchain. Importantly, Ontology offers more flexibility for enterprises, allowing them to create customized blockchains to fit their specific needs in terms of features like governance and enhanced privacy, functionality that competitors like Ethereum and NEO lack by design.
The ONT chain also helps negate transaction network fees by generating and distributing free Ontology Gas (ONG) to ONT holders based on their holdings. Ontology further provides additional features such as smart contracts, cryptographic identity proofs (ONT ID) and tokenized data (DDXF) that can seamlessly be transferred between different blockchains.
How Many Ontology (ONT) Coins Are There in Circulation?
Ontology has a total coin supply of 1,000,000,000 ONT, of which nearly 80% are currently in circulation. At its launch, 15% of ONT tokens were allocated to its core team, 10% to the NEO council, 28% to institutional partners, 10% to its technical community and 25% to the development of its ecosystem.
These tokens were subject to a strict screening process and various unlocking periods that ran over two years until the end of October 2020. Read more about its token distribution here.
How Is the Ontology Network Secured?
The Ontology network is fully decentralized and therefore highly resistant against hacks, which would have to affect over half of the connected devices to make an impact.
Where Can You Buy Ontology (ONT)?
Both ONT and ONG are listed and supported by the world's leading exchanges such as Binance and OKEx, with the exception of Coinbase.