About MEME TAO Coin
MEME TAO Coin alongside the more serious aims of blockchain, which include speed of banking, security of transfers, and incredible innovation, an incredibly vibrant subculture, driven by the world's most prominent artists, musicians, athletes, political figures, and celebrities, has flourished and grown to immense strength… and this subculture can no longer be ignored. Enter Dogecoin, which was created as an irreverent swipe at the "serious" crypto community of its time.
As more people invested in the panoply of newly-minted meme coins, the market capitalizations of those coins grew, and so did the interest of serious investors. Soon, crypto developers rushed in to capitalize, filling the market with new meme coins all seeking their share of investors' attention. Today, it's all but impossible for the average crypto investor to keep track of these coins, and even harder to identify which are worthy of investments.
It actually gained some "real-world" value, so a raft of other meme coins followed, some imitating Doge and others staking out new humorous territory within the growing new meme coin space. Doge and the other coins then became part of popular culture, and the audience grew exponentially.
MEME TAO Coin Point Table
Styles of Participation
The MEME TAO platform will offer four different styles of participation, each with a different risk target and managed by user-elected Daoshi (see below for definition). Together, they'll offer users the ability to build a diversified collection in keeping with their overall goals and risk tolerance. Each will debut on the platform with a preset participation share goal, which platform users can vote to change should market conditions dictate it.
Degenerators
Degenerators are high-risk, short-term collections whose underlying assets are under the control of elected Daoshi. Users can replace Daoshi at will via subsequent votes. Degenerators will represent approximately 20% of all collections on the platform.
Blue Paws
Blue Paws represent participation in stable, long-term projects. They might include assets such as DOGE, Ethereum, Shiba, and others. There is no requirement that the underlying assets be memecoins, broadening the flexibility of the collection. Blue Paws will represent approximately 30% of all collections on the platform.
Pink Paws
Pink Paws include collections of small-cap tokens, featuring promising new blockchain projects. They're considered mid-term to long-term positions, meant to satisfy users' long-range collection goals. Pink Paws will represent approximately 30% of all collections on the platform.
MEME Liquidity Pools
MEME liquidity pool collections are the lowest-risk type of collection available via the MEME TAO platform. They include stable coins and established high volume memecoins. They're designed to provide users with stable and reliable returns in exchange for pre-determined staking lengths. MEME liquidity pool collections will represent approximately 10% of all collections on the platform.
Treasury
The MEME TAO treasury will house reserved funds meant to assist the platform in achieving its main goals. The primary use of treasury funds will be to fund the four participation styles and generate returns for platform users. In that way, the MEME TAO treasury will act as a growth engine for the platform itself.
Importantly, 80% of all profits generated from the collection of treasury funds get returned to TAOISTS as ETH or POM. The remaining 20% gets distributed as additional participation, split among the four participation styles according to their preset allocation percentages at the time.
Daoshi Selection Procedures
To facilitate a smooth launch, MEME TAO will begin with one preselected Daoshi for each style. After the launch, the community will vote on two additional Daoshi to join the group. Using the standards and metrics set forth above, the community can propose replacements for any and all Daoshi, followed by a vote when necessary.
Why Choose MEME TAO Coin?
Transaction Fees
As described in the tokenomics section, there will be a 5% fee levied on all purchases or sales conducted via the MEME TAO platform. At the time of any transaction, the appropriate fee will transfer into a platform-owned marketing/ development wallet in the ETH denomination. All fees go toward funding the four styles per their allocation percentage at the time or to fund operations of the platform's development and marketing teams as necessary. The fees themselves aren't permanent and may decrease or get phased out at any time if it becomes financially feasible to do so.
TAO Staking Technology
The MEME TAO platform itself will feature a variety of underlying and user facing technologies to facilitate its operations. Among them is a customized set of staking pools and user management utilities. Users can begin or manage existing stakes via a staking dashboard built into the MEME TAO platform.
Their stakes entitle them to a share of the platform's collections' profits, and earn them the designation of TAOIST. Staking rewards increase according to stake size and length. Plus, all staking withdrawal fees are subject to mandatory burning to further bolster the $MTAO token value.
Partnership with Proof Of Memes (POM)
Partnerships are key to your growth strategy, and they have created an alliance with the Proof Of Memes (POM) blockchain. The POM blockchain is a key MEME TAO launch partner, and is itself a growing meme coin-centric, layer-one Proof of Work blockchain (see proofofmemes.org for more details about their project). Your partnership with POM allows users of MEME TAO the chance to make a ground-floor acquisition of their coin.
To support that, MEME TAO will bridge 2% of the $MTAO total supply to POMCHAIN, the Proof Of Memes blockchain. Also, MEME TAO users will have the option to bridge and stake directly in the POM reward pool, and $POM will be an integral part of the Blue Paw style, generating rewards for TAOISTS.
Where Can You Buy MEME TAO Coin?
Tokens Can Be Purchased On Most Exchanges. One Choice To Trade Is On Uniswap (V2), As It Has The Highest MTAO/WETH. e Trading Volume, $8,947 As Of February 2021. Next is OKEx, With A Trading Volume Of $6,180,82. Other option To Trade Include MTAO/WETH And Huobi Global. Of Course, It Is Important To Note That Investing In Cryptocurrency Comes With A Risk, Just Like Any Other Investment Opportunity.
Market Screenshot
MEME TAO Coin Supported Wallet
Several Browser And Mobile App Based Wallets Support MEME TAO Coin. Here Is Example Of Wallet Which MEME TAO Coin – Trust Wallet For Hardware Ledger Nano.
Roadmap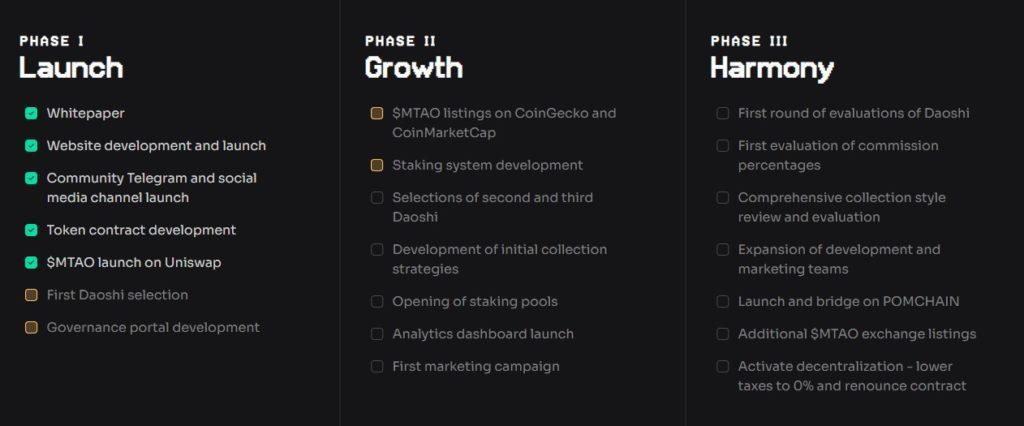 FAQ Of MEME TAO Coin
here I Can Find MEME TAO Coin Whitepaper?
You Can Find MEME TAO Coin Whitepaper By Clicking Here.
Where I Can Buy/Sell Balancer Token?
You Can Buy or Sell Balancer Token On Some Popular Exchange For Example – Uniswap (V2).
What is Circulating Supply Of Balancer Token?
Circulating Supply Of Balancer Token Is 10,000,000,000 MTAO.