What is LunarCrush Crypto Tool ?
LunarCrush is a cryptocurrency analysis tool that provides real-time market insights and social media analytics for over 2,000 cryptocurrencies. It tracks and analyzes data from various sources, such as Twitter, Reddit, and news outlets, to provide users with a comprehensive understanding of the cryptocurrency market. The platform also offers various tools and features, including sentiment analysis, price tracking, and portfolio management.
Some Important Points Of LunarCrush
| Important | Points |
| --- | --- |
| Tools Name | LunarCrush |
| Price | $199 |
| Free Version | Available |
| Device Supported | Android , Web , IOS |
| Notifications and Alerts | Yes |
| Customer Support | Live Chat: 24/7 , Email Support , Ticket System |
| Official Website | Click Here To Visit |
LunarCrush Price
If you want even more functions, you can subscribe to one of the paid plans, which range from $199 to $699 per month. You can also request a custom-paid plan if you want something tailored to your needs.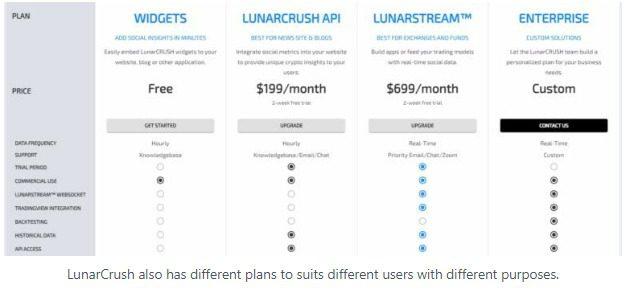 How To Use LunarCrush Tools?
To use LunarCrush tools, follow these steps:
Go to the LunarCrush website (lunarcrush.com) and create an account.
Once logged in, select the cryptocurrency you want to analyze from the "Coins" page.
On the coin's page, you will find various tools and features such as price charts, social engagement metrics, and sentiment analysis.
Use the various filters and timeframes available to customize your analysis and view the data in a way that suits your needs.
You can also use the "Signals" page to receive real-time alerts and notifications based on specific metrics and events.
Additionally, the platform offers a portfolio tracking tool that allows you to monitor the performance of your investments across multiple exchanges and wallets.
Overall, LunarCrush provides a wide range of tools and features that can help investors and traders make informed decisions in the cryptocurrency market.
How Does LunarCrush Work?
Set up your account
The process starts with clicking the login/register button on the website, where you'll be asked to enter your email address and complete a captcha verification. After that, a verification mail is sent to your provided email address. Once your email has been verified, you are ushered into your dashboard. That means your account has been created.
Create a portfolio and add the coins you want to follow
This is the next step, and it presents you with the opportunity to earn points on the Lunarcrush platform. To create a portfolio, tap 'Add Cryptocurrency Holdings' on your dashboard. Then search for the coin you want to add and enter the amount you have and the price you bought it. It automatically shows the current value of your portfolio along with other metrics. It also rewards you with five points. 
Create your first alert for your favorite coin
This process is also easy. You select the tab on your portfolio, and it opens up a window where you input the coin you want to watch and the alerting method(which includes app alerts, emails, SMS, and Telegram). You could also select a default alert or configure one from scratch. After doing all that, you are rewarded with five points. 
Find the top influencers for your favorite coin
On the homepage of your Lunarcrush account, click on 'Influencers' and then search for the coin you want to track. It will bring up a list of social media influencers filtered by most influential, most engagement, most followers, and most posts. That way, you can know what the social atmosphere of your portfolio looks like.
Connect your Twitter account
You'll see this tab on your dashboard. It takes you to a one-button click on the account settings of your Lunarcrush account that connects your Twitter with your Lunarcrush profile. You are also rewarded with five points.
Work the gamify aspects in your favor
This is also another important aspect of your Lunarcrush experience to bring the best out of your analysis. As you interact with the platform and complete tasks, you earn points that you can convert to LUNR, the native token of Lunarcrush.
Is Lunarcrush Safe?
Lunarcrush is a legitimate platform that is generally considered safe to use. The platform takes several measures to protect the privacy and security of its users' data, including using SSL encryption for data transmission, implementing strict access controls, and regularly performing security audits and vulnerability testing.
That being said, like any online service, there is always some level of risk involved, and users should take appropriate precautions to protect their accounts and personal information. For example, users should use strong and unique passwords, enable two-factor authentication, and be cautious of phishing attacks and other types of online scams.
Lunarcrush Features
Let your portfolio speak
Automatically track all of your holdings and be notified of anything happening across any of your wallets.
Simplify your trading
Trade thousands of cryptocurrencies across multiple blockchains with ease, all in one place. We take care of the bridging and swapping, you focus on making trades.
Make your investing smarter
Research new opportunities across cryptocurrencies, NFTs, and stocks with LunarCrush's real-time data-backed social insights and metrics.
Available on iOS and Android
Built to work natively on mobile with a seamless web experience at LunarCrush.com.
Social Engagement Metrics
Lunarcrush tracks social media engagement metrics for over 2,000 cryptocurrencies, including sentiment analysis, tweet volume, and influencer score.
Price and Volume Tracking
The platform provides real-time price and volume tracking for cryptocurrencies across multiple exchanges.
Portfolio Management
Users can track the performance of their cryptocurrency investments across multiple wallets and exchanges in one place.
Alerts and Notifications
Lunarcrush offers customizable alerts and notifications based on specific market events, such as price movements and social media trends.
Historical Data and Analysis
Users can access historical data and analysis on cryptocurrency market trends and performance.
Coin Comparison
Lunarcrush allows users to compare the performance of multiple cryptocurrencies side-by-side based on various metrics.
Community Insights
The platform provides insights into the community sentiment and behavior surrounding specific cryptocurrencies, such as the number of active addresses and the amount of on-chain activity.
Lunarcrush Pros & Cons
| PRO | CONS |
| --- | --- |
| A free plan is available to test out the platform | Customer service choices not all-inclusive |
| Large database of indicators to help with technical analysis | Higher-tier plans out of some investors' budgets |
| Comprehensive stock screening | Certain areas of the website poorly organized |
| Wide selection of engaging educational resources | |
| Backtest trading strategies and paper trade to practice | |
| Impressive selection of research tools | |