KuCoin Crptocurrency is a world-class blockchain asset exchange, that has its own cryptocurrency – KuCoin Shares (KCS). Incentives bonus: KCS holders receive daily cryptocurrency dividends. KuCoin Shares (KCS) are the native currency of the KuCoin exchange platform that allows holders to profit from the success of the exchange.
A trading discount for KCS holders and low withdrawal fees. KCS holders will automatically be qualified for KuCoin exclusive promotions, offers and rewards. KuCoin has been persistent in its pursuit of finding and supporting blockchain projects with real potential. KuCoin's vision brings Spotlight to the stage. KuCoin Spotlight aims to assist blockchain projects in raising the needed funds, attracting market attention and improving industrial influence.
About KuCoin Exchange
The KuCoin Exchange opened for cryptocurrency trading in September 2017. The KuCoin Exchange places an emphasis on the quality of the projects listed based on a research department that scours the blockchain industry for quality projects. KuCoin provides an exchange service for users to conduct digital asset transactions securely and efficiently. Over time, KuCoin aims to provide long-lasting, increased value to its more than five million registered users, in over 100 countries. In November 2018, 'The People's Exchange' officially partnered with IDG Capital and Matrix Partners.
| Exchange | Details |
| --- | --- |
| Exchange Name | KuCoin Crptocurrency |
| Exchange Type | Cryptocurrency |
| Coins | 174 |
| Trading Pairs | 383 |
| Website | https://www.kucoin.com/ |
| Support | 24/7 |
| Social Support | Twitter |
| Alexa Rank | 7234 |
| Top Country | India |
How To Sign Up & Start Trading
You Sign Up For A User Account By Providing Basic Information.
On Every Exchange You Will Get Option For Sign Up Or Create Account . Just Fill Some Basic Details Like Name , Email , Password , Security Question Etc For Registration . It Is First Step To Start Trading On Any Exchange
You Then Receive An E-mail In Your Mailbox To Activate Your Account.
Before You Can Login, You Must Active Your Account With The Code Sent To Your Email Address.Then You Will See A Message That Your Financial Account Is Activated And Ready To Go. This Means That You Can Log In And Start Trading In Cryptocurrency.
Identity Verification
For Successful Verification You Will Need Identity Documents. For Example, You Can Use A Driver's License Or Passport, Where The Name Is Duplicated In Latin Letters.Confirmation Of Identity On Exchange Is An Optional Step. The Procedure Must Be Completed Only If You Want To Remove The Restrictions Of Btc On Deposit Or Withdrawal Of Funds Per Day.

KuCoin Crptocurrency Exchange Hosting Details
Datacenter: AWS CloudFront (GLOBAL)
Server IP: 13.249.178.28
Location: United States of America
City: Boston
Domain Who Is: Click Here
Nameservers: ns-1850.awsdns-39.co.uk, ns-906.awsdns-49.net, ns-280.awsdns-35.com, ns-1249.awsdns-28.org
Reverse DNS of the IP: server-13-249-178-28.bos50.r.cloudfront.net
Enable 2-Factor Authentication (2FA)
When you log certain the primary time, a pop-up will show up and ask you to enable the 2FA, which can help in increasing your account security. If you're new 2FA, you'll got to download the Google Authenticator app then scan the QR (or enter the key key) so as to urge a 1-minute changing code.
After completing these three steps, you're through with fixing your account.
Fee Schedule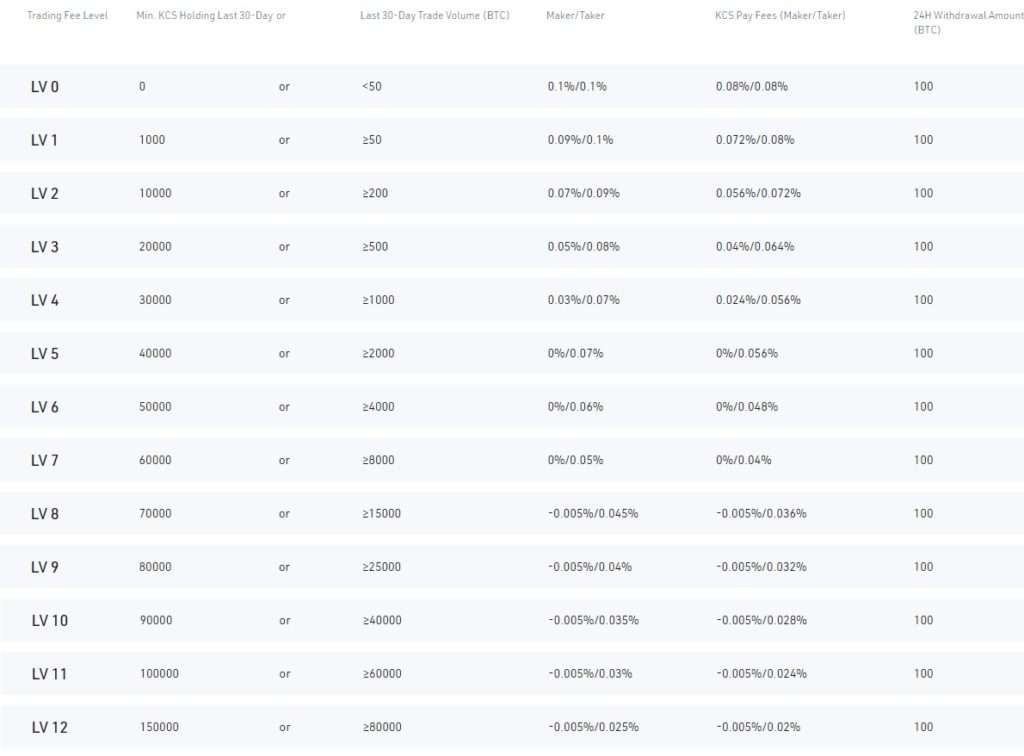 KuCoin by Your Side
Customer Service Available 24/7
Don't know what Bitcoin is? Don't know how to trade or how to check the markets? Feel free to ask your questions to KuCoin customer support.
KuCoin Community
The KuCoin Crptocurrency Global Communities cover 205 countries and 13 languages to help reach millions of users worldwide.
KuCoin NewsKu
Coin News will keep you up to date with the latest market news in crypto.
IDG Capital
Founded in Boston 1992, IDG Capital is the first firm to bring foreign venture capital into China. As a long-term value investor, IDG Capital is the early investor of many well-known giants, such as Tencent, Meituan Dianping, Xiaomi Corporation, Pinduduo, iQiyi and also invested many excellent enterprises in the field of blockchain, such as Coinbase, Ripple, imToken, Liquid, and so on.
KYC
Users must complete identity authentication (KYC) in advance, before their purchase. To comply with local regulations, users in some countries and regions cannot participate in the sale.