About KRAKENPAD Coin
KRAKENPAD Coin In 2022, they launched KrakenPad Ecosystem, a decentralized non-custodial cryptocurrency exchange-centered ecosystem that runs on Binance Smart Chain (BSC). KrakenPad is the most convenient bridge to connect users and application products on all main blockchain networks. KrakenPad aims to work on almost all blockchains to satisfy every need of consumers and institutions. KrakenPad platform uses the Sharing Economy Model for the purpose of profit-sharing, helping users to access DeFi platforms in the easiest, safest, and most cost-effective way.
Kraken Launchpad uses a fixed tier system based on the number of tokens held. With new rules, there will be one round available for each KrakenPad launch project; The $KRP Round(Guaranteed Round). The allocation amount for each Class could be changed according to the project's allocation requirements.
KRAKENPAD Coin Point Table
Vision
With a potential decentralized financial market, every project or potential technology application can thrive and become a Technology Unicorn for the next years. They all need strong idea incubation and fundraising platforms from the top or potential investors. KrakenPad with a vision to become a place that can become a platform for new Tech Unicorns in the years 2023 and 2024.
Mission
Your mission is to make Binance's off-chain services available on the blockchain, develop multi-chain applications and promote features of decentralized finance that let users gain economic benefits.
Low liquidity
The AMMs on Ethereum blockchain could not function very well in some market conditions, which brings about absurd transaction fees together with low liquidity and high slippage. Other AMMs on Binance Smart Chain (BSC) has lower fee, faster transaction speed, but still suffers from low liquidity and high price slippage as BSC is a relatively new public blockchain.
Kraken Swap
KrakenPad Ecosystem is committed to providing an ultimate solution for DeFi by building a new generation of AMM called Kraken Swap. KrakenPad unique technology, to automatically acquire the best pricing available for cryptocurrency swaps on BSC and offers one of the best cross-chain solutions. KrakenPad Swap also offers a special Retroactive program for all users.
Prediction
Kraken Prediction is a fun and simple decentralized prediction market. Predict whether BNB's price will rise or fall – guess correctly to win!
It's easy to take part:
Predict if the price of BNB/USDT will be higher or lower than it was when the "LIVE" phase starts.
If you enter a "UP" position, and the BNB/USDT "Closed Price" is higher than the "Locked Price" at the end of the 5-minute LIVE phase, you WIN! And if it's lower, you LOSE.
If you enter a "DOWN" position, and the BNB/USDT "Closed Price" is higher than the "Locked Price" at the end of the 5-minute LIVE phase, you LOSE! If it's lower, you WIN!
Why Choose KRAKENPAD?
Intuitive
Easy to use
Extremely fast transaction
Diversity of currencies
Where Can You Buy KRAKENPAD?
Tokens Can Be Purchased On Most Exchanges. One Choice To Trade Is On PancakeSwap (V2) As It Has The Highest KRP/WBNB. e Trading Volume, $8,947 As Of February 2021. Next is OKEx, With A Trading Volume Of $6,180,82. Other option To Trade Include KRP/WBNB And Huobi Global. Of Course, It Is Important To Note That Investing In Cryptocurrency Comes With A Risk, Just Like Any Other Investment Opportunity.
Market Screenshot

KRAKENPAD Coin Supported Wallet
Several Browser And Mobile App Based Wallets Support KRAKENPAD. Here Is Example Of Wallet Which KRAKENPAD – Trust Wallet For Hardware Ledger Nano.
Roadmap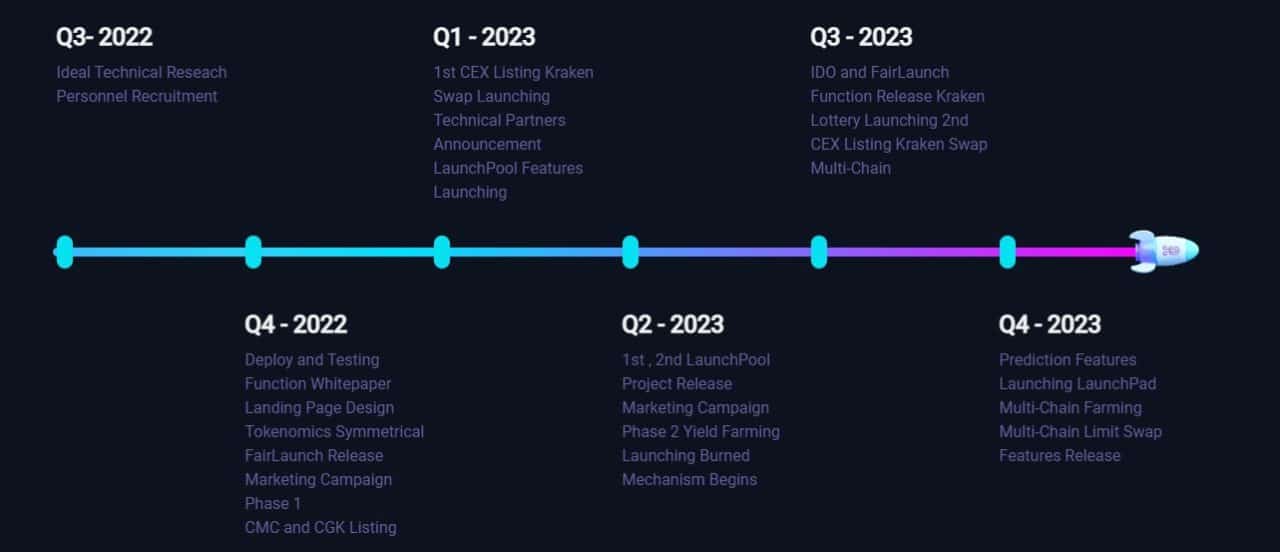 FAQ Of KRAKENPAD Coin
Where I Can Find KRAKENPAD Whitepaper?
You Can Find KRAKENPAD Whitepaper By Clicking Here.
Where I Can Buy/Sell Balancer Token?
You Can Buy or Sell Balancer Token On Some Popular Exchange For Example – PancakeSwap (V2).
What is Circulating Supply Of Balancer Token?
Circulating Supply Of Balancer Token Is 5,000,000.00 KRP.