About Kinetix Finance
Welcome to the official documentation of Kinetix Finance, your one-stop DeFi Hub built exclusively on Kava EVM. This comprehensive documentation provides all the information you need to navigate and leverage the diverse range of DeFi products and services offered on the Kinetix Finance hub. Whether you are a DeFi enthusiast, yield farmer, or liquidity provider, this documentation serves as your go-to resource.
Decentralized exchanges (DEX) are one of the most impactful use cases within the realm of decentralized finance (DeFi). They empower users to seamlessly trade assets in a decentralized, permission-less, and non-custodial manner.
These three elements are crucial, given the numerous failures and abuses of centralized entities in the traditional sphere, as well as the recent collapses of FTX and Celsius. As the crypto market grows and DeFi and its innovations continue to expand, decentralized and non-custodial solutions will become increasingly important.
Vision
The Kinetix DeFi hub will encompass a suite of the most sophisticated and popular DeFi instruments in the Web3 landscape, providing the Kava blockchain with an one-stop platform for all DeFi things, offering the greatest solutions in decentralized finance under one umbrella.
With Kinetix, you will no longer have to navigate from blockchain to blockchain and project to project to meet all your needs. At the core of our vision, we imagine a platform that brings together different financial instruments into one place, making the users' trading experience more efficient.
The Kinetix Finance Ecosystem
Kinetix Finance is fully committed to implementing decentralized solutions that optimize the user experience without creating any systemic risk. Users on Kinetix will enjoy powerful liquidity management tools, compelling incentives, low fees, and competitive rates – all without any trusted intermediaries or KYC procedures, making DeFi trading more accessible on Kava and seamless for the community.
By expanding the Kinetix product suite incrementally, the platform is poised to become the biggest one-stop, user-optimized DeFi hub on Kava EVM.
A Derivatives Platform
A robust derivatives platform will be one of the cornerstones of the Kinetix DeFi hub. Derivatives play a vital role in hedging risk, deepening liquidity, and enabling sophisticated trading strategies. They will offer a wide range of derivatives products, beginning with perpetual futures contracts and expanding to options, other forms of margin trading, spot markets, and more.
Decentralized Exchanges
The Hub will provide an immersive V3 experience by integrating a diverse range of liquidity pools and trading pairs. Users will benefit from an efficient, seamless trading experience where they have access to superior rates, prime liquidity, a breadth of popular asset pairs, and competitive staking and farming opportunities.
Kinetix Finance Active Liquidity Management
With the support of key partnerships and integrations, Kinetix Finance will enable refined liquidity management strategies that can be implemented in a single click.
Community Governance
Decentralized governance will remain a foundational pillar guiding the development of the DeFi hub and its growing body of protocols, features, and products. They value community involvement and will offer opportunities for active participation on an ongoing basis.
Building on Kava EVM
Reasons for choosing to deploy on the Kava Blockchain
Kava is a newer ecosystem among other blockchain networks and has been the primary choice to build the Kinetix DeFi hub. The Kava tech stack has a winning recipe to take the Cosmos DeFi race by storm.
By being early with the objective of building a comprehensive DeFi hub, we strongly believe they can capture the Kava community at large, including centralized exchange users who have been suffering from systematic risks of CEXs, allowing them to enjoy trading again using Kinetix.
Kinetix DeFi Hub
The Kinetix DeFi hub will consist of numerous financial instruments that will create the exclusive one-stop platform for your DeFi needs.
Follow us on the journey, while they are constructing THE perfect trading environment for the Kava community, together with multiple partners, who are veterans in the DeFi industry.
Kinetix Tokenomics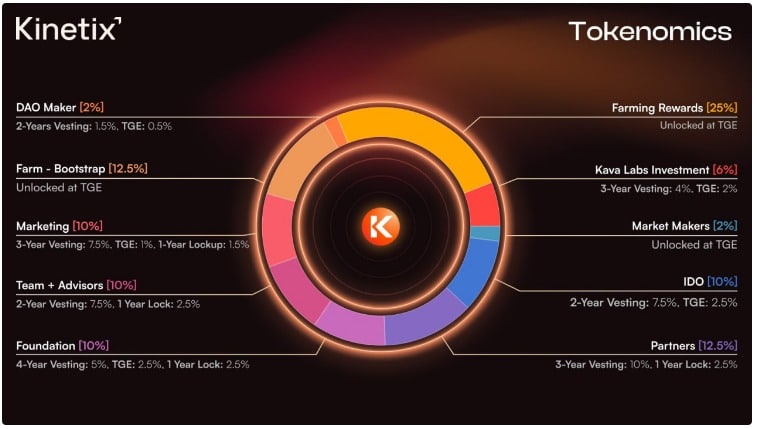 Kinetix Finance Roadmap
Take a look at the roadmap below for a sneak-peek of what else is awaiting Kinetix users
Q3 2023:
Launch of v1 perpetual DEX model
Launch of v3 concentrated liquidity DEX
Implementation of Automated liquidity management (ALM)
Kickstarting marketing campaigns
Q4 2023
Launch of lending markets with a partner
Implementation of leverage trading products
$KFI Token launch
v2.5 DEX launch
Launching the Strategy hub
Q1 2024
Implementation of fiat on-ramp and off-ramp solutions
Implementing options trading
Team
With a team of highly-skilled professionals in the DeFi field, the Kinetix DeFi hub was created and built on the Kava blockchain, pioneering to become a comprehensive one-stop platform for crypto-native derivatives, decentralized exchanges, and multiple other financial instruments.
The Kinetix team is comprised of industry veterans within the Decentralized Exchange & Perpetuals arena: Headed by Alexios Atlas (QuickSwap), Kinetix is made up of 15 highly-skilled individuals who have been founders and contributors to the DeFi ecosystem, and who have profound knowledge of digital assets and decentralized finance.
Kinetix Finance Conclusion
Welcome to Kinetix Finance's official documentation! As your premiere destination for all things DeFi, exclusively built on Kava EVM platform. Our objective in creating this extensive documentation is simple: equipping you with all the knowledge and tools needed to fully explore and utilize our wide array of DeFi products and services within Kinetix Finance ecosystem.
No matter your level of experience in DeFi, whether as an enthusiast, yield farmer, liquidity provider or other type of participant; this documentation has something for everyone. Inside you'll find guides, tutorials and insights designed to assist in making informed decisions, optimizing strategies and commencing on a journey of DeFi with confidence.
At Kinetix Finance, they believe in the transformative potential of decentralized finance to change the financial landscape, and are dedicated to offering you a seamless and secure DeFi experience. As DeFi space evolves further, so will platform and this documentation as we keep abreast of new offerings or developments in DeFi space.
Kinetix Finance FAQ
What is Kinetix Finance?
Kinetix Finance is a decentralized finance (DeFi) hub built exclusively on the Kava EVM (Ethereum Virtual Machine). It offers a wide range of DeFi products and services, making it a one-stop destination for DeFi enthusiasts, yield farmers, and liquidity providers.
How do I get started with Kinetix Finance?
To get started with the, you can follow our comprehensive documentation, which provides step-by-step guides and tutorials on how to navigate the platform, connect your wallet, and participate in various DeFi activities.
What DeFi products and services does Kinetix Finance offer?
Kinetix Finance offers a diverse range of DeFi products and services, including yield farming, liquidity provision, lending and borrowing, staking, and more. You can explore these options and choose the ones that best align with your financial goals and risk tolerance.
Is Kinetix Finance secure and trustworthy?
This prioritizes security and transparency. The platform is built on the Kava EVM, which benefits from the security of the Ethereum network. Additionally, they implement robust security measures and smart contract audits to ensure the safety of user funds.
What tokens are supported on Kinetix Finance?
They supports a variety of tokens, including popular cryptocurrencies and stablecoins. The list of supported tokens may evolve over time, so it's important to check our platform for the most up-to-date information.