What Is Gunbot?
Gunbot is an automated crypto trading bot that uses software algorithms to trade on various cryptocurrency exchanges. It is designed to allow users to create their own trading strategies based on technical analysis indicators. Gunbot is capable of executing buy and sell orders at predetermined prices, allowing users to take advantage of markets regardless of their location or the time of day.
GunBot Review Key Points
| Key | Points |
| --- | --- |
| Bot Name | Gunbot |
| Founding Year | 2016 |
| Starting Price | 0.028 BTC |
| Free Trial | Yes Available |
| Device Supported | Mobile , Desktop |
| Cloud Based | Yes |
| Customer Support | Email, User Guide Document, & Contact Form Support |
| Payment Options | Crypto , PayPal |
| Affiliate Program | Available |
| Official Website | https://www.gunbot.com/ |
What is Price Of Gunbot?
Gunbot is a trading bot which is available for purchase. Prices vary depending on the version of Gunbot purchased and the exchange it is being used on, but typically range from 0.028 BTC to 0.08 BTC.
How To Open A Gunbot Crypto Bot Account
To open a Gunbot account, you will need to first visit the Gunbot website and create a user account. Once your user account is created, you will be able to purchase and activate the Gunbot software. After your purchase is complete, the Gunbot software will be available for download and installation.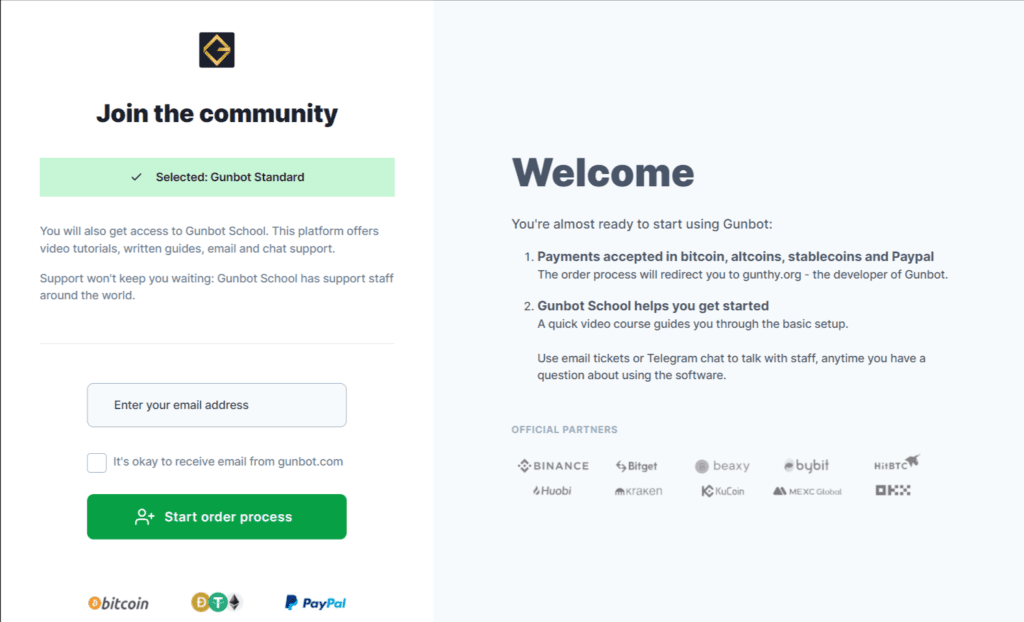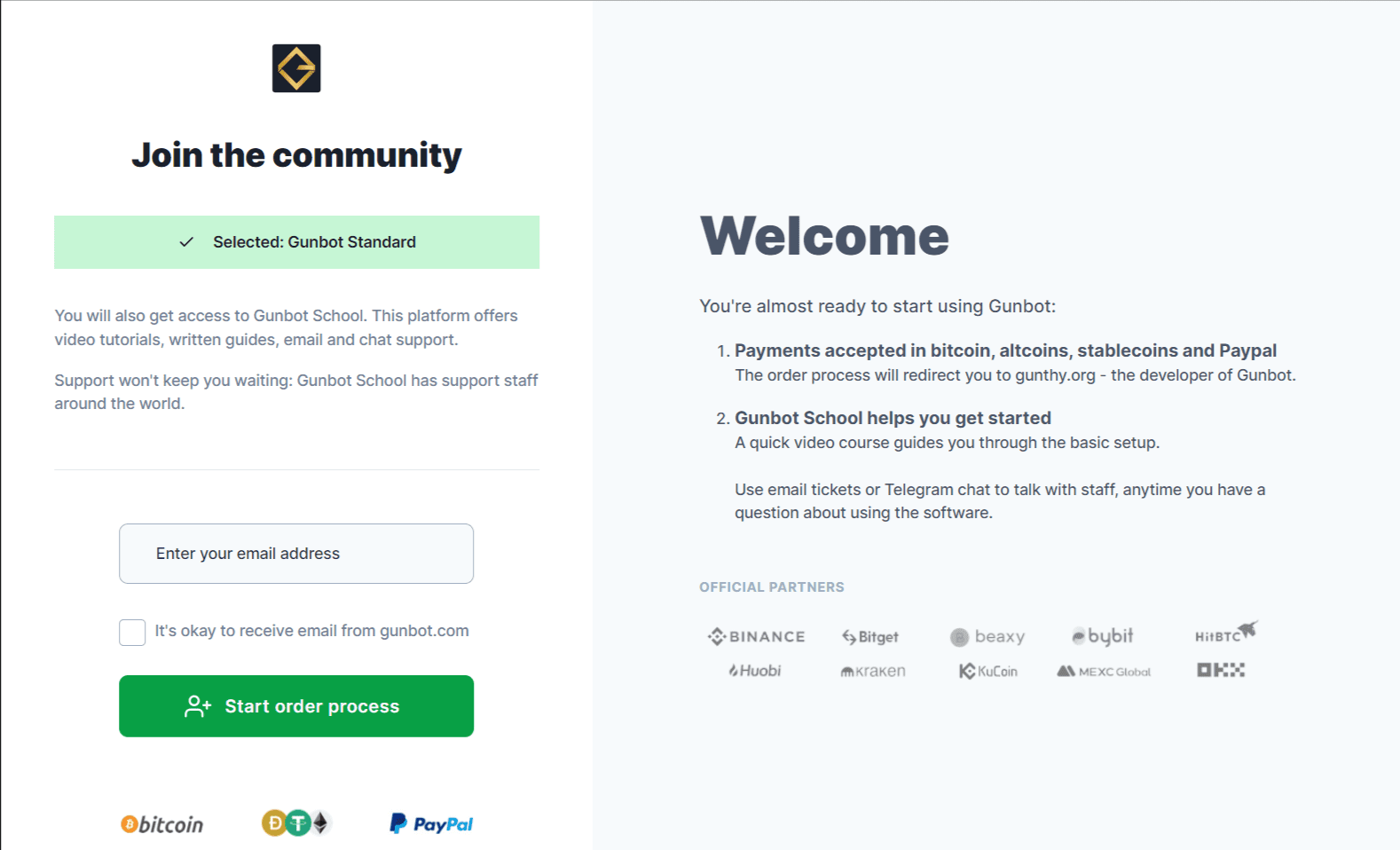 Once the software is installed, you can create a Gunbot trading account and begin trading in the cryptocurrency markets.
How To Use Gunbot Trading Bot?
Once purchased, Gunbot can be downloaded and installed on a compatible device.
Once installed and configured, Gunbot can be used to trade different cryptocurrencies on a wide range of exchanges. To use Gunbot, users will need to create an account on an exchange, deposit funds into their account, and then configure Gunbot to trade with their account.
Gunbot can be configured to use different trading strategies and settings, such as trading with different pairs, setting a stop-loss, and setting a take-profit. Additionally, users can also configure Gunbot to monitor the market and act on certain price movements.
Once configured, Gunbot will automatically place orders based on the user's settings. The user can then monitor the performance of the bot and make adjustments as needed.
Is Gunbot safe?
Gunbot is safe to use and does not contain malicious software. It is designed with safety in mind and has a number of safeguards built in to protect users and their funds. That said, it is still important to exercise caution when trading with any automated bot or system.
GunBot Pro Or Cons
| PRO | CONS |
| --- | --- |
| GunBot is secure and private, with encryption and two-factor authentication. | GunBot is not free, and comes with an fee. |
| Many exchanges available | GunBot Pro does not have a mobile app, making it difficult to use on the go. |
| Customer service is positive | Complicated registration process |
| Many setting options | Price model very non-transparent and dubious |
Features Of Gunbot
Run On Multi Platform
Runs from your own Windows, macOS, Linux or ARM device .The software license is not tied to a specific device. Software updates and upgrades are free.
You can choose between using the built-in graphical user interface or running Gunbot as a command line tool.
TradingView add-on
The TradingView add-on makes Gunbot execute trading alerts sent from tradingview.com. This allows for fully custom strategies, using pine script at TradingView. The add-on allows for a few protections, like making sure sell orders happen above the break-even point and meet the exchange minimum trade volume. The add-on can be used in a mixed mode too, where both a Gunbot strategy is executed and TradingView alerts are being executed.
Multiple Supported Exchanges At Gunbot Crypto Bot
Most popular exchanges work with Gunbot. New supported exchanges are regularly added. Some partner exchanges don't require an API key to be registered: okGunbot, Gunthy, Beaxy and Txbit. These can be used for free next to other exchanges that do need an API slot. The exchanges listed below are tried and tested. Additionally, lesser known spot exchanges are supported through the CCXT library, these might not have the same high level of reliability yet.
Unlimited Trading Pairs
There are no restrictions to the number of active trading pairs in a Gunbot installation, this applies to every Gunbot edition. Feel free to run just one trading pair, or even every pair available at your exchange. In general, every pair offered by exchanges can be used with Gunbot.
Multiple Indicators Supported
Gunbot supports multiple indicators and safeties, including RSI, Ichimoku, and Moving Averages, to help you make better trading decisions.
Excellent Customer Support Team
It has a robust customer support team that can help you with any issues or questions you may have.
Telegram Integration
GUNBOT also offers a Telegram integration, which allows users to receive notifications and updates on their trades directly within their Telegram app. This integration can be used to stay up to date on the best trades, forecasts, and market conditions. Additionally, users can also manage their bots directly through the Telegram app, allowing for more convenient and efficient trading.
Reversal Trading
Gunbot can automatically accumulate quote currency when prices move down, without investing more than the initial buy order. This feature is called reversal trading and can help bring down the break-even point for your investment. With reversal trading, Gunbot will sell quote units owned at a configurable percentage price drop, then buy back more quote units using only the funds acquired from the previous sell order.
This process can keep repeating while prices move down further, or even when the market goes sideways after an initial drop. While accumulating, Gunbot keeps track of the trading fees paid during the process. As soon price hits the break-even point, it will continue with regular trading.
Balance options
You can set per pair limits for the amount of base currency to invest per trade. The trading limit can be set as an absolute amount, or as a percentage of available base currency. When selling, you can choose to sell all quote currency, or keep a number of quote units.
Gunbot can be set to ignore "dust": small holdings below the minimum trade size of the exchange. A funds reserve feature is available to keep an absolute amount of base currency reserved at all times.
The Best Gunbot Alternatives
1. CryptoHopper
CryptoHopper is a great alternative to Gunbot. It is an automated cryptocurrency trading bot that enables traders to trade 24/7 on autopilot. It offers a wide range of features, such as customizable strategies, backtesting, portfolio management, and more. It also has a paper trading mode, so users can try out different strategies without risking real money.
Gunbot FAQ
Is Gunbot scam or legit?
Gunbot is not a scam. It is a legitimate automated trading software designed to help cryptocurrency traders make profitable trades.
How Much Does Gunbot Cost?
According to Gunbot, the starting price for Gunbot is 0.028 BTC