About Emanate.live
Emanate.live is an audio exchange protocol designed to enable producers, distributors and influencers in the music industry ecosystem to connect via blockchain based smart-contracts. The MN8 token is the cryptographic asset that will be sold in the early stages of the Emanate maturation journey. The tokens should be bought by those who wish to claim a position in the Emanate ecosystem because they believe in a decentralised future for the music industry.
Emanate is built on the world's fastest public distributed ledger and computing technology, the EOSIO opensource software. Artist payments are sent instantly around the globe using a stable cryptographic asset, and Emanate 'EMT' token is used for access and governance. As an artist, label or listener, you don't have to get involved at this level… but if you do there is plenty to discover.
| ICO | DETAILS |
| --- | --- |
| Company Name | Emanate |
| Token Symbol | EMT |
| Accepting | ETH, BTC |
| Platform | Ethereum |
| Bonus | Available |
| Bounty | Available |
| Whitelist/KYC | KYC & Whitelist |
| Price | 1 EMANATE = 0.12 USD |
| Restricted areas | USA, China |
| Softcap | 5,000,000 USD |
| Hard cap | 12,000,000 USD |
| Country | Australia |
| Website | Homepage |
Emanate Alpha is here
Sign-up or click 'listen' to demo the Emanate Alpha platform. If you are a musician, a label owner, or just a music lover, now is the time to get involved in the Emanate community. There's fun to be had and money to be made! Read on and find something that interests you or sign up now.
Emanate is for artists
Emanate is for artists, by artists. A technology network and music community designed to help lift the quality of your work, collaborate more and get paid instantly when your music is played. Yes, you get paid instantly as your music is played!
Labels on Emanate
Emanate.live is designed to make life easier. With a specific focus on streamlining payments and agreements between collaborators. Soon, any label will be able to create a profile and start managing their artists. For now, join the community and connect with an Emanate Rep if you would like to be amongst the first labels to get involved.
Are you a true music lover?
Emanate has a growing number of artists, and an ever-increasing catalogue of music to enjoy. There's something nice about knowing an artist is being paid at the exact same time as you are listening to them! You will soon be able to get paid for helping out.
Governance
Emanate is being launched by Australian software development company, Blockchain Music Pty Ltd. Over time, Emanate will look to our community and token holders for input and there will be rewards to be earned. Right now, you can lock your EMT into the Platform Growth Pool and earn a 0.5% bonus paid weekly. Lock tokens into the Growth Pool in the dashboard, contribute to governance issues on discord and via feature submissions on zendesk.
Technology
Emanate puts power into the hands of the users! The (EMT) token can be used to access the full power of Emanate. It's like owning a bit of the network for yourself! EMT is listed on several crypto exchanges which gives you the chance to buy and sell the tokens as needed.
The Main Team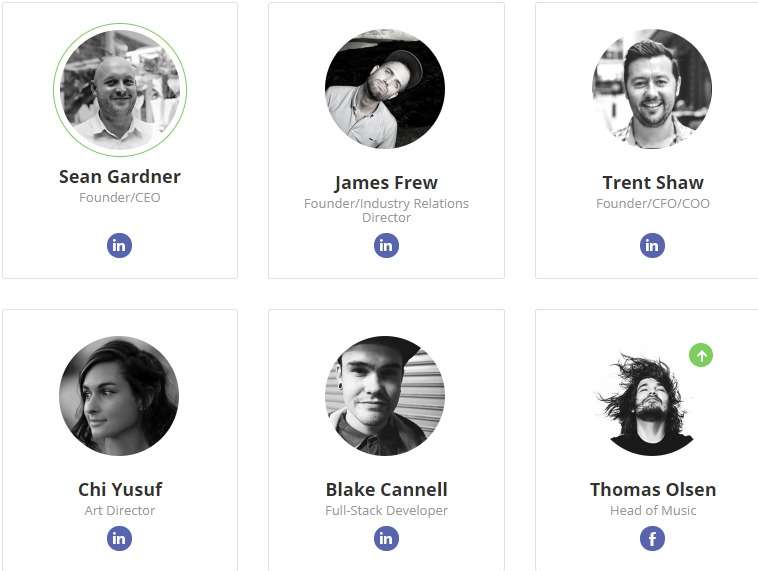 Buy into the network
If cryptocurrency is your thing, the EMT token helps power the Sound We Live For. Grow your EMT balance by 0.5% every week, by locking tokens into the Emanate Growth Pool.
Collaboration supercharged
Emanate.live helps artists work together, by splitting payments automatically amongst up to 50 parties. Create a "smart-collaboration" now.
Token dashboard
Welcome to the Emanate Dashboard. Here you can manage your EMT tokens, bonus rewards and staking. This dashboard is built using the open-source eosDAC Factory , and this destination will evolve over time to host Emanate Music Cooperative. Join on discord to discuss the future of Emanate governance.
Please connect to your EOS account using scatter. If you are not yet a scatter user, or EOS account holder, please visit us on discord and connect with an Emanate Rep. Alternatively, you can email support@emanate.live.
Developers accounts and audio endpoint APIs coming soon.
This will enable audio integration in to virtually any media channel from games, to VR and AR experiences, public performances, mobile apps, smart-watch apps.
The Emanate Development Fund will also consider new, community-built tools and application that can add value to the network. Bounty projects will be shared from time-to-time.
If you would like submit a CV to the development team or if you want to be one of the first developers to start integrating with Emanate, get in touch with team on discord .
Roadmap
Q4 2017 – Q3 2018
Prototype & Sale:
Dsound
Emanate Demo
MN8 Token Sale
Q3 2018 – Q4 2019
Alpha phase:
Technical specification
Token Integration
Emanate Live Alpha
Partner Platform Integration
Q4 2018 – Q4 2019
Beta phase:
Emanate Live Beta
DAW Integration
2020
Production Release:
Emanate Live 1.0 Software Package
Emanate Dashboard
Use the Emanate.live Dashboard to manage token staking and purchases, to access a block explorer and find other useful links. This will soon be home to the Emanate Music Cooperative.
Block Explorers
Emanate's realtime payment engine runs on a global, open-source blockchain with nodes in all corners on the planet. You can track these payments on various EOS mainnet block explorers such as Bloks.io, EOSX.io or on our own explorer . View the emanatectent and emanatecolab contracts to see the latest activity on Emanate.
Interact using Scatter
If you want to take full control of your EOS account, get set up with Scatter and you will soon be interacting with the Blockchain like it's second nature. Using Scatter on your desktop computer will enable you to open up new parts of Emanate and over time you could avoid subscription fees altogether thanks to your EMT holding.
Wallets
Keep your EMT tokens in any of these easy-to-use EOS mobile wallets. Lynx Wallet, Meet.One, Token Pocket , Nova Wallet. If you don't use Scatter, you will still be able to interact with Emanate and the EOS blockchain using one of these wallets.
EMT
You only need Emanate.live if you want to connect an EOS account to monetise your audio as an artist on Emanate. The only exception, is if you join the EMT Pro-connect community for $16.50 per month, in this case other EMT holders stake on your behalf.
If you have an EOS account connected to your Emanate account with 500 EMT, you can listen unlimited for no additional cost. We encourage music fans to join the Music Lovers community for $5.50 per month which help grow the Emanate network.