What is Cryptosignals Tool ?
Cryptosignals Tool are trading tools or indicators used by traders to make informed trading decisions. Crypto signal tools provide signals or alerts to traders about market conditions, price movements, and potential trades. These signals are often generated through technical analysis and use algorithms to analyze market data and identify profitable trading opportunities.
Crypto signal tools can be used by both novice and experienced traders to help them make more informed trading decisions. Some of the most common types of crypto signals include price alerts, trend indicators, and signal providers that offer trade recommendations.
Some Important Points Of Cryptosignals
Important
Points
Tools Name
Cryptosignals Tool
Price
$42 Monthly
Free Version
Available
Address
FIRST AMO LTD Office One,
1 Coldbath Square, Farringdon
London, EC1R 5HL
Notifications and Alerts
Yes
Customer Support
Live Chat: 24/7 , Email Support , Ticket System
Official Website
Click Here To Visit
Cryptosignals Tool Price
Join VIP group by choosing a package below that suitable for you, we offer a full 30-day money-back guarantee so there is nothing to lose by trying our high-quality cryptocurrency signals.
TradingView has four unique account tiers:
● Monthly
● MOST POPULAR Billed Quarterly
● BI-ANNUALLY
● Billed Annually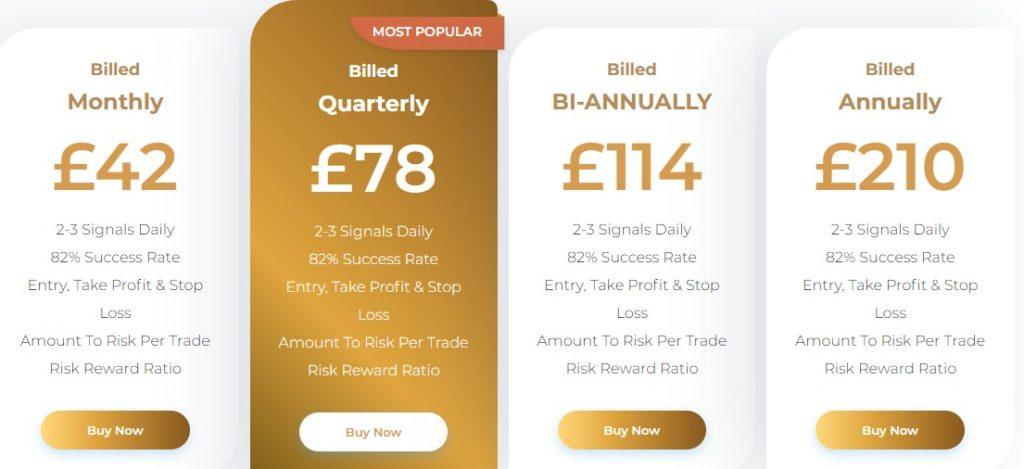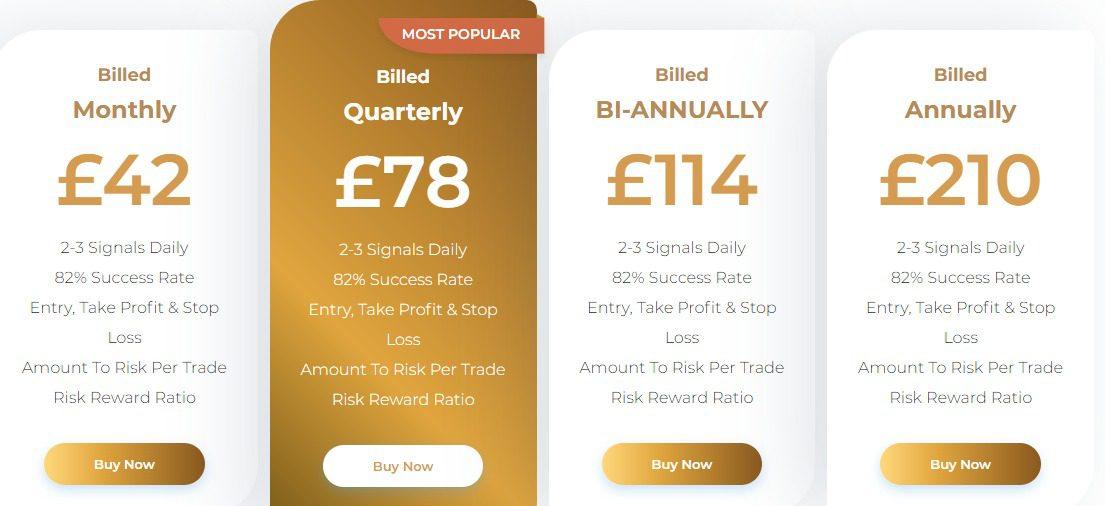 How To Use Cryptosignals Tools?
The exact process for using a crypto signal tool will depend on the specific tool in question. However, here is a general outline of how to use most crypto signal tools:
Sign up: Create an account with the crypto signal tool of your choice.
Connect exchange: Connect your exchange account, such as Binance or Kraken, to the crypto signal tool. This allows the tool to access your funds and execute trades on your behalf.
Configure settings: Customize your crypto signal tool settings, such as the trading pairs you want to trade, the frequency of signals, and any other relevant settings.
Fund account: Fund your exchange account with the cryptocurrencies you want to trade.
Start trading: Once you have configured your Cryptosignals Tool and funded your exchange account, you can start trading. The tool will provide you with signals or alerts about market conditions, price movements, and potential trades.
Make informed decisions: Use the signals provided by your crypto signal tool to make informed trading decisions. Keep in mind that while these signals can provide valuable information, they are not a guarantee of profits and involve risk.
It's recommended to thoroughly research and understand the risks involved before using any crypto signal tool, and to only invest what you can afford to lose. For detailed instructions on how to use a specific crypto signal tool, it's best to consult the documentation provided by the tool.
How Does Cryptosignals Work?
Cryptosignals Tool work by analyzing market data to identify profitable trading opportunities. The exact method used to generate signals will depend on the specific crypto signal tool in question, but most tools use technical analysis and algorithms to analyze market data.
For example, a crypto signal tool might use trend analysis to identify when a particular cryptocurrency is likely to rise or fall in price. It might also use price alerts to notify traders when a cryptocurrency reaches a certain price level. Additionally, some signal tools use machine learning algorithms to analyze market data and identify profitable trades.
Once a signal is generated, the tool will send an alert or notification to the trader. The trader can then use this information to make informed trading decisions. It's important to note that while crypto signals can provide valuable information, they are not a guarantee of profits and involve risk.
Is Cryptosignals Safe?
Cryptosignals Tool can be safe, but it depends on the specific service you're using and how you're using it. As with any financial investment, there is always some level of risk involved, and it's important to thoroughly research any service or provider before investing your money. Be sure to look for signs of a trustworthy service, such as regulatory compliance, a solid track record, and transparent information about the team and methodology behind the signals. It's also important to never invest more than you can afford to lose and to always use your own judgement and do your own research before making any investment decisions.
Cryptosignals Features
Crypto signals typically provide alerts or indications about potential trades in the cryptocurrency market. The exact features of a crypto signals service can vary, but some common ones include:
Trade signals
Providing specific buy or sell recommendations for different cryptocurrencies, often with a target price and time frame.
Market analysis
Offering insights into market trends, technical analysis, and other information that can help inform your trading decisions.
Portfolio Tracking
Allowing you to keep track of your investments and see how your portfolio is performing over time.
Risk management tools
Providing ways to manage risk, such as setting stop-loss orders or adjusting position sizes based on market conditions.
Real-time alerts
Sending notifications to your device or email when a new signal is generated or when specific market conditions are met.
Community features
Connecting with other traders and investors to discuss market trends, share insights, and gain additional perspectives.
Historical performance data
Showing the past performance of the service's signals and how they have performed over time.
Cryptosignals Pros & Cons
| PRO | CONS |
| --- | --- |
| Increased efficiency: By relying on the expertise of experienced traders, you can potentially make trades faster and more effectively than you could on your own. | Cost: Some crypto signal services charge a fee for their services, which can add up over time and impact your overall returns. |
| Diversification: Crypto signals can provide you with access to a wider range of trading opportunities, including less well-known cryptocurrencies and strategies. | Dependence on third parties: Relying on signals from an external source means you are dependent on the accuracy and reliability of that source. |
| Improved returns: By following the signals provided by a reputable service, you may be able to increase your overall returns and achieve better results than you would by trading on your own. | No guarantee of profits: Even with the best signals, there is no guarantee of profits, and it's important to remember that the cryptocurrency market is highly volatile and subject to rapid fluctuations. |
| Risk management: Many crypto signal services offer tools and features to help you manage risk and limit your exposure to market volatility. | Lack of control: Following signals means that you have less control over your trades and are relying on the judgement of others. |
Cryptosignals Video
Cryptosignals Conclusion
In conclusion, crypto signals can be a useful tool for traders and investors looking to gain an edge in the cryptocurrency market. By providing actionable recommendations and market analysis, crypto signals can help you make informed trading decisions and potentially improve your returns.
However, it's important to approach crypto signals with caution and thoroughly research any service before using it. Consider your own goals, risk tolerance, and trading style, and be mindful of the costs and potential downsides of using such a service. Ultimately, the success of your trades will depend on a combination of your own judgement and the accuracy of the signals you receive.
Cryptosignals Tool FAQ
What are crypto signals?
Crypto signals are alerts or indications provided by a service or software that aim to help traders make informed decisions about buying or selling cryptocurrencies.
How do crypto signals work?
Crypto signals services typically analyze market data, perform technical analysis, and track market trends to generate signals about potential trades. These signals are then communicated to traders via real-time alerts or through a dashboard or app.
How accurate are crypto signals?
The accuracy of crypto signals can vary depending on the service and the market conditions. While some services have a strong track record of accurate signals, no signal service can guarantee profits, and it's important to always do your own research and use your own judgement when making investment decisions.