About Coinigy BOT
Coinigy BOT is one of the most renowned multi-exchange trading platforms that provide access to global financial markets where all kinds of businesses, big or small, can rely on information provided by the platform to power the decision-making skills of the cryptocurrency traders.
It was founded by Robert Borden, CEO of the company, and William Kehl, President of the company. This crypto trading platform has a team of talented developers, dedicated evangelists, and analysts who believe in cryptocurrency trading and in providing the best of the financial markets.
Coinigy Review Key Points
| Key | Points |
| --- | --- |
| Bot Name | Coinigy |
| Founding Year | 2014 |
| Starting Price | $18.66 Per Month |
| Free Trial | Yes Available |
| Device Supported | Desktop |
| Cloud Based | Yes |
| Customer Support | Email, User Guide Document, & Contact Form Support |
| Supported BTC Exchanges | 40+ |
| Affiliate Program | Available |
| Official Website | https://www.coinigy.com/en/ |
What is Price Of Coinigy?
Coinigy is a trading bot which is available for purchase. Prices vary depending on the version of Coinigy purchased and the exchange it is being used on, but typically range from $18.66 Per Month to $99.99 Per Month.


How To Open A Coinigy Crypto Bot Account
To open a Coinigy account, you will need to first visit the website and create a user account. Once your user account is created, you will be able to purchase and activate the software. After your purchase is complete, the software will be available for download and installation.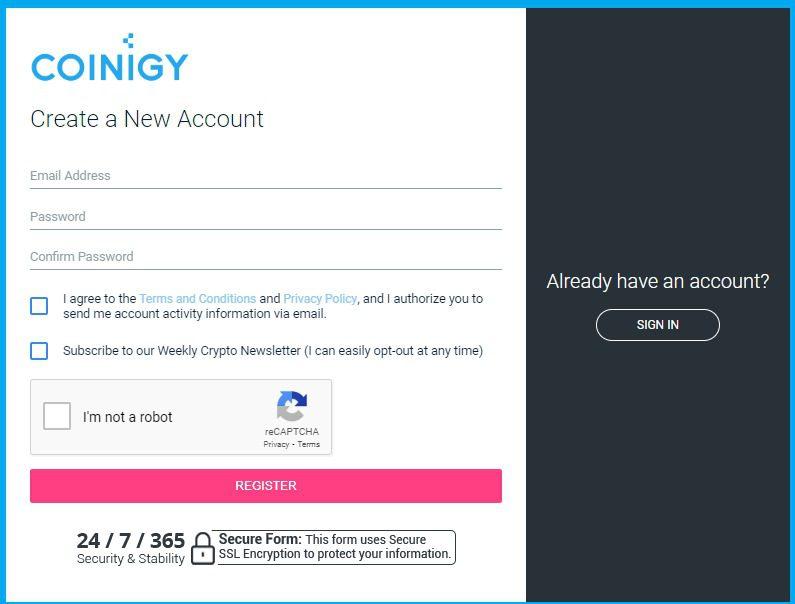 How To Use Coinigy Trading Bot?
Coinigy is a cryptocurrency trading platform that offers a trading bot as part of its suite of tools for professional traders. To use the Coinigy trading bot, you need to follow these steps:
Create an account: Sign up for an account on the Coinigy platform.
Connect your exchange: Link your preferred cryptocurrency exchange to Coinigy. This will enable you to trade on multiple exchanges from one platform.
Configure your bot: Set up the parameters for your trading bot, including the assets you want to trade, the strategies you want to employ, and your risk management rules.
Monitor your bot: Keep an eye on your bot's performance and make adjustments as needed.
Start trading: Once you are satisfied with your bot's configuration, you can activate it and start trading automatically.
Note: Always make sure to thoroughly research and test your trading strategies before deploying them with a bot, as the cryptocurrency market can be volatile and unpredictable.
Is Coinigy safe?
Coinigy is considered safe as long as proper security measures are taken by the user, such as using strong passwords and enabling two-factor authentication. However, like with any online platform that holds sensitive information and assets, there is always some level of risk involved. It is important to do your own research and make informed decisions about using Coinigy or any other similar service.
Coinigy Pro Or Cons
| PRO | CONS |
| --- | --- |
| Multiple exchange support: Coinigy allows traders to connect multiple cryptocurrency exchanges and manage their trades from one platform. | Cost: Coinigy's pro plan is a paid service, and its fees can be expensive for some users. |
| Advanced charting: Coinigy provides advanced charting tools, including real-time market data and technical indicators, to help traders make informed decisions. | Technical expertise: Some of the advanced features offered by Coinigy, such as the trading bot, may require technical expertise to set up and use effectively. |
| Trading bot: Coinigy offers a trading bot that allows traders to automate their strategies and execute trades based on specific criteria. | Limited exchanges: Although Coinigy supports multiple exchanges, not all exchanges are supported, so some users may not be able to trade on their preferred platform. |
| Mobile app: Coinigy offers a mobile app for iOS and Android devices, making it easy for traders to stay connected to their portfolios and make trades on the go. | User interface: Some users may find the Coinigy user interface to be confusing or difficult to navigate. |
Features Of Coinigy
The Ultimate Cryptocurrency Portfolio Management Suite trusted by hundreds of thousands since 2014.
Connect with 45+ exchanges
Coinigy's connectivity across the cryptocurrency universe gives you access to real-time pricing data, order execution, arbitrage and portfolio management tools.
No trading limits
There are no additional exchange fees when trading through Coinigy. Stay 'free forever' and never spend a satoshi unless you choose to upgrade to a pro plan. No limits on volume or order size.
The ultimate anti-theft device for crypto
Automatically track your aggregate portfolio across every exchange and wallet. Quickly detect balance changes, trade executions, new listings and more.
Alerts, APIs and apps
Coinigy is the most comprehensive bitcoin and cryptocurrency trading and portfolio tool available. We offer price, volume and trade alerts across e-mail, SMS, and mobile push to help you stay ahead of the game.
Connect your exchanges
Coinigy supports over 45 crypto exchanges to make it easy for you to manage your crypto portfolio all in one place. Take advantage of CryptoSYNC technology to streamline your trading experience and maximize your potential for success.
Wallet Portfolio Monitoring
Being the world's best crypto exchange, Coinigy offers email and SMS price alerts to keep users updated. Another great advantage of using Coinigy is the modern anti-theft device technology that allows users to monitor their crypto wallets and carry out portfolio tracking from a single place.
No Hidden Fees
Coinigy is one of the most transparent cryptocurrency trading platforms that does not charge any additional fees from its users. However, traders may be charged a small fee depending on their subscription after the trial period.
The Best Coinigy Alternatives
There are several alternatives to Coinigy that offer similar features for cryptocurrency traders, including:
TradingView: A popular charting platform that also offers social trading features and a marketplace for custom indicators and scripts.
3Commas: A cloud-based trading bot platform that allows traders to automate their strategies and execute trades on multiple exchanges.
Gunbot: A popular, self-hosted trading bot that supports multiple exchanges and offers a wide range of customization options.
CryptoHopper: A cloud-based trading bot platform that offers advanced features such as paper trading, backtesting, and portfolio management.
Coinigy FAQ
What is Coinigy?
Coinigy is a cryptocurrency trading platform that provides a unified and secure way to access multiple cryptocurrency exchanges from one platform. It offers advanced charting tools, portfolio management, and trading capabilities for individuals and institutional traders.
How does Coinigy work?
To use Coinigy, you create an account on the platform, add funds, and connect your existing exchange accounts. You can then access all your exchange accounts from one place, manage your portfolios, and execute trades from within the Coinigy platform.
Is Coinigy secure?
Coinigy implements various security measures to protect users' accounts and assets, including encryption, two-factor authentication, and regular security audits. However, as with any online platform that holds sensitive information and assets, it is important to take personal security measures, such as using strong passwords and keeping your account information private.
Can I use Coinigy on mobile devices?
Yes, Coinigy offers a mobile app for iOS and Android devices, allowing users to access their accounts and execute trades from anywhere.