Welcome to one of our app guides, where we will review the Android version & IOS Version of the Bittrex trading app. After this review, you will be prepared to download the Bittrex app and start trading.
What Is Bittrex?
Bittrex is a cryptocurrency exchange that allows users to trade various digital assets, including Bitcoin, Ethereum, and Litecoin. It was founded in 2014 and is based in Seattle, Washington. Bittrex is known for its security measures and for listing a wide variety of digital assets. Users can access the exchange through its website or mobile app.
Bittrex App Important Points
| | |
| --- | --- |
| App Name | Bittrex |
| Download Store | Playstore , IOS |
| Application Type | Trading Platform |
| Founded Year | 2014 |
| Free To Use | Yes |
| Paid Option | No |
| Founder Name | Bill Shihara |
| Official Website | Click Here To Visit |
What is the Bittrex Android and IOS app?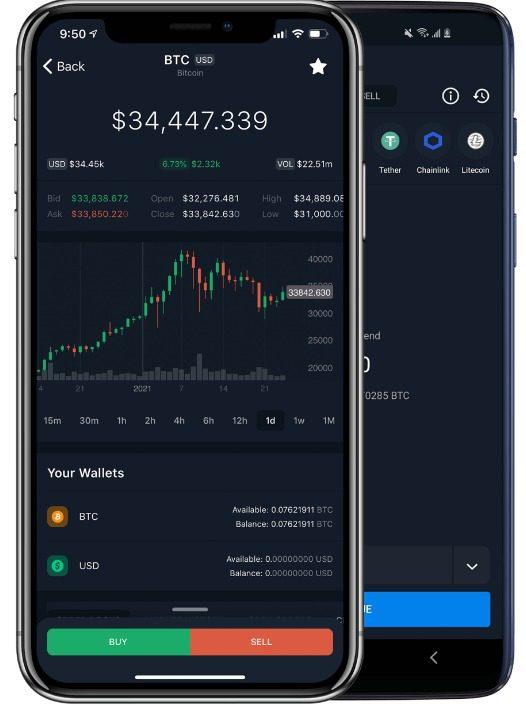 The Bittrex Android and iOS app is a mobile application version of the Bittrex cryptocurrency exchange. It allows users to access the exchange's features and trade digital assets on their mobile devices. The app includes features such as real-time market data, trading history, and the ability to place buy and sell orders. Additionally, the app supports multiple languages, which helps the global users to trade with ease. The app is available for download on both the Google Play Store and the Apple App Store.
How to Use Bittrex App (iOS and Android)
Using the Bittrex app on iOS and Android is relatively straightforward. Here are the basic steps to get started:
Download the Bittrex app from the App Store (iOS) or Google Play Store (Android).
Open the app and create an account by providing your email address and creating a password.
Verify your email address by clicking on the link sent to you.
Log in to your account and complete the verification process. You will need to provide your personal information and may be required to upload a photo of your ID.
Once your account is verified, you can deposit funds into your account by clicking on the "Deposit" button.
Once your funds have been deposited, you can start trading by choosing the digital asset you want to trade and placing a buy or sell order.
You can also check your trading history, view your open orders and check your account balance from the app.
Note: Before starting trading, please be sure to read and understand the terms of service and fee schedule of the exchange, and also be aware of the market risks.
Bittrex App Pro Or Cons
PRO
CONS
The Bittrex app allows users to access the exchange and trade digital assets from their mobile devices, making it easy to stay on top of market movements and manage their portfolios on the go.
The Bittrex app can be challenging for new users to navigate, as it offers a wide range of features and options.
Bittrex is known for its security measures, which include two-factor authentication and SSL encryption.
Some users may find that the Bittrex app is lacking in certain features compared to other exchange apps.
Bittrex lists a wide variety of digital assets, giving users access to many different trading options.
Some users have reported long wait times for customer support response.
It's important to keep in mind that the Bittrex app and the Bittrex exchange are constantly evolving, so some of the above may change over time. Always make sure to read reviews and check the official website before using any app or exchange.
Is Bittrex app safe and legit?
Bittrex is considered to be a safe and legitimate cryptocurrency exchange. It was founded in 2014 and has since become one of the most popular and widely used cryptocurrency exchanges in the world. Bittrex is known for its security measures, which include two-factor authentication and SSL encryption, which helps to protect users' personal and financial information. Additionally, Bittrex is a compliant to various regulations and operates with licenses in some states and countries.
Bittrex App Features
Safely access your crypto across devices
The Bittrex Global mobile app gives you the convenience of having a digital wallet on your phone, along with the platform's industry-leading security practices. Manage your token and digital asset holdings on the safest platform to trade and store cryptocurrency.
The top cryptocurrencies, with emerging coins and tokens
Keep track of your holdings with up to date prices for cryptocurrencies like Bitcoin, Ethereum and more. The Bittrex Global mobile app provides detailed stats at a glance, a customizable favorites list and more to improve your cryptocurrency trading experience.
Real-time market data
The app provides real-time updates on the prices and trading volumes of various digital assets, allowing users to stay on top of market movements and make informed trading decisions.
Trading history
The app allows users to view their trading history, including past buy and sell orders, which can be helpful for tracking performance and making future trading decisions.
Buy and sell orders
The app allows users to place buy and sell orders for various digital assets directly from their mobile devices.
Account balance
The app provides users with an overview of their account balance, including both available and pending funds.
Multi-language support
The app supports multiple languages, making it accessible to a wide range of users worldwide.
Push notifications
Users can enable push notifications to get alerts for important events such as price fluctuations, open orders and account balance changes.
Order book
Users can view the order book, which shows the buy and sell orders that have been placed by other users.