Best Private Jets Companies Several private jet businesses stand out for their superior offerings, opulent extras, and dedication to giving customers an unrivaled traveling experience. NetJets is one of the most well-known businesses in this field. With a fleet of more than 700 aircraft that ranges in size from light jets to large-cabin aircraft, NetJets provides fractional ownership and jet card programs to meet the various needs of its clientele. They have a spotless reputation thanks to their dedication to security, dependability, and customized service.
VistaJet is another significant player in the private aviation market. With a huge fleet of super-midsize and big-cabin jets, VistaJet—a company renowned for its global reach—ensures that customers can enjoy opulent travel alternatives wherever they go. The company's subscription-based business strategy offers simplicity and flexibility, making it an appealing option for regular travelers.
How To Choose Best Private Jets Companies?
In order to assure safety, comfort, dependability, and cost effectiveness, selecting the best private jet business requires taking into account a number of aspects. Here is a step-by-step instruction sheet to assist you in reaching a decision:
Research and Information Gathering: Start by doing extensive research on various private jet firms. To learn more about various businesses and their services, consult the internet, trade journals, client testimonials, and referrals.
Safety and compliance: When it comes to private flying, safety comes first. Make that the private aviation company you are thinking about are certified by the appropriate aviation regulatory bodies, such as the Federal Aviation Administration (FAA) in the United States, and that they adhere to all applicable safety standards.
Fleet and Aircraft Selection: Consider the range, variety, and size of the company's fleet of aircraft before choosing an aircraft. Whether you require an aircraft for brief flights, lengthy journeys, or to carry a specified number of passengers, the choice of aircraft should be in line with your unique requirements.
Reviews and Reputation: Look for feedback from previous customers. To learn more about other consumers' interactions with the company, check out online forums, platforms, and business-related websites. A positive reputation is a reliable sign of high-quality service.
Customer Service and assistance: Evaluate the private jet company's degree of assistance and service to its clients. Think about how they manage requests, reservations, changes to flights, and emergencies. Customer service that is quick and effective is essential.
Here Is List Best Private Jets Companies
NetJets, Inc
Vista Global
Flexjet
Wheels Up
FlyExclusive
Solairus Aviation
PlaneSense
Jet Linx
AirSprint
Nicholas Air
Jet Aviation
Clay Lacy Aviation
Aero Air
Chartright Air
Fly Alliance
Volato
Berry Aviation
Thrive Aviation
Worldwide Jet Charter
ATI Jet
20 Best Private Jets Companies in 2023
1.NetJets, Inc
In order to meet and surpass the high expectations of the most discerning passengers in the globe, NetJets maintains the largest, most diverse fleet of private airplanes anywhere in the world.
Aircraft business model and industry-leading scale provide our Owners with dependable financial sustainability unmatched in the sector. As a Berkshire Hathaway corporation renowned for our continuous dedication to safety, service, and unrivaled global access, we are proud of our affiliation.
2.Vista Global
With a goal of ensuring seamless travel and optimum efficiency, Vista has sought to innovate and modernize the private aviation experience. We have developed asset-light flying solutions over the past 20 years by allowing clients to access a large fleet while only paying for the hours they use. Through a vertically integrated technological platform that supports its accelerating growth trajectory.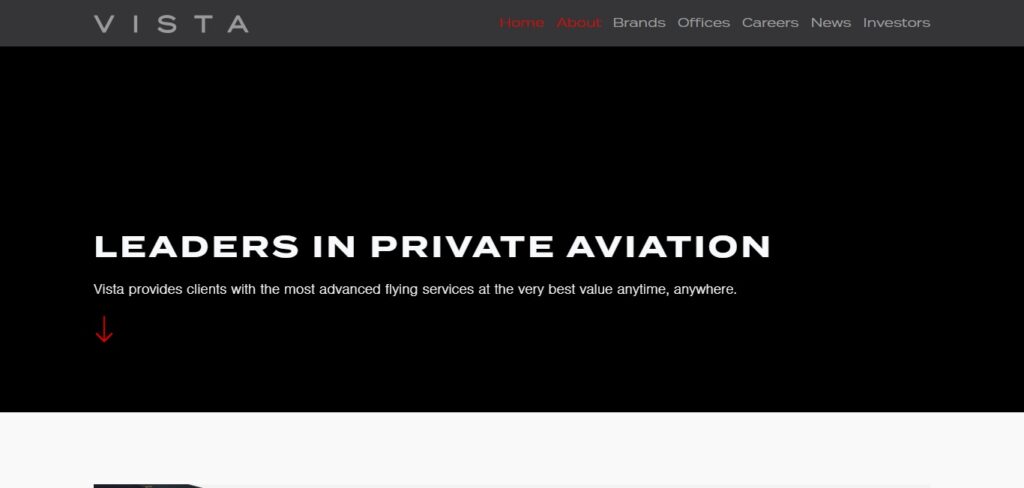 Vista offers the greatest end-to-end service to every business aviation client. Vista's private aviation platform consists of two well-known brands, VistaJet and XO, and offers a luxury subscription model that takes advantage of the shared economy's advantages. Our prosperity is genuinely just getting started.
3.Flexjet
Since the beginning of Bombardier, we have advanced steadily in the private aviation sector. We expanded along with expectations. We evolved along with our owners' changing needs. What began as a brochure sales tool has developed into a market leader whose offerings and experiences are revolutionizing the private aviation sector.
However, soon after those beginnings, the industry underwent a transition, and new prospects emerged as a result. proudly accepted our place inside the $1 billion aviation portfolio through aviation entrepreneur Kenn Ricci and his primary investment company, Directional Aviation Capital, where we stand among other industry heavyweights including Flight Options, Sentient Jet, and Skyjet.
4.Wheels Up
Wheels Up is a well-known and cutting-edge private aviation business that has transformed how consumers can access and enjoy private aircraft. Wheels Up, an on-demand private jet service provider in the US, was established in 2013 by Kenny Dichter, a co-founder of Marquis Jet. The company's goal is to increase the affordability and accessibility of private aviation for a larger market by providing a membership-based approach.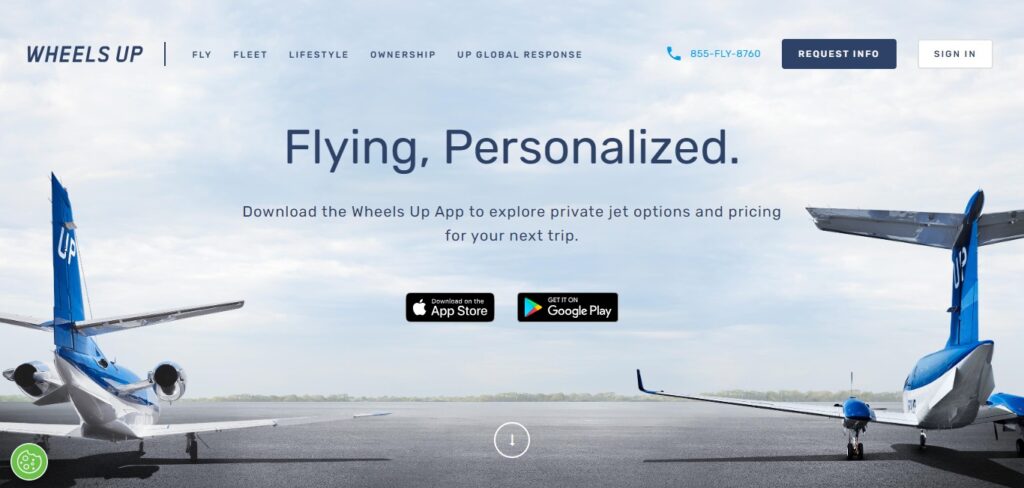 With the simplicity of arranging flights through their user-friendly app or website, members have access to a broad fleet of private aircraft, from turboprops to large-cabin jets. Additionally, Wheels Up has launched innovative initiatives like "Hot Flights" and "Shuttle Flights," which enable users to share flights and save money.
5.FlyExclusive
A leading owner/operator of private jet experiences that go above and above in terms of quality, convenience, and safety is flyExclusive. Customers who fly with us enjoy a custom private jet experience that anticipates their needs for comfort and style, from our elite Jet Club to our unrivaled private jet charter.
To consistently provide a premium experience, our leadership team draws on years of flying experience, industry understanding of private jet experiences, and competence in fleet logistics and management. Our floating fleet of more than 90 aircraft is prepared to transport you wherever you want to travel, with services offered throughout the North America, Caribbean, Central America, South America, Europe, Asia, and beyond.
6.Solairus Aviation
Private aviation services provider Solairus is situated in the US, and its main line of work is to help owners of aircraft maintain and operate their aircraft in a safe, dependable, and effective manner. Regardless of where the aircraft is located, our services are tailored to your specific travel and financial needs in order to support your flying operation with the highest levels of safety and individualized care.
The San Francisco Bay Area serves as the company's headquarters, which was established in 2009. We operate a fleet of more than 275 aircraft out of more than 70 base sites around the United States with more than 1,600 flight crew and support staff on board.
7.PlaneSense
Since 1995, PlaneSense, Inc. has been a pioneer in the field of premium fractional aircraft ownership. "Our success lies in providing the greatest degree of freedom, comfort, and familiarity while ensuring that every single flight reaffirms our owners' decision to join the PlaneSense fractional program," the company's website states. – George Antoniadis, president and CEO.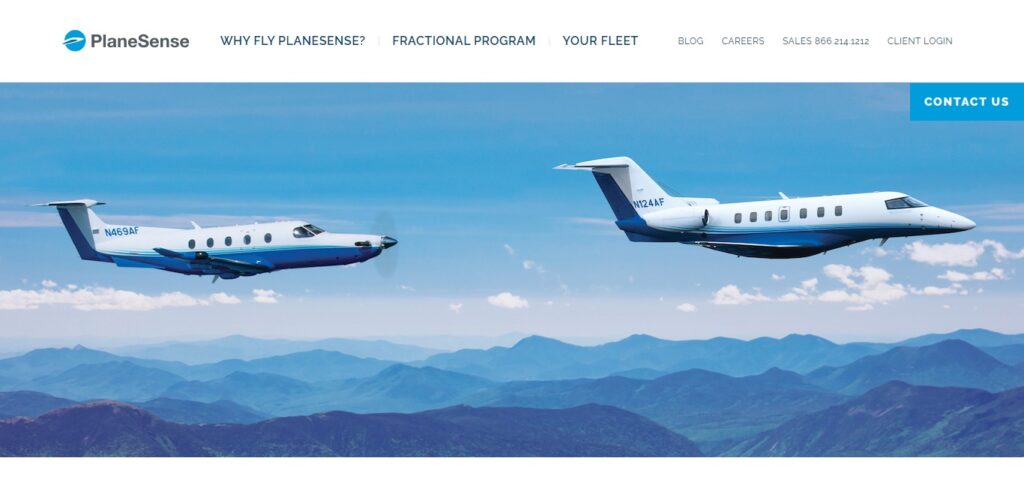 With the PlaneSense® fractional ownership program, you may enjoy all the luxuries and advantages of private aircraft ownership without having to deal with the trouble of running an aircraft.
None of the operations, maintenance, pilots, owner services, or aircraft are outsourced. By doing this, you can be sure that you will receive flights when and when you need them, along with highly skilled pilots, dependable, safe, flexible aircraft, and great customer service at a price that is both affordable and competitive. This will save you both time and money.
8.Jet Linx
Jet Linx started out in 1999 to create a private jet company that would offer the only five-star customer service in the sector. In order to identify areas for development, we first looked at other businesses that promise their customers private jet services.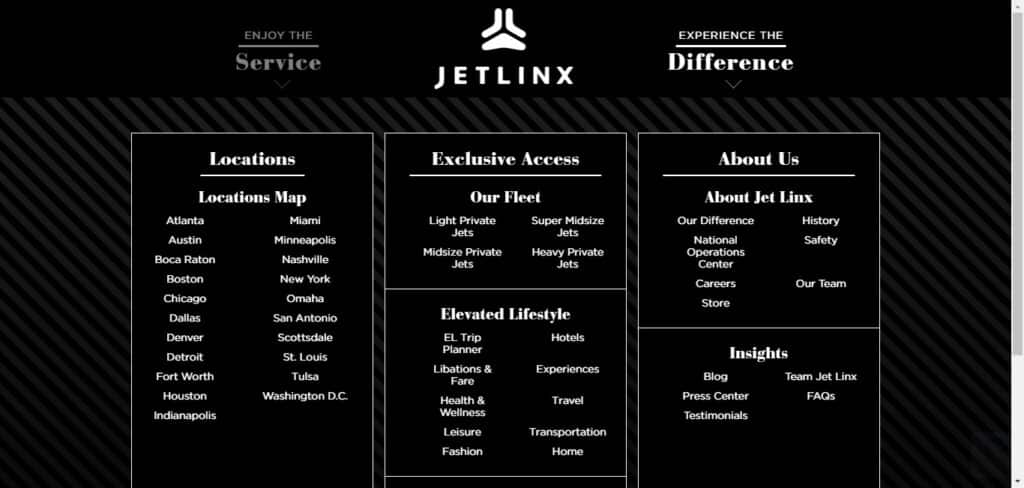 Other businesses stretch their resources and attempt to serve the public by running enormous floating fleets out of a single central office. By doing this, their customers can book flights using an 800 number, depart from a different FBO each time, and fly on a different aircraft with a different pilot.
These businesses demand that their customers deal with impersonal and strange interactions for every part of their experience in exchange for providing services to the masses. They are never able to develop a personal relationship with their clients, making it impossible for them to meet their specific demands. And as a result, the customer never obtains the kind of service that should come with such an expensive object.
9.Airsprint
They established fractional ownership in Canada thanks to intense passion for flight. were the first, and more than 23 years later, staff is still providing the best private flying experience available. An encounter that makes successful Canadians' lives even more fulfilling. That encounter is now waiting for you.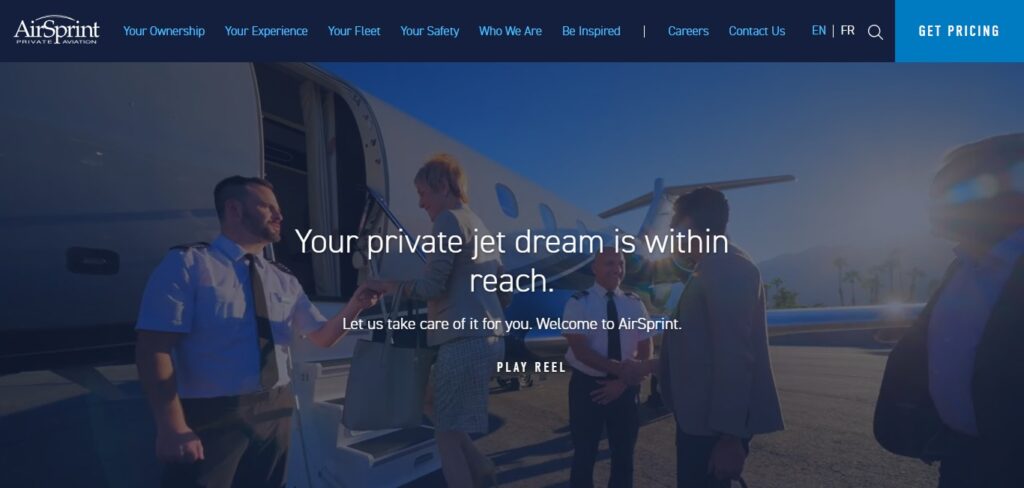 We established fractional ownership in Canada thanks to our intense passion for flight. were the first, and more than 23 years later, staff is still providing the best private flying experience available. An encounter that makes successful Canadians' lives even more fulfilling. That encounter is now waiting for you.
10.Nicholas Air
They pledge to offer Members the most cutting-edge, effective, and adaptable private jet membership services and jet card programs available. make every effort to maintain a diverse membership base while providing unmatched access to fleet.
Members enjoy hassle-free, highly customized private flight travel from door to door. A 98% renewal record demonstrates the passion, knowledge, and commitment of our personnel, as we not only meet but also exceed Member expectations.
11.Jet Aviation
Jet Aviation has been designing the smoothest possible flight since 1967. 50 locations worldwide, from one hangar in Basel, Switzerland. Numerous hours of experience went into producing an experience that was so simple that it seemed trivial, from maintenance to management, completion to charter.
The people are the force behind each easy experience. 4,000 aircraft artists. Underneath every travel, whether it's in the air or on the ground, arriving or departing, there are hundreds of hands devoted to the details.
They began as a family-run company, and despite expansion, have never wavered from dedication to providing individualized service. have been under General Dynamics ownership since 2008, and in all do, respect the GD values of Trust, Honesty, Alignment, and Transparency.
12.Clay Lacy Aviation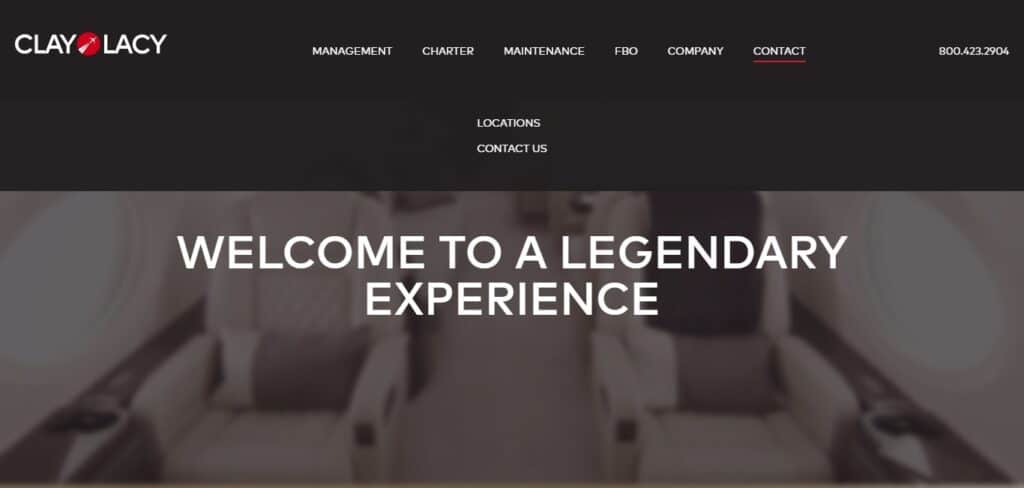 History, which began with the establishment of company by renowned aviator Clay Lacy and continues with the accomplishments of the top leadership group that now oversees us, is in many ways the history of business aviation.
13.Aero Air
We are developing and growing while establishing a long-lasting family legacy in aviation that will be a testimony to love of flying. One or two (3″ coupled loading ports, either individually or simultaneously) are used to load the MD-87 Fire Tanker on either side of the fuselage.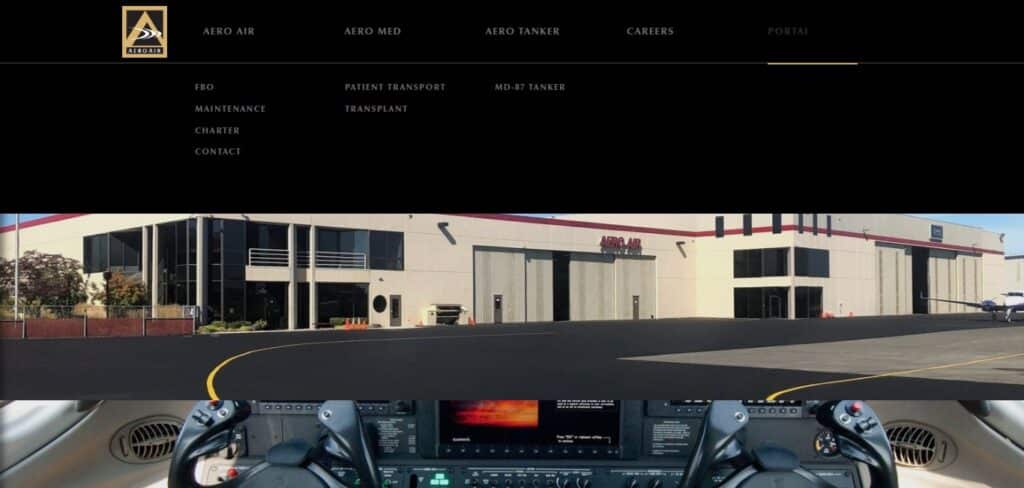 These ports have a maximum flow capacity of 600 gallons per minute. Few, if any, tanker bases use both ports; instead, they load at a single port with a flow rate of 450 gallons per minute on average, taking less than seven minutes. Websites for Eatanker and Aerotanker have more information.
14.Chartright Air
Leading private aviation firm Chartright Air Group serves customers across Canada and North America. With more than 35 years of expertise, are pleased to provide both owners and passengers with a broad range of private jet services.
The foundation of Chartright is the idea that aircraft management systems ought to be trustworthy, upstanding, open, and secure.
Every member of the Chartright Team is urged to bring about change that will lead to ongoing enhancements of these fundamental principles.
Both charter customers and aircraft owners have grown to rely on Chartright's dedication to these values. Along the way, Chartright developed a culture of professionalism and customer service that has assisted us in expanding and innovating.
15.Fly Alliance
The management and staff at Fly Alliance joined together to revolutionize the way private aviation was handled, and thanks to expertise, have done just that. clients have flown more than 100,000 flight hours, dispatched more than 50,000 flight legs, served more than 1,000 Jet Card members, and handled more than 150 aircraft transactions between management and directors.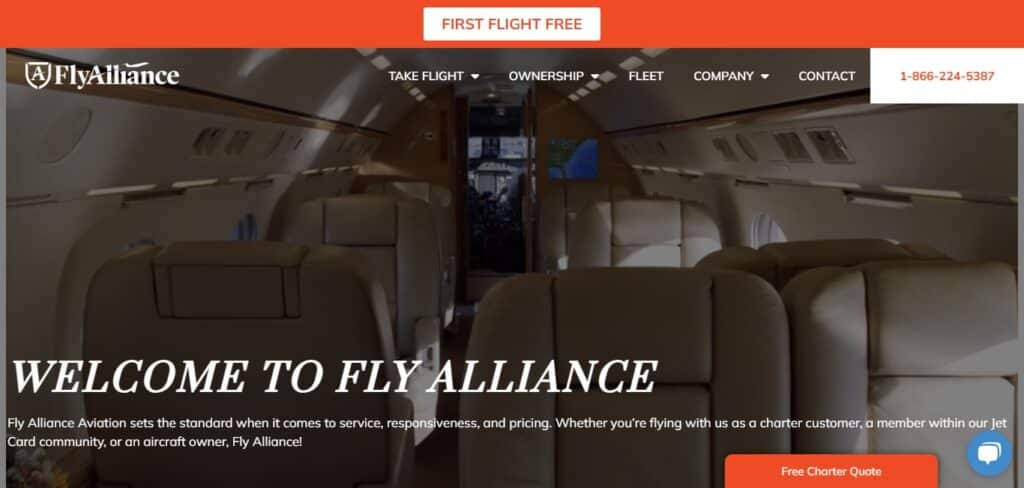 When you fly Alliance, safety is more than just checking a box. The company was built on a foundation of safety. Everyone, from high management to frontline employees, upholds the commitment to safety. make that commitment to you. People. The crew at Fly Alliance is highly skilled in business, critical thinking, decision-making, general aviation, and customer focus. We have a precise plan in place to guarantee complete client satisfaction and expansion.
16.Volato
The mission of Volato is to improve the private aviation experience. They take great pride in providing the best customer service, cutting-edge solutions, the highest level of transparency, and, above all, safety without compromise.
We have unique options in the market across Fractional Ownership, Jet Cards, Charter, and Aircraft Management Services. They are made with your needs as their first priority. In fact, providing the finest customer experience is primary goal, so much so that the initials "CX," which stand for "Customer Experience," are included in tail numbers.
17.Berry Aviation
The foundation of BAI's operations, both domestically and internationally, is safety and security. Every mission is subject to oversight to ensure the safety of the crew, passengers, and aircraft. With its relationship with the Department of Defense (DOD), BAI has achieved mission success in a safe and secure manner that is unmatched.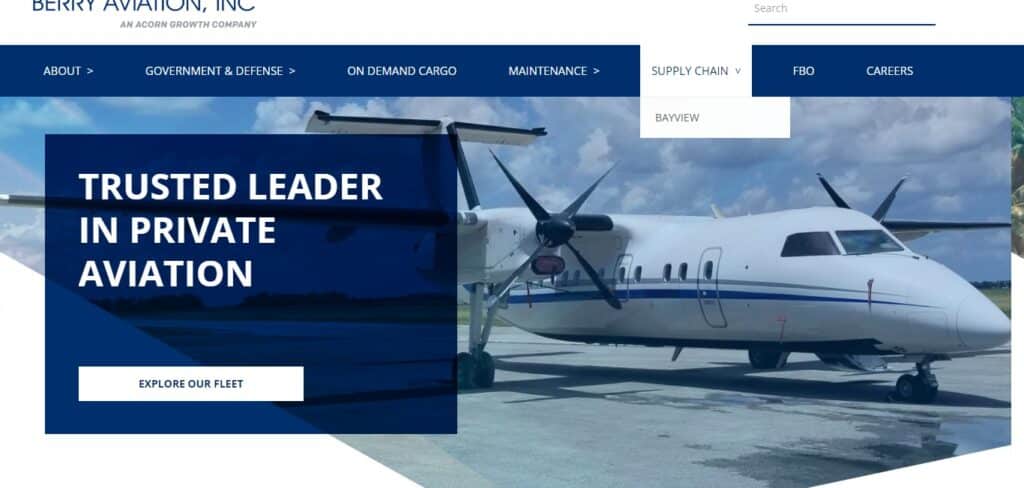 For 31 years, BAI has upheld aircraft standards and safety supervision programs that meet or exceed DOD safety criteria as a CARB-approved Part 135 Air Carrier. BAI's safety record, which includes zero fatalities in 35 years of nonstop service, proves its dedication to quality.
18.Thrive Aviation
The mission of the creative and dynamic online platform FlyThrive is to transform how approach personal development, self-improvement, and general wellbeing. FlyThrive stands out as a source of inspiration and direction for people looking to soar to new heights in their life in a time when self-care and personal growth are more crucial than ever.
At FlyThrive, recognize that each person's path to self-improvement is distinct. Our platform provides a wide range of information, tools, and expert insights to help you thrive in all area of your life, whether you're wanting to improve your physical health, broaden your cerebral horizons, or build stronger emotional resilience.
19.Worldwide Jet Charter
Private jet charter company Worldwide Jet is a market leader. adhere to the greatest standards of elegance, comfort, security, and convenience. are renowned all over the world for our exceptional client service and operational performance. fly world leaders, celebrities, professional athletes, and Fortune 500 CEOs every day, just like you. Their faith is recommendation.
Under the authority of FAA Part 135 Rules and Regulations Certificate ##WWQA554N, Worldwide Jet operates. The highest levels of accreditation from the top industry safety auditors, ARG/US, Wyvern, IS-BAO, and Air Charter Safety Foundation, have been awarded to Worldwide Jet:
20.ATI Jet
ATI Jet aims to offer 24-hour, first-class flight services with the greatest levels of security and safety. With cutting-edge technology that guarantees dependability and passengers' peace of mind, work hard to achieve client deadlines and go above and beyond expectations.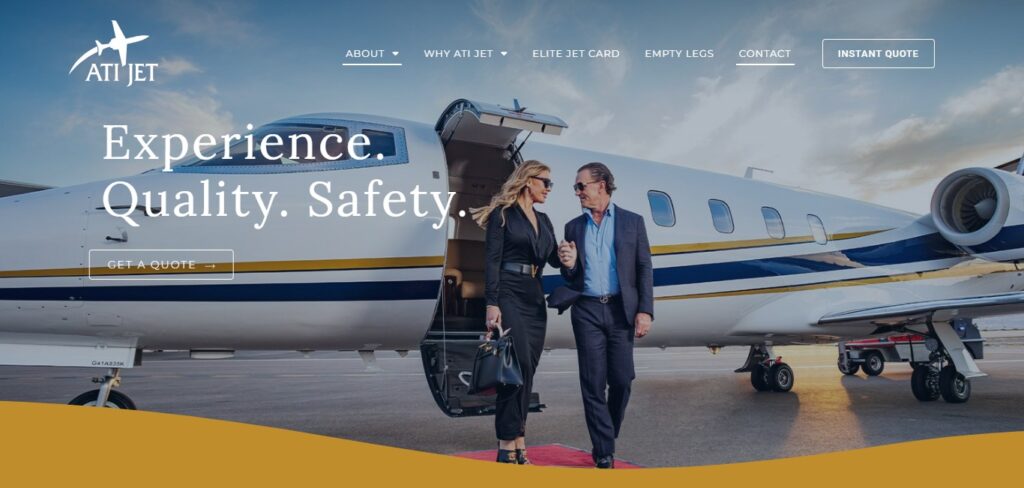 To ensure that customers receive correct information and choices in real-time and on-demand, every one of flights is meticulously examined, traced, and monitored from departure to arrival.
Our highly skilled and experienced schedulers can carry out intricate tasks while upholding checks and balances that are electronically and directly communicated to consumers for every flight thanks to our cutting-edge scheduling software, FOS.
What is Types Private Jets Companies?
Private aviation services are offered by private jet businesses, commonly referred to as private jet operators or charter firms. These companies provide people and groups searching for convenient and opulent air travel solutions with a variety of private jets for charter or fractional ownership. The following categories of private jet companies:
Charter Operators: These businesses provide private jet charter services on demand. For a certain journey or for a predetermined number of hours, customers can book a private aircraft. Customers can choose from a fleet of private aircraft owned by charter operators based on their requirements and preferences.
Fractional Ownership Companies: corporations that sell private jet shares to several owners are known as fractional ownership corporations. The airplane belongs to each owner, who is permitted to use it for a set amount of hours each year. With the help of this ownership structure, people and companies can take advantage of private jet travel without having to pay the full price of a complete aircraft.
Jet Card Programs: Customers who sign up for one of these programs receive a prepaid card or membership that gives them access to a set number of private jet flying hours. These programs frequently have extra advantages including assured availability, set prices, and individualized services.
Aircraft Management businesses: For owners of private jets, aircraft management businesses offer a full range of services. On behalf of their clients, they take care of the regulatory compliance, crewing, scheduling, and maintenance of private planes. For companies and people who own their own private aircraft, these services might be especially helpful.
Sales and Brokerage of Aircraft: Some businesses are focused on buying and selling private airplanes. In helping people or companies buy or sell airplanes, they frequently offer knowledge in pricing, inspections, negotiations, and legal facets of the deals.
What is Benefits Of Best Private Jets Companies
Depending on your unique needs and tastes, there are a variety of advantages to employing private jet businesses. Some of the main benefits are as follows:
Flexibility and Convenience: When it comes to departure and arrival times, private planes offer unrivaled flexibility. Since you can frequently go on your own timetable, planning your visits and avoiding overnight stays is made simpler. Private jet terminals (FBOs) are frequently less crowded, facilitating speedy check-in and convenient boarding.
Time Savings: When compared to commercial flights, private planes can save you a considerable amount of time. You don't have to stand in line for baggage claim or put up with protracted layovers if you get to the airport a short while before your departure.
Customization: Private jet firms provide a variety of aircraft options to meet your demands, from little, quick journeys to big, long-haul flights. Additionally, you can pick the features and interior decor that best suit your tastes.
Productivity: Private aircraft offer the perfect setting for work and productivity. You may concentrate on your projects, have meetings, or make crucial phone calls while being completely free from interruptions.
Access to Remote Locations: Private aircraft can land in airports that are not covered by commercial airlines, making it simple for you to fly to off-the-beaten-path locations.
Safety and upkeep: Reputable private jet providers follow stringent safety guidelines. To make sure the planes are in good shape, they frequently have their own maintenance personnel.
Conclusion Best Private Jets Companies
In conclusion, the world of private jet travel provides a wide range of choices for affluent people and companies looking for the highest level of luxury, ease, and effectiveness. Even though there are numerous private jet businesses that excel in different facets of this market, only a select few stand out as the finest in terms of customer service, safety, and overall satisfaction.
Businesses like NetJets, Flexjet, and Wheels Up continually provide outstanding services while providing a variety of aircraft, individualized itineraries, and high safety requirements. These businesses place a high value on customer satisfaction and offer cutting-edge solutions to satisfy their clients' various needs.
You can trust that these market leaders will continue to set the bar for quality in private aviation, but ultimately the ideal private jet company for you will rely on your unique needs and preferences.
FAQ Best Private Jets Companies
What is a private jet company?
A company that offers private jet charter services to people and businesses is known as a private jet company. These businesses provide access to private aircraft for a range of activities, including business trips, vacations, and special occasions.
How do private jet companies work?
Private aircraft are owned or leased by private jet firms, who make them available for charter. Private aircraft can be reserved for a specified day, time, and location. Crew, maintenance, and logistics are all handled by the company for the flight.
Who uses private jet services?
Business leaders, celebrities, high-net-worth individuals, government officials, and leisure travelers seeking elegance and convenience are just a few of the many clients who employ private jet services.
What types of private jets are available?
A wide range of aircraft are available from private jet firms, including light, midrange, super-midsize, and large-cabin jets. The option you choose will depend on your individual requirements, including the number of passengers, the intended route, and the facilities you want.
How much does it cost to charter a private jet?
The cost of renting a private jet varies significantly based on the kind of aircraft, the length and distance of the flight, and any extra services. To get a precise price, it is essential to ask the private jet firm for a quote.
What is the cancellation policy for private jet charters?
Different private aircraft companies have different cancellation policies. Before making a reservation, it is essential to read and comprehend the cancellation policies mentioned in your charter agreement.