Best Play to Earn Crypto Games have revolutionized the gaming industry and blockchain technology by giving players the chance to not only have an immersive gaming experience but also to earn rewarding cryptocurrencies. Axie Infinity is a clear leader among the top play-to-earn cryptocurrency games. Players can acquire, breed, and battle mythological creatures known as Axies in this blockchain-based game, with the chance to win the native cryptocurrencies AXS and SLP tokens.
By allowing users to exchange their Axies and in-game items, the game's NFT marketplace significantly increases the earning possibilities. Decentraland, a virtual environment where users may purchase, sell, and develop land plots, is another noteworthy feature.
Hosting events, producing experiences, and trading virtual properties using the MANA cryptocurrency are all ways to make money. These games not only have engaging gameplay, but they also give players the chance to use their gaming prowess as a means of revenue in the rapidly developing realm of cryptocurrency.
How To Choose Best Play to Earn Crypto Games for Rewards?
It can be difficult to choose the best play-to-earn cryptocurrency game for rewards because the market is changing quickly and there are many things to take into account. You can follow these steps to make an informed choice:
Study the game: Start by investigating the play-to-earn cryptocurrency gaming alternatives. Search for games that capture your attention and fit your gaming preferences. To learn more about the gameplay, visuals, and general quality of the game, read reviews, watch gameplay videos, and browse discussion forums.
Understanding tokens and the blockchain: Every play-to-earn game has its own native token or cryptocurrency and is typically based on a specific blockchain. Recognize the blockchain that the game runs on as well as the purpose of the token. Find out how to use the token in-game, whether it can be traded on outside markets, and whether its value might rise.
Verify the in-game currency: Investigate the game's economy to learn how players might acquire rewards. Look for games that provide a variety of earning opportunities, such as completing missions, taking part in combat, trading goods, or staking tokens. Consider how the game balances income and spending. A game with a thriving economy will include safeguards against inflation and long-term viability.
Think about the Player Base: A play-to-earn game must have a thriving player base to be successful. Verify the game's player base's activity and sense of community. To learn more about the player experience and any potential difficulties, interact with the community on social media, Discord, or online forums.
Assessment of the Development: Team Do some research on the game's development crew. Find out as much as you can about their background, performance, and openness. A trustworthy team is more likely to fulfill commitments, offer updates, and keep the game's quality high.
Security and openness: When dealing with crypto games, security is of the utmost importance. Make sure the smart contracts in the game have been audited for weaknesses. In terms of token distribution, governance, and updates, look for openness.
ROI Possibilities: Analyze the game's probable return on investment (ROI). Think about things like the game's future, the history of token prices, and the distribution of prizes. Games that guarantee improbable returns should be avoided as they could be Ponzi schemes.
Start Little: Start out with a modest amount of money to test the waters before investing a lot of money in a play-to-earn game. Before investing further resources, understand the game's mechanics and determine whether it is profitable.
Stay Up to Date: Follow news and updates about the game and the cryptocurrency industry in general. Keeping up with changes in the play-to-earn market is essential.
Risk Administration: Do not invest more money than you can afford to lose. Like any investment, play-to-earn games include risks, which should be carefully managed.
How Do Games That Pay You to Play Work?
In recent years, "play-to-earn" or "earn-to-play" games—also known as games that pay you to play—have grown in popularity. These games often utilize blockchain technology and cryptocurrencies, and by taking part in various in-game activities, players can win in-game currency or real-world prizes. Here is how they typically operate:
Blockchain and cryptocurrency integration: Play-to-earn games are frequently developed on Ethereum or Binance Smart Chain, two blockchain platforms. They develop and manage in-game assets including characters, goods, and currency using blockchain technology. The game's prizes are made of cryptocurrency tokens, also known as non-fungible tokens (NFTs) or utility tokens.
Ownership of In-Game Assets: Because these games' in-game assets are displayed as NFTs on the blockchain, players in them actually possess them. This indicates that users can trade, buy, and sell these items outside the game's closed system.
Earning Possibilities: By engaging in a variety of game-related activities, such as doing missions, fighting opponents, or reaching particular milestones, players can win rewards. These benefits are often given in the form of digital currency tokens, which have real-world value.
Staking and Yield Farming: Some play-to-earn games give players the option to stake their in-game assets or engage in yield farming in order to gradually accrue more prizes. Players frequently have to lock up their valuables for a fixed amount of time throughout these activities.
Market & Trading: Players can trade their virtual profits for real money or other cryptocurrencies by selling their in-game assets or tokens on decentralized marketplaces or exchanges.
Ecosystems for Play-to-Earn Games: Decentralized finance (DeFi) protocols and apps are a component of larger ecosystems that many play-to-earn games are a part of. Due to this, users can spend their in-game money in a variety of ways, including lending, borrowing, and taking part in liquidity pools.
Risks and Challenges: Play-to-earn games provide users with the opportunity to make money, but they also carry hazards. There is a chance of fraud and frauds in the industry, and the value of in-game items and tokens may fluctuate. The stability of these games and their related tokens may also be impacted by regulatory and security issues.
Here Is List Of Best Play to Earn Crypto Games for Rewards
Alien Worlds
Axie Infinity
Decentraland
Ember Sword
Forest Knight
Galaxy Fight Club
Gods Unchained
Illuvium
Sliks
SkyWeaver
Spells of Genesis
Spider Tanks
Splinterlands
Star Atlas
Tamadoge
The Fabled
The Sandbox
Wizardia
Zed Run
Meme Kombat
20 Best Play to Earn Crypto Games for Rewards in 2023
1.Alien Worlds (Best Play to Earn Crypto Games for Rewards)
The adventure clicker NFT game Alien Worlds takes place in the metaverse in the year 2055. You play a space explorer in this P2E game who can gather, trade, or utilize special digital objects, or NFTs, which are primarily created on the WAX blockchain. To mine TLM, take part in combat, and finish quests, you can buy in-game things using NFTs.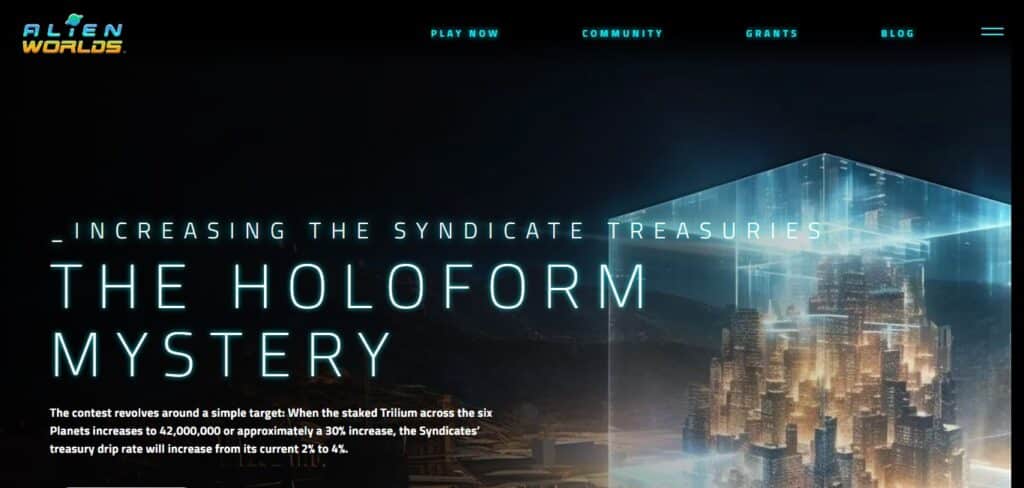 In this game, you'll be vying with other players for Trilium (TLM), which you can use to boost your power. A basic shovel, a skill tree, and an avatar will be given to new players. Additionally, you can start mining TLM and exploring several worlds.
2.Axie Infinity
With the hugely well-liked play-to-earn game Axie Infinity, gamers may earn cryptocurrency while taking part in a Pokémon-style game. Players must breed and grow Axies in the P2E game creature battler before using them in combat.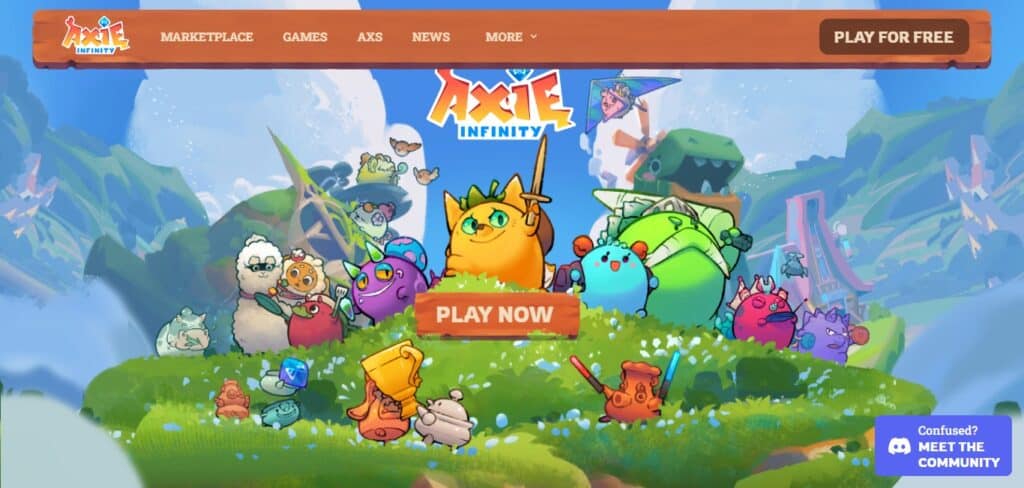 In addition to buying Axies in-game, players can also buy NFTs, which are essentially NFT-minted virtual properties. The transactions take place in Ronin, a sidechain created by Sky Mavis, and are logged there.
Axie Infinity is a play-to-earn game that lets users trade in-game items like Axies for real money. Collecting tokens is another way that players can earn money while participating in the game.
3.Decentraland (Best Play to Earn Crypto Games for Rewards)
A virtual environment called Decentraland allows users to explore LANDS, create original pieces of art or scenarios, and sell their digital possessions, such LAND and avatar clothing, via the Decentraland Marketplace, which is powered by the Ethereum blockchain. It has a fully decentralized universe run by the DAO that gives users power over how Decentraland functions.
Decentraland is a virtual world whose users are also in charge of creating and managing it. Through their avatar, players can explore the Decentraland metaverse, and the amazing thing about Decentraland is that its users are still actively developing it. You can buy digital artwork there, trade items with other players, and even enroll in the game's Decentraland University, which you can get access to using digital tokens.
4.Ember Sword
Ember Sword is a fantasy MMORPG that is one of the greatest play to earn games you can play this year. It allows you to go on epic adventures, own in-game items, engage in player-versus-player combat, and share your experiences with other players.
It grants players genuine ownership of their digital assets and runs on a PvP and PVE basis that is driven by the community. This entails creating an environment that is controlled by the players and gives them total control over Ember Sword.
5.Forest Knight (Best Play to Earn Crypto Games for Rewards)
Forest Knight is a mobile turn-based strategy game that users may play to earn NFTs. It combines mobile gaming with blockchain gaming to bring gamers fantastic adventures. The player can then add these NFTs to their digital wallet and exchange them on the market.
The ability to rent out characters and NFTs to other players distinguishes this game from all the other top play-to-earn cryptocurrency games. NFTs can be mint and withdrawn by players as well. These features are already available and cost-free as of the time of writing.
6.Galaxy Fight Club
A cross-platform player-versus-player game called Galaxy Fight Club offers the chance for participants to earn prizes like ETH and NFTs. The ability for players to begin playing and earning in this P2E game using various NFT collections sets it apart from other similar games.
This implies that you can use your own NFT to play the game if you already have one. Furthermore, even if you don't own any NFTs, you can still participate in the game. You must own at least one Galaxy Fighter in order to take part in Galaxy Fight Club. You can use your own NFT or battle as the character in this to take on opponents.
7.Gods Unchained (Best Play to Earn Crypto Games for Rewards)
Players in the free-to-play P2E trading card game Gods Unchained have full control over all of their in-game possessions, making it one of the most popular P2E games in 2023. As a player, you can gather cards, create your own deck, and trade or sell your cards to other people.
The Gods Unchained Coin ($GODS), which serves as a governance and utility token, is required in order to participate in and earn in this metaverse game.
Spend $GODS on in-game items, expansion packs, and suggestions for government. It should be noted that there are only 500 million of these tokens in existence. You will acquire $GODS as a player, and these have real-world value.
8.Illuvium
Illuvium is one of the most popular peer-to-peer (P2P) games. It is an interoperable blockchain game (IBG) that has open-world exploration, an autobattler, and a city builder. Illuvium offers a free-to-play experience for new users, so you won't absolutely require ILV to participate. Join the premium experience to gather NFTs and explore more areas if you want to unlock the game's full functionality.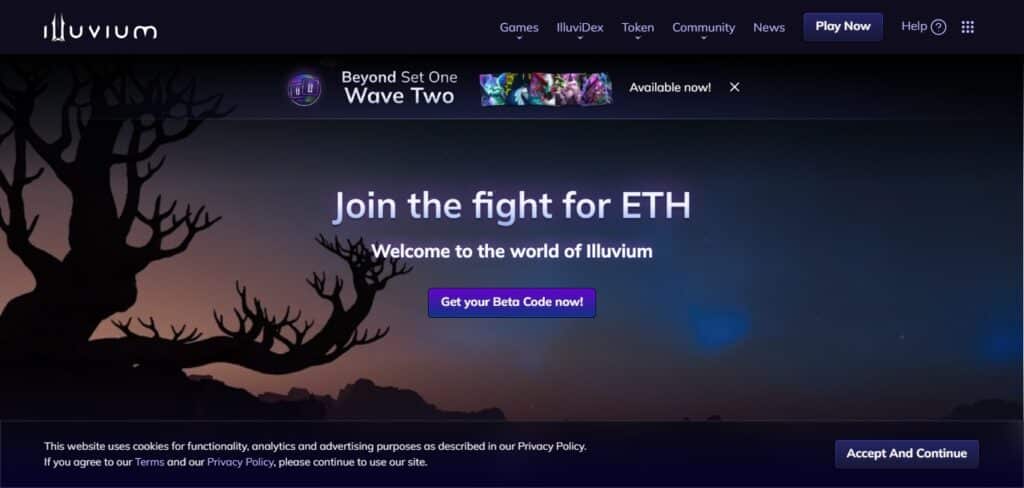 You can find and explore seven distinct landscapes in the game, as well as get access to the interconnected universe of Illuvium, which includes the Illuvium Overworld, Illuvium Arena, and Illuvium Arena. Every Illuvium world offers different gameplay features, such as the ability for players to collect over 150 Illuvials, assemble their own team, and develop a virtual industrial complex.
9.Sliks (Best Play to Earn Crypto Games for Rewards)
Silks delivers a distinct gameplay experience, making it one of the top play to earn games. Gamers can breed, buy, and trade thoroughbreds using STT, the game's native token, in Silks, a fantasy horse racing sim that mimics real-world horseracing.
It features a sophisticated ecology with a wide range of in-game items, including racehorses, land, stables, and individual plots of land in the Sky Falls region. Silks is a leading P2E game because when you buy a racehorse, you're essentially buying a virtual replica of a real-life racehorse.
Each NFT Silks racehorse has a pedigree, training regimen, and racing record that are identical to those of its real-world equivalent. For instance, if the digital twin's counterpart wins a competition, the real-world counterpart will as well. This implies that you will receive in-game rewards as well for those actual events.
10.SkyWeaver
SkyWeaver, a cross-platform blockchain card game that is browser-based and one of the most popular in 2023, blends strategic gameplay with a player-owned marketplace. Players can win tradeable NFT cards in SkyWeaver. An alternative digital dimension called Sky is where the SkyWeaver universe is set.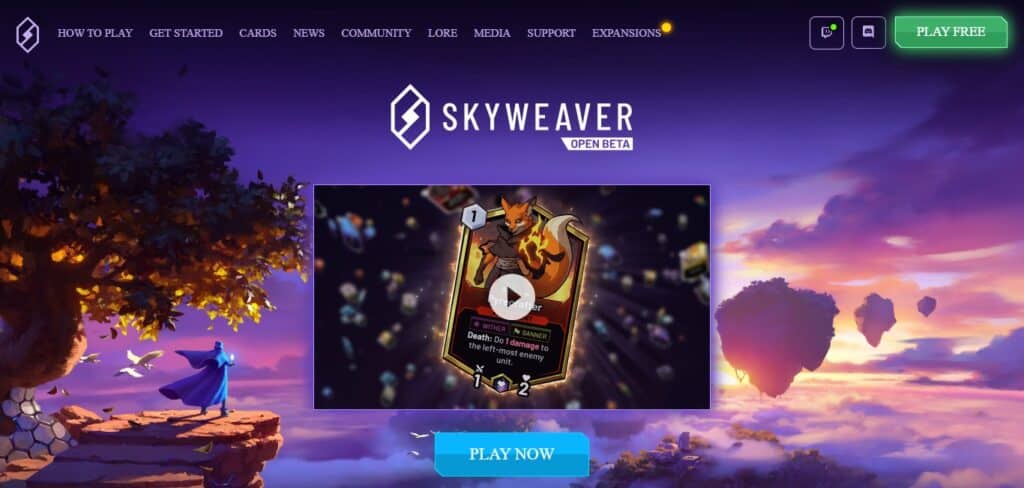 You essentially become a co-owner of SkyWeaver as a player and card owner. When you play SKyWeaver, you have the opportunity to go up the leaderboards and, as a result, receive new cards that you may use to play against or trade with other players.
11.Spells of Genesis (Best Play to Earn Crypto Games for Rewards)
Spells of Genesis, the first blockchain-based mobile game, mixes point-and-shoot elements with trading card game capabilities. Players in SoG must assemble and mix cards to create a powerful deck. To create a powerful team, they will also need to acquire and combine orbs. It makes use of a range of blockchain items, such as cards. The game also includes in-game or off-chain cards, though.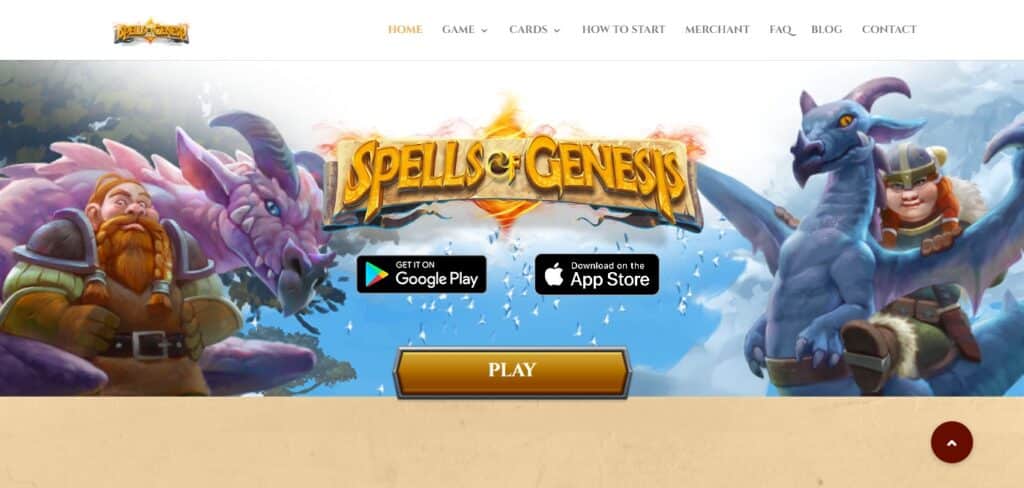 Three new in-game currencies are introduced: gold, crystals, and gems. These in-game currency can be used by players to buy, improve, and fuse cards. The player's stamina can also be increased or refilled via gems. In-game cards can also be converted into digital assets based on blockchain that can be withdrawn to a player's cryptocurrency wallet.
12.Spider Tanks
Players own things in the PvP brawler Spider Tanks, which they may gather, trade, upgrade, or mix to create a custom tank build. Its availability of multiple play modes, including team deathmatch, poultry pusher, capture the flag, and chicken pursuit, making it one of the greatest NFT games.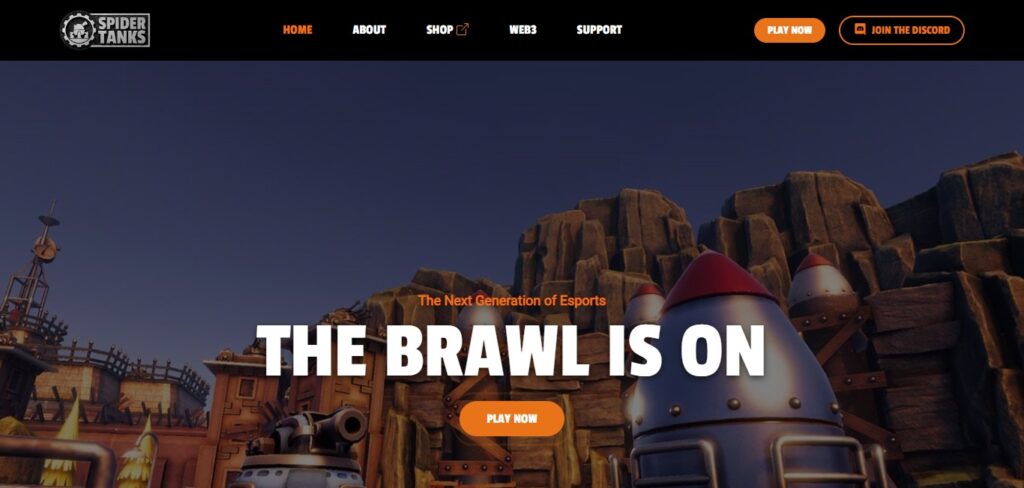 You must gather, exchange, or sell tank parts in order to play and earn money in Spider Tanks. As an alternative, you can gather Victory Points and trade them in for the in-game utility token SILK. Each Spider Tank NFT might range in price, however on average, they can cost around $268.
13.Splinterlands (Best Play to Earn Crypto Games for Rewards)
The trading card game Splinterlands enables players to play, trade, and sell at any time, anywhere. The best part is that the game makes it simple for players to participate and win prizes.
Regardless of skill level or collection size, you can earn rewards via ranked play, quests, and tournaments. You can receive a variety of rewards, such as collector cards and the tradeable virtual currency known as Dark Energy Crystals. The game has given out prize money for tournaments totaling around $7 million so far.
14.Star Atlas
An MMO P2E strategic game with a 2620 setting is called Star Atlas. Here, users can explore a virtual world resembling the metaverse, embark on adventures, interact with in-game factions, and amass wealth in space. You are also free to mine for resources, explore and conquer foreign countries, buy and sell resources on the Star Atlas market, and create own societies.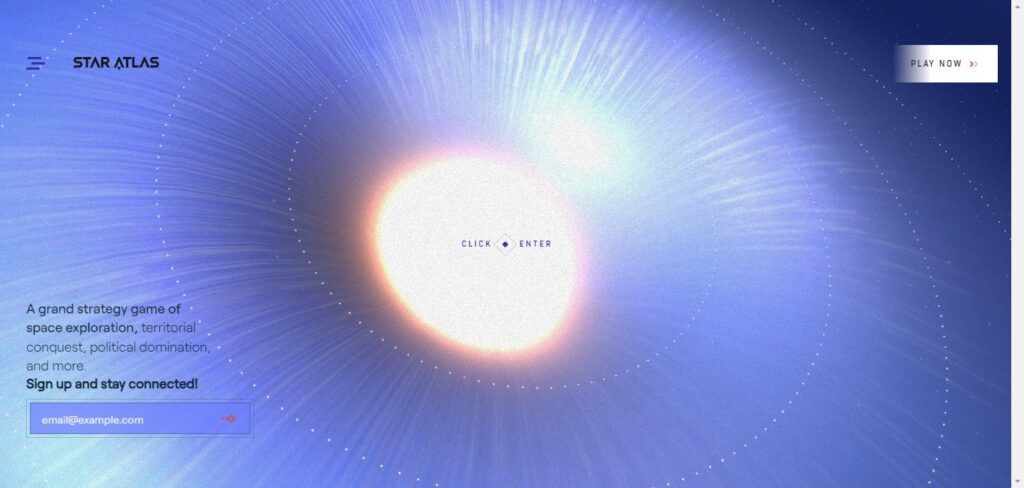 You'll need an in-game NFT to start playing Star Atlas, which you can use to receive an access key. There are several NFTs in the game, including spacecraft, badges, trinkets, buildings like space stations, and more. Both ATLAS and POLIS are its two native tokens. While the latter serves as a governance token, the former serves as in-game currency.
15.Tamadoge (Best Play to Earn Crypto Games for Rewards)
In the P2E game Tamadoge, you can play and win prizes using the local currency $TAMA. You may play games like Tama Blast, Rocket Doge, and Tamadoge Run in the Tamadoge Arcade by using the $TAMA to purchase credits.
On cryptocurrency exchanges including OKX, BitForex, and Gate.io, you may buy the $TAMA coin. Transak can also be used to purchase tokens from the Tamadoge Bank. It contains NFTs as well, which you can use to earn while playing Tamadoge or improve your in-game skills and are accessible on OpenSea.
16.The Fabled
Discover new worlds, engage in conflict, amass monsters and dragons, find riches, and shape your in-game character. A fantasy-themed action role-playing game called The Fabled is available for free to play. Three Fabled classes—warriors, gods, and demons—are available in the game, which features a wide variety of distinctive locales.
You can amass in-game items like rare weapons and artifacts that you can mint on the blockchain using $ABYS, which also serves to boost the power of your character. Once your assets have been coined, you will be able to buy, sell, trade, or rent other in-game items. To make transactions easier, the game uses two different currencies.
17.The Sandbox (Best Play to Earn Crypto Games for Rewards)
In the Ethereum-based metaverse game The Sandbox, players can look about, buy, and personalize virtual territory. It's regarded as one of the best P2E games and a well-liked location for online gatherings. A number of well-known people, including Paris Hilton and Snoop Dogg, as well as well-known international companies, like Ubisoft, Adidas, and Gucci, have invested in The Sandbox metaverse.
VoxEdit, The Sandbox Marketplace, and The Sandbox Game Maker are the three products that The Sandbox offers as a blockchain-based game. Users can design and animate custom 3D objects for The Sandbox using VoxEdit. Players can publish and sell their digital assets on the Sandbox Marketplace. Last but not least, players can make their own 3D games with the Game Maker.
18.Wizardia
A turn-based strategy game with automatic staking rewards and passive royalties is available for free to play called Wizardia. To enter the competition and receive passive benefits for your purchases at the Wizardia Market, purchase $WZRD tokens. You can buy a variety of NFTs in the game, including consumables, Market NFTs, Wizard NFTs, and Arena NFTs.
Get your wizards and upgrade them, then engage in combat in the Arena to win rewards. Both PVE and PvP models are used to play the game. Your Wizard NFTs can be upgraded to make them more effective. Once finished, you can use the game's marketplace to sell, trade, or rent them out. The game gives players a variety of earning options. You can make investments in various NFTs, sell or rent your NFTs, compete in tournaments, or make money by placing bets in the Arena.
19.Zed Run (Best Play to Earn Crypto Games for Rewards)
In the P2E game Zed Run, you can create your own virtual stable. Build your own legacy while competing for rewards. You can acquire, borrow, or buy racehorses in Zed Run to utilize in competitions with gamers all over the world.
Participate in live competitions for a chance to win significant rewards from the game's prize fund. You must create a Metamask wallet and send ETH there in order to play Zed Run. After completing this step, you can create a Zed Run account and convert your Ethereum to Wrapped Ethereum to buy virtual racehorses.
20.Meme Kombat
Meme Combat ($MK) is a thrilling new cryptocurrency game that pits teams of the most well-known memes in the world against one another in thrilling battles with live bets on the results. Eleven of the most well-known celebrity memes in the world are competing in season one.
Pepe, Pepe 2, Shiba, Sponge, Doge, Floki, Baby Doge, Milady, Kishu, Mong, and Wojack are among those mentioned. Future seasons will feature more memes and game play mechanics based on user input and project advancements.
Types of Play-to-Earn Crypto Games
Games that allow players to earn cryptocurrency while having an immersive gaming experience are known as play-to-earn (P2E) crypto games, and they have quickly become quite popular. These games span many genres and gameplay philosophies, each providing unique chances for participation and reward. Here are a few examples of popular play-to-earn cryptocurrency games:
Blockchain-based Collectible Games: Collecting, trading, and owning NFTs, which stand in for distinctive in-game assets like characters, weapons, or goods, is a feature of blockchain-based collectible games. These NFTs are available for players to buy, sell, and trade in decentralized marketplaces.
Trading card games (TCGs) built on the blockchain: Like traditional TCGs, blockchain-based TCGs let players collect and trade digital cards, known as NFTs. Players can create decks, engage in combat, and win rewards.
Decentralized Finance (DeFi) Games: The gameplay of these games includes features of decentralized finance. By contributing funds to liquidity pools, staking tokens, or engaging in yield farming inside the game's ecosystem, players can receive bitcoin incentives.
Play-to-Earn RPGs: Role-playing games (RPGs) on the blockchain frequently include NFT characters, objects, and assets. Play to Earn RPGs. By completing tasks, fighting monsters, and leveling up their characters, players can gain cryptocurrency.
Virtual Real Estate Games: Virtual real estate games allow users to acquire, develop, and hold virtual real estate on a blockchain. They can make cryptocurrencies by building real estate, renting it out, or selling it as virtual real estate.
Idle Games: Idle games have little to no player participation, and players can accumulate cryptocurrencies over time by only playing the game. NFTs and staking procedures are frequently used in these games.
Sandbox Games: Sandbox games give players the means to plan, design, and make money from the in-game material they produce. By generating and selling unique experiences or material for the game's world, players can make money.
Games for sports and esports: Some blockchain-based games for sports and esports enable users buy, sell, and own NFT representations of players, teams, and gear. Performance in-game or the trading of these resources may be linked to earning cryptocurrency.
Blockchain-based Gambling Games: To assure fairness and transparency, gambling games like casinos or betting platforms can use blockchain technology. Cryptocurrency can be earned by players taking part in various gambling activities.
Collectible and Virtual Pet Games: Games that include collecting, breeding, and caring for virtual pets or other creatures that are represented by NFTs are referred to as collectible and virtual pet games. Through breeding, training, or taking part in game events, players can win rewards.
NFT-Based Art and Music Games: A few games are centered around producing and owning NFT-based artwork or music. By producing and reselling their digital works of art or music on blockchain marketplaces, players can earn cryptocurrency.
Blockchain-based Social Games: By using NFTs and blockchain technology, social games enable players to cooperate, establish alliances, and gain bitcoin through cooperative endeavors.
Conclusion Best Play to Earn Crypto Games for Rewards
Play for money games are easier to obtain these days. These NFT and metaverse games, as their names imply, let players make money while they play, providing them a reliable source of income. The finest play to earn games give players the opportunity to take their in-game digital assets and keep them in their crypto wallets, with the possibility of withdrawing and exchanging them for fiat currency. Examples of these games include Alien Worlds, Illuvium, and Silks.
The main objective of these blockchain-based games and their participants is generating money, which may take away some of the fun of gaming, despite the fact that they can be amusing to some level.
In order to start playing, they frequently ask you to make an advance payment in the form of bitcoin held in wallets. It's also not necessarily about getting paid. Players occasionally risk losing money before receiving large gains. Understanding blockchain technology and the gameplay will help you get the most out of these play to earn games.
FAQ Best Play to Earn Crypto Games for Rewards
What are Play-to-Earn Crypto Games?
Blockchain-based P2E games are games that let players earn cryptocurrencies or other digital assets by taking part in the game. In-game tasks and goals can be completed by players, and they can exchange virtual goods or tokens for money.
What are NFTs, and why are they important in Play-to-Earn games?
NFTs (Non-Fungible Tokens) are distinctive digital assets that signify possession of a certain character or item in a game. As they grant players actual ownership of in-game items, enabling them to buy, sell, or trade these items on blockchain marketplaces, they are crucial in P2E games.
Are there any risks associated with Play-to-Earn Crypto Games?
Yes, there are dangers, including as unstable markets, con artists, and prospective regulatory changes. When spending your time and money into P2E games, it's critical to conduct your homework, comprehend the game's fundamentals, and exercise caution.
Are there any age restrictions for playing Play-to-Earn Crypto Games?
The minimum and maximum ages for P2E games can vary. Alternately, some games might not have age limitations. For age restrictions, always check the game's terms and conditions.
Can play these games on mobile devices?
Yes, many P2E games have mobile-friendly websites or apps that make them accessible on mobile devices.