Best Fantasy Cricket Apps in India have captured the imagination of sports enthusiasts, offering an immersive and engaging experience for cricket fans. Among the best Fantasy Cricket apps is Dream11, known for pioneering the concept and boasting a vast user base. Its user-friendly interface, extensive range of contests, and various leagues covering international and domestic matches make it a top choice.
Another popular option is MPL (Mobile Premier League), which not only offers Fantasy Cricket but also incorporates various other casual games. It attracts users with its diverse game formats and attractive rewards.
Additionally, MyTeam11 garners attention for its unique "Beat the Expert" feature, where users can compete against cricketing legends. These apps, along with others like FanFight and BalleBaazi, continue to redefine the way cricket enthusiasts engage with their favorite sport by allowing them to create their dream teams, test their cricketing knowledge, and win real-world rewards.
What is Fantasy Cricket?
Fantasy cricket is an online sports game in which participants form virtual cricket teams by selecting real-life cricket players to create virtual squads, earning points based on how these chosen players perform in live cricket matches. Fantasy cricket is an extremely popular form of fantasy sports, particularly among cricket-mad nations like India, Pakistan, Australia and England.
Fantasy cricket requires participants to strategically manage their virtual team within a budget or credit limit, balancing players across various positions such as batsmen, bowlers, all-rounders and wicketkeepers. Points are awarded based on runs scored by each player as well as wickets taken, catches made or run-outs initiated – giving fans an immersive cricket-related experience and offering them opportunities for competition with friends in leagues or against others!
Fantasy cricket gives fans an exciting way to immerse themselves in their favorite sport and compete against opponents while potentially winning real prizes based on performance of virtual teams managed in Fantasy Cricket!
Here is List Of Best Fantasy Cricket Apps in India
Dream11 
Howzat 
League11
Gamezy 
OneTo11 
Sixer 
MPL Fantasy 
7 Best Fantasy Cricket Apps in India
1. Dream11 
Dream11 is one of the most prominent and widely recognized fantasy sports platforms, primarily known for its fantasy cricket offerings. Founded in India, Dream11 allows users to create virtual teams of real cricket players and compete in various fantasy cricket leagues and contests. Users must carefully select their team while adhering to budget constraints and player values.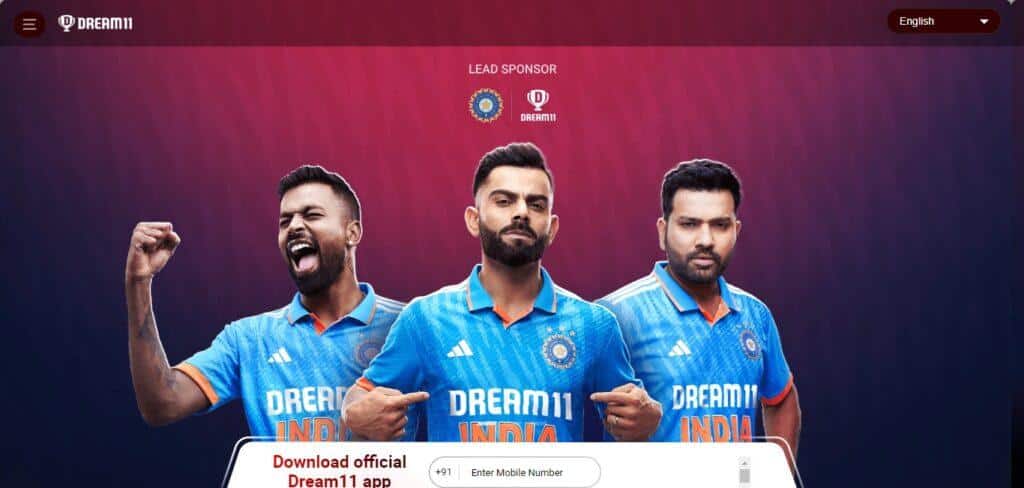 The platform employs a scoring system that rewards points based on the actual performance of selected players in live cricket matches. Dream11 has gained immense popularity, particularly in the Indian subcontinent, and has expanded its fantasy sports offerings to include football, basketball, kabaddi, and more.
It has become a prominent player in the global fantasy sports industry and has partnerships with major cricket leagues and teams, making it a go-to platform for cricket enthusiasts to engage in fantasy cricket and win prizes based on their team's performance.
2. Howzat (Best Fantasy Cricket Apps in India)
Howzat is an exceptional fantasy sports app that lets you experience IPL from your own home with its intuitive user interface and wide array of fantasy cricket games to suit everyone.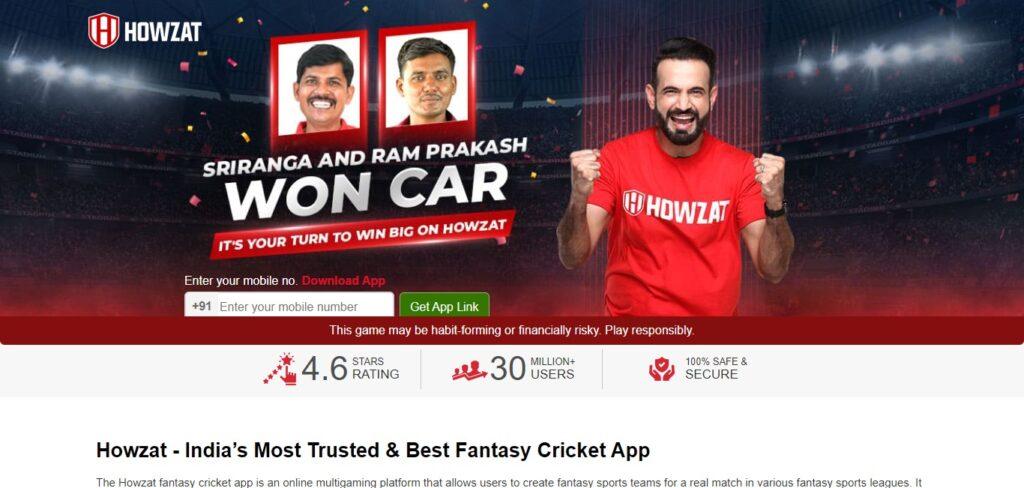 Howzat provides a secure gaming environment with an easy registration and fast payment options, appealing to experienced players as well as newcomers alike. Experienced players and beginners alike will appreciate howzat's distinctive scoring system adds another level of enjoyment – here is our ultimate guide for finding cricket scoring apps!
3. League11
League11 has swiftly risen to prominence as one of the fastest-growing fantasy sports platforms in India, boasting a user base of over 500,000 real enthusiasts. This app has become synonymous with a delightful and effortless fantasy sports experience. Whether your passion lies in cricket, football, hockey, kabaddi, or basketball, League11 has an array of exciting offerings for you.
Notably, it stands out for its minimal platform fees and a guarantee of a bot-free environment, ensuring a level playing field. Furthermore, League11 goes the extra mile by providing users with the opportunity to hone their skills while offering enticing rewards, cash prizes, and exciting giveaways, making it a top choice for fantasy sports enthusiasts in India.
4. Gamezy (Best Fantasy Cricket Apps in India)
In 2022, Gamezy has undoubtedly emerged as one of the premier fantasy cricket apps in India. With an impressive array of features, including a low withdrawal limit and a diverse selection of sports beyond just cricket, Gamezy has captured the attention of fantasy sports enthusiasts across the nation.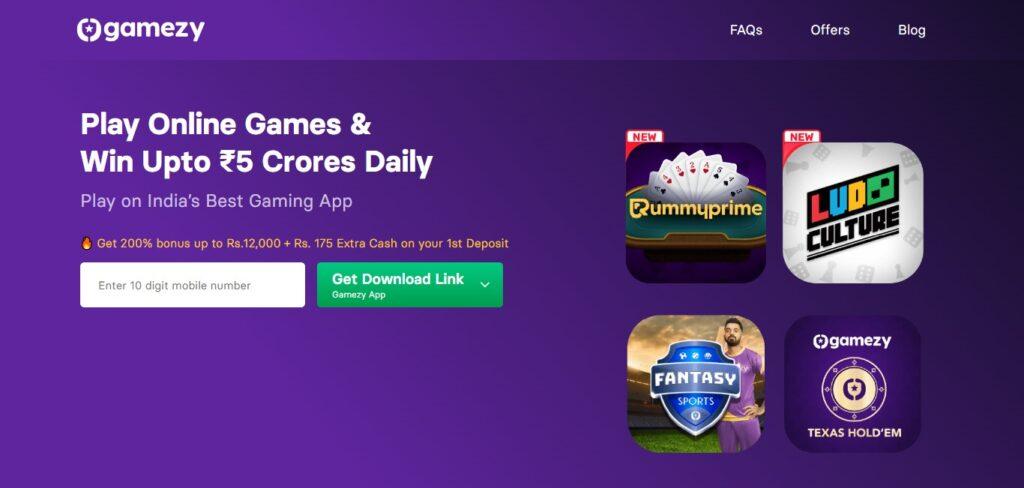 Its reputation as one of India's most lucrative fantasy cricket platforms only adds to its allure, making it a compelling choice for both seasoned players and newcomers looking to explore the world of fantasy sports. For cricket fans and sports enthusiasts alike.
Gamezy stands out as a top-notch option, offering not only an engaging gaming experience but also the potential for substantial rewards, further solidifying its status as a leading player in the Indian fantasy sports arena.
5. OneTo11 
OneTo11 is an exciting addition to the world of fantasy cricket, offering a fresh and innovative approach for cricket enthusiasts. For many, it has quickly established itself as a top choice among fantasy cricket apps. What sets OneTo11 apart is its unique status as India's first social networking fantasy app, creating a sense of community and engagement among users.
Beyond the thrill of fantasy sports, it presents a rewarding opportunity where users can earn unlimited amounts of money through referrals, with the flexibility to withdraw their earnings at their convenience. Moreover, the option for instant withdrawals provides added convenience, making OneTo11 a compelling choice for those looking to combine their passion for cricket with the potential for financial gain.
6. Sixer (Best Fantasy Cricket Apps in India)
Sixer is an innovative fantasy sports software app. What sets it apart? Instead of dealing with fantasy cricket, this brand new form of game mixes stock market elements and fantasy cricket app components together into one app that allows users to buy or sell stocks of cricket players.
Signing up will get you one stock for free. In addition, referring friends will earn additional stocks; one for every referral who deposits funds into their Sixer cricket fantasy app account will get another share as an incentive!
7. MPL Fantasy
The Mobile Premier League (MPL) app has garnered significant popularity in the realm of fantasy cricket apps in India. Endorsed by cricket superstar Virat Kohli, MPL has made its mark in the cricketing world. Notably, MPL has also been a prominent sponsor of the Kolkata Knight Riders (KKR) in the last three seasons of the Indian Premier League (IPL).
What makes MPL stand out is its multifaceted approach, offering users the opportunity to earn money not only through cricket but also through a diverse range of games. Beyond the realm of fantasy cricket, MPL provides a variety of engaging options like Fruit Dart, Quiz, Ludo, and 8 Ball Pool, allowing users to showcase their gaming skills and potentially increase their earnings, making it a versatile and favored choice among Indian gamers.
Best Fantasy Cricket Apps in India Conclusion
Overall, India boasts an exciting and competitive environment of fantasy cricket apps that cater to the passion and enthusiasm of cricket lovers across India. These platforms have revolutionized how fans experience sports, offering not only an engaging experience but also the possibility of reaping rewards and cash prizes.
From established apps such as Dream11 to emerging ones like OneTo11 and Mobile Premier League (MPL), each app brings its own set of advantages and features to the table.
Fantasy cricket apps have revolutionized how fans experience and enjoy cricket, offering low withdrawal limits, wide sports choices, social networking features and partnerships with cricketing giants – among many other features. Thanks to these innovative apps' support of cricket legends and innovative approaches they continue to shape India's fantasy sports market and offer exciting ways for fans to combine their passion with fantasy gaming!
Best Fantasy Cricket Apps in India FAQ
What is a fantasy cricket app?
A fantasy cricket app allows users to create virtual teams of real cricket players and participate in contests based on the actual performance of these players in real cricket matches.
Which are the best fantasy cricket apps in India?
Some of the best fantasy cricket apps in India include Dream11, Gamezy, OneTo11, and Mobile Premier League (MPL), among others.
How do I get started with a fantasy cricket app?
To get started, download the app from your app store, create an account, select an upcoming match or contest, choose your team of players within a budget, and compete against other users to earn points based on player performance.
Can I win real money on these apps?
Yes, many fantasy cricket apps offer cash prizes and rewards for winning contests. However, users should check the terms and conditions, as some states in India have restrictions on cash contests.
Are these apps safe and legal in India?
Most fantasy cricket apps are legal in India, as they are considered games of skill and not gambling. However, users should ensure they are of legal gambling age in their state and comply with all relevant laws and regulations.