The best ERC-20 wallets offer a safe and convenient way to handle your digital assets running on the Ethereum network. One of the most well-liked options is MetaMask, which provides a simple-to-use mobile app and browser plugin for decentralized apps (DApps).
Another well-known choice is MyEtherWallet (MEW), which is well-known for being open-source and offering offline wallet creation and management for higher security. Trust Wallet is a mobile wallet with robust security measures, such as biometric authentication, and an intuitive user experience.
Ledger Nano S and Trezor are credible options for people looking for a hardware wallet that offer reliable cold storage solutions for ultimate security. The best ERC-20 wallet ultimately depends on your unique requirements, whether they are related to ease, security, or compatibility with DApps, thus it's critical to consider these aspects before making your choice.
What is ERC20 Wallets?
An ERC-20 wallet is a type of digital wallet specifically designed to store, manage, and interact with tokens that adhere to the Ethereum-based ERC-20 standard. ERC-20 stands for Ethereum Request for Comment 20 – an industry standard outlining rules and requirements for creating fungible tokens on Ethereum's blockchain – often used for initial coin offerings (ICOs), decentralized applications (DApps), or any number of blockchain projects.
ERC-20 wallets can store any token that adheres to this standard, which covers a broad array of assets and utilities represented by tokens like Tether (USDT), Chainlink (LINK), or Unswap (UNI). When selecting an ERC-20 wallet it's essential that it offers robust security features as well as user-friendly functionality to ensure the safe management of Ethereum-based tokens.
Here is List Of 30 Best ERC20 Wallets To Store Ethereum Tokens In 2023
eToro
Trust Wallet
MetaMask
Ledger
Coinbase Wallet
Binance
Atomic Wallet
MyEtherWallet (MEW)
Exodus Wallet
Okto Wallet
Trezor Model One
Coinomi [Mobile Wallet]
Eidoo
Argent wallet
14 Best ERC20 Wallets To Store Ethereum Tokens In 2023
1.eToro
A regulated exchange that provides custodial storage, along with a wallet. It protects private keys on users' behalf, which will interest beginners.
ERC20 tokens can be stored on eToro, and users can also trade cryptocurrencies for 1% per slide. Additionally, a staking tool with adjustable terms and reasonable APYs is included with the eToro wallet.
2.Trust Wallet
All ERC20 tokens as well as a wide range of other cryptocurrency networks are supported. If it isn't already pre-listed, ERC20 coins can be manually added via the contract address.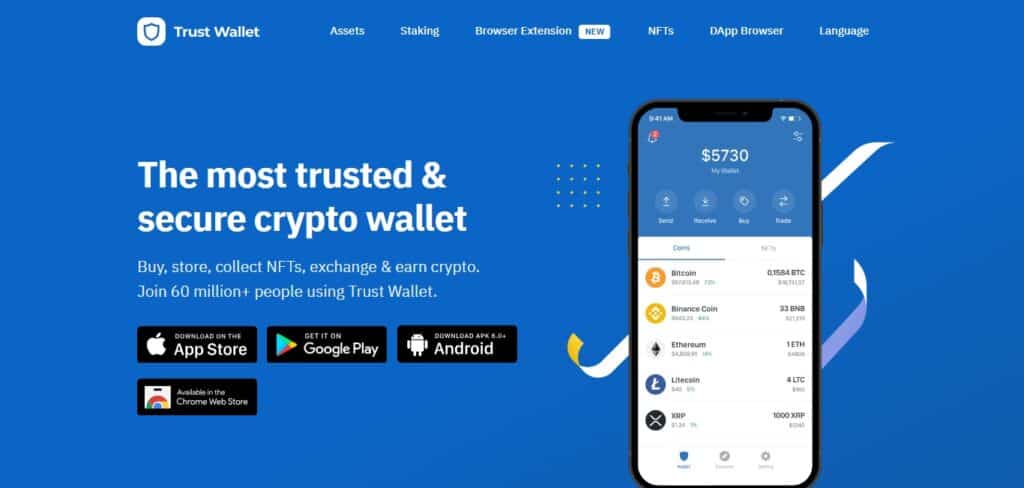 Staking and token exchanges are free of charge with Trust Wallet. Additionally, it supports ERC20 dApps like OpenSea, UniSwap, and Yearn.finance.
3.MetaMask
All ERC20 tokens are supported by yet another non-custodial wallet. The iOS and Android apps are free to download and use.
Additionally, Chrome, Brave, Firefox, and Edge all have MetaMask browser extensions available. Staking and token swaps are supported by the in-wallet portfolio dashboard provided by MetaMask.
4.Ledger
Ledger, one of the most secure ERC20 wallets, provides cold storage through a compact hardware device. Three Ledger versions are available, with prices ranging from $79 to $279. Private keys are kept offline by all Ledger models, allowing ERC20 token holders to HODL without worrying about being hacked.
5.Coinbase Wallet
For iOS and Android users, a decentralized wallet. It works with numerous networks, including Ethereum, that enable unique tokens. All ERC20 tokens are therefore supported.
To utilize Coinbase's decentralized wallet, you do not need to create an account with them. In actuality, using the Coinbase Wallet is anonymous.
6.Binance
Provides an exchange and ERC20 wallet all under one roof. To transfer money between the two, users only need to log into their accounts. Major ERC20 tokens and more than 350 cryptocurrencies are supported on Binance. Along with other DeFi products, Binance also provides savings accounts.
7.Atomic Wallet
No financial services, virtual asset services, advice, mediation, brokerage, or agent services are offered by Atomic Wallet. Customers of Atomic Wallet can access virtual asset services from outside service providers, whose actions and offerings are beyond Atomic's control.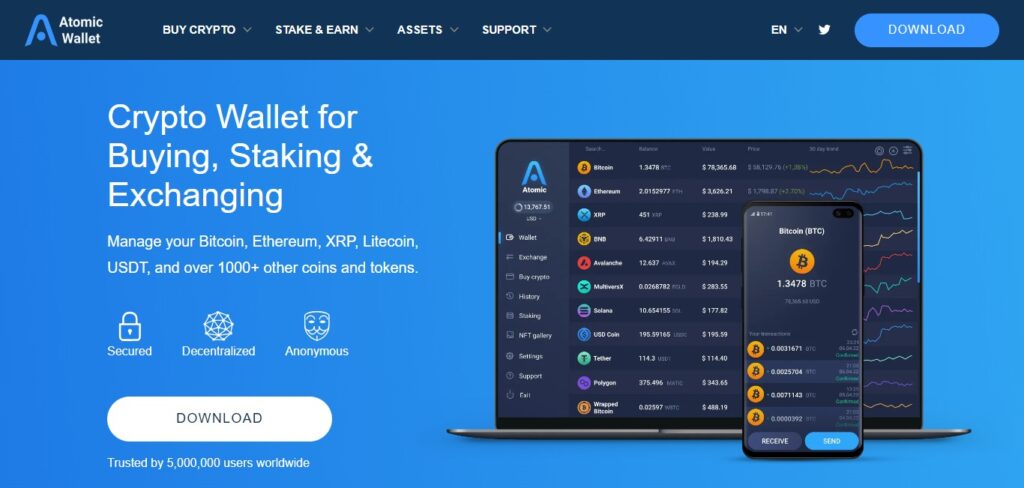 Before entering into a commercial relationship, we strongly advise all Atomic Wallet users to familiarize themselves with the terms and conditions of other virtual asset service providers.
We should also point out that none of the virtual currencies that Atomic Wallet's users are able to utilize through the Atomic Desktop and Mobile Wallet Applications were created by Atomic Wallet, and it has no influence over them.
8.MyEtherWallet (MEW)
This unrestricted, safe, and free wallet was created especially for the Ethereum network. The open-source platform known as MyEtherWallet, or MEW, allows users to store, manage, and transfer ether and other ERC-20 tokens. MEW enables interaction between users and a variety of decentralized apps (dApps) and smart contracts created on the Ethereum blockchain.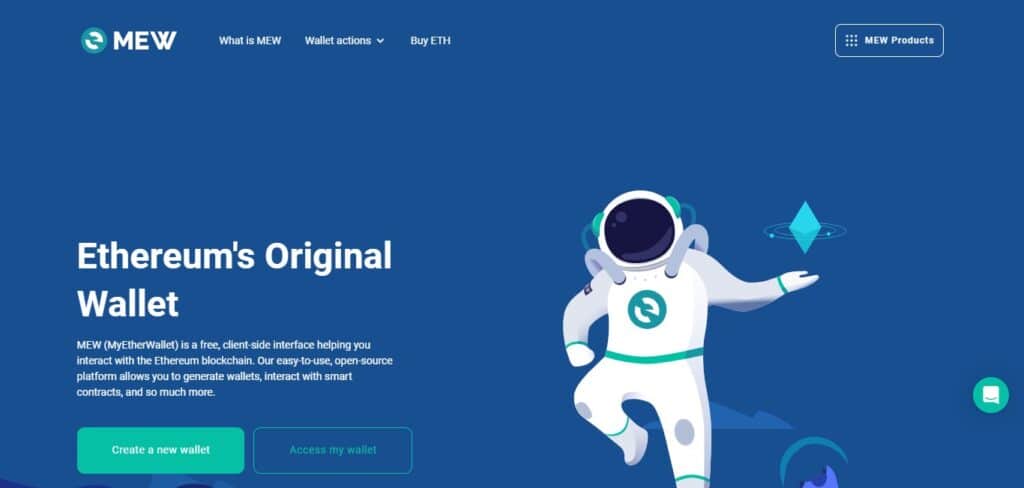 The multichain wallet extensions that come with MyEtherWallet support Polkadot, Acala, Arbitrum, and other Ethereum-compatible blockchains. Additionally, hardware wallets like Trezor, Ledger, and others are supported. In the crypto communities, MEW has a reputation for having a user-friendly interface and distinctive features.
9.Exodus Wallet
This self-custody ERC-20 wallet features a built-in swapping platform, live charts, and portfolio views. It is accessible as a browser extension, a smartphone app, and desktop software, allowing for simple management and storage of ERC-20 tokens on a platform that is simple to use.
The Exodus wallet, which supports more than 50 blockchain networks, allows users to stake cryptocurrency assets to earn interest on their holdings. Exodus just teamed with Bitrefill, a platform for gift cards. Users will be able to buy gift cards and manage their cryptocurrencies on a single site thanks to this.
10.Okto Wallet
The next option is Okto, a one-stop shop for all your DeFi needs. It is a very user-friendly and secure Defi wallet that gives users full control over their keys and crypto assets.
Okto, which was developed by CoinDCX, offers users access to thousands of digital currencies and supports a wide variety of crypto assets, such as Ether and ERC-20 tokens. The ability to seamlessly switch and stake between other blockchain chains inside of the platform is one of Okto's primary features. Users can take advantage of various DeFi chances and increase their revenue by doing this.
Okto makes use of MPC (Multi-Party Computation) technology, a state-of-the-art encryption technique that provides additional security for user cash. Additionally, two-factor authentication is used, significantly increasing the platform's security as a whole.
11.Trezor Model One
The Trezor's security and dependability are offered by this hard wallet. Only 12g in weight, it boasts an OLED screen and two-factor authentication built right into the wallet. It can be linked to the Trezor Suit so that you can swap, purchase, and sell cryptographic assets on a one platform.
A total of 1289 cryptocurrency tokens and currencies, including Bitcoin, Ethereum, and all ERC-20 tokens, are supported by the Trezor Model One. The Trezor wallet's shortcomings include its lack of bluetooth connectivity and slightly higher pricing.
12.Coinomi [Mobile Wallet]
A well-known mobile wallet for several currencies named Coinomi gained notoriety for supporting split coins. But Coinomi also supports Ethereum and Ethereum-based tokens (also known as ERC20 tokens), exactly like a wallet with an active community and development team.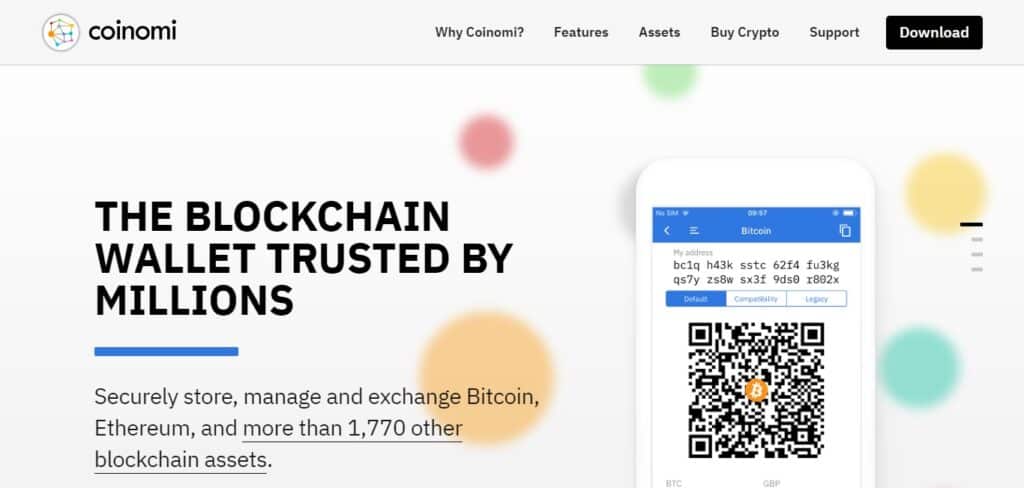 Additionally, because it is an HD wallet with a PIN code, seed key, and passphrase feature that you can enable whenever you like, this wallet preserves control of your money at all times.
On Coinomi, the token feature is not enabled by default, therefore you must first configure it before adding your desired tokens to make it operational.
13.Eidoo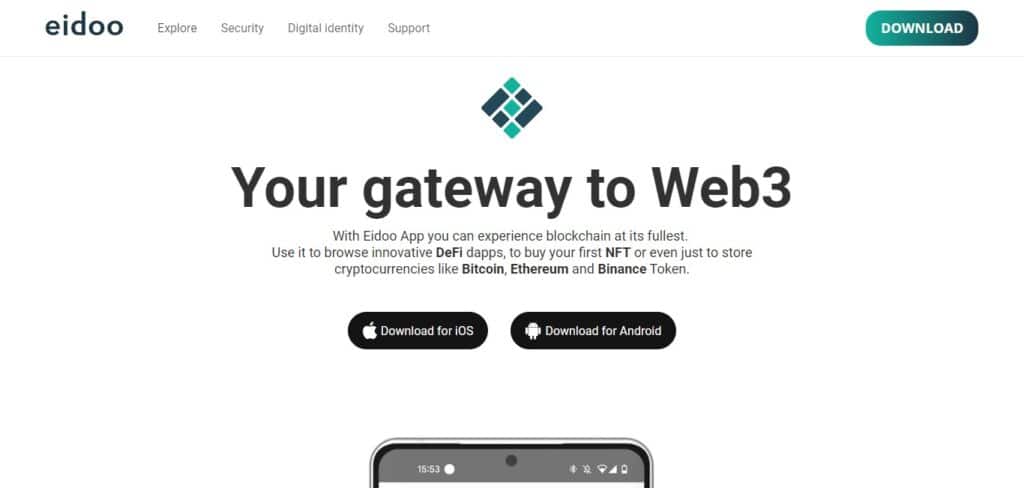 You can choose where to keep your Ethereum-based tokens with the aid of ERC20 wallets. Powered by Eidoo Finance, you may quickly fall down the rabbit hole or convert your cryptocurrency back to money.
14.Argent wallet
Unlike other non-custodial wallets, Argent uses a distinct method to protect your digital assets. Argent creates and recovers wallets using your email address and mobile number, unlike most wallets that rely on keeping your private key.
This adds an extra degree of protection because it makes sure that you may still get your money back even if you lose your device or forget your password. The Trust Lists and Guardians feature of Argent is what distinguishes it from other wallets.
What Makes an ERC20 Wallet Required?
ERC20 wallets offer a wide range of features. not just for keeping and sending ERC20 tokens, but also for getting to DeFi items. Find out why ERC20 investors want an appropriate wallet to interact with the Ethereum ecosystem by reading on.
Storage
Investors need a secure location to keep their ERC20 tokens, both short-term and long-term. This entails avoiding unlicensed cryptocurrency exchanges with the tokens.
To keep the tokens safe from hackers, the top ERC20 wallets provide a variety of security measures. Custodial wallets, for instance, typically provide two-factor authentication by SMS and/or email.
Wallet-to-Wallet Transfers
A wallet is required in order to send and receive ERC20 tokens. When sending ERC20 tokens, users only need to include their Ethereum wallet's address.
All ERC20 tokens will be transmitted to the same address, which will be specific to the wallet. Assume, for instance, that the user's selected wallet provides them with the following Ethereum address:
Ethereum DeFi Ecosystem
For DeFi platforms, the Ethereum blockchain is the preferred network. UniSwap, Curve, SushiSwap, DODO, OpenSea, and Kine Protocol are a few of the most well-known.
The top ERC20 wallets provide direct communication with DeFi systems. As a result, users are able to borrow money, collect staking rewards, and swap tokens all within the wallet UI.
Best ERC20 Wallets Features :
Token Compatibility: ERC-20 wallets are specifically designed to store Ethereum-based tokens. They should be compatible with any token that follows the ERC-20 standard, which is a widely adopted token standard on the Ethereum blockchain.
Multi-Token Support: ERC-20 wallets typically support multiple tokens, allowing you to store and manage various ERC-20 tokens in a single wallet.
Security: Security is a top priority for any wallet. ERC-20 wallets usually offer robust security features, including encryption, PIN codes, biometrics, and hardware wallet integration for enhanced protection.
Private Keys Control: Users have control over their private keys, which are essential for accessing and managing their tokens. Ensure you keep your private keys secure and never share them with anyone.
Backup and Recovery: ERC-20 wallets often provide options for creating backups (e.g., seed phrases) to recover your wallet and tokens in case of loss or theft of your device.
Best ERC20 Wallets Conclusion
Thanks to the decentralization and security provided by the Ethereum blockchain, ERC-20 tokens have gained enormous popularity. These tokens have served a variety of purposes inside the DeFi ecosystem, having been issued in their thousands, each with their own utility and use cases. These include borrowing and lending for payments, paying for products and services between users, staking to earn and secure networks, and more.
ERC-20 tokens must be safely stored because to their high value. This is when an ERC-20 wallet comes in handy, providing a safe and secure way to store these priceless assets. Users can engage with dApps in the DeFi ecosystem and protect the security of their tokens with the help of these wallets.
Best ERC20 Wallets FAQ
What is an ERC-20 Wallet?
An ERC-20 wallet is a digital wallet designed specifically to store Ethereum-based tokens conforming to the ERC-20 token standard. These tokens can represent various digital assets, including cryptocurrencies, tokens from ICOs, and other blockchain-based assets.
What are the Best ERC-20 Wallets for 2023?
A well-liked browser extension wallet that supports both desktop and mobile devices and has a user-friendly layout.
Can I Store Multiple ERC-20 Tokens in the Same Wallet?
Yes, ERC-20 wallets are designed to hold multiple tokens simultaneously. You can send, receive, and manage various ERC-20 tokens within the same wallet.
How Do I Transfer Tokens to My ERC-20 Wallet?
You'll need to know your wallet's public address in order to send tokens to your ERC-20 wallet. Then, you can send tokens from a different wallet or a cryptocurrency exchange to this address.