Crypto grid trading bots and applications have evolved into indispensable tools for cryptocurrency traders wanting to improve their trading techniques. These complex programs use a grid trading method, which entails arranging a grid of buy and sell orders at predetermined price levels.
One of these bots' most notable advantages is their ability to capitalize on price volatility within a specific range, allowing users to profit from market changes without having to constantly monitor the markets. Some of the top cryptocurrency grid trading bots and apps provide an easy-to-use interface that allows both novice and professional traders to set up and tweak their grid tactics.
They frequently offer real-time market data and charting tools to help with decision-making. Furthermore, these apps usually have risk management capabilities that allow users to restrict their exposure and minimize potential losses.
What is a Crypto Trading Bot?
Crypto trading bots are automatic programs that assist you in buying and selling cryptocurrency at the right time. This software's primary purpose is to enhance revenue while decreasing losses and hazards. These tools allow you to manage all of your cryptocurrency exchange accounts in one spot.
Many of these apps make it simple to trade for Ethereum, Litecoin, Bitcoin (BTC), and other cryptocurrencies. Consider researching some of the best crypto exchanges in the UK that offer comprehensive trading tools and features to locate a good platform for utilizing trading bots.
How Do Best Crypto Trading Bots Work?
Market Data Analysis: Crypto trading algorithms start by examining market data. They gather real-time data from cryptocurrency exchanges such as price charts, order book data, trading volume, and historical price data. Some bots may additionally incorporate other data sources such as news feeds and sentiment analysis from social media.
Strategy Execution: Traders can set the bot to execute a certain trading strategy. The technique might be based on technical indicators (for example, moving averages, RSI, and MACD), fundamental analysis, arbitrage opportunities, or a mix of these variables. The bot will then conduct trades based on the parameters of the strategy.
Risk management: Risk management is an important part of crypto trading bots. Stop-loss and take-profit levels can be established by traders to limit potential losses and secure profits. Bots may also include features like as trailing stop orders, which allow the stop-loss level to be adjusted when the price moves in a favorable direction.
Position Sizing: Traders choose how much funds the bot can use for each trade or assign a percentage of their portfolio to the bot. This aids in risk management by preventing overexposure to a single trade.
Backtesting and Optimization: Many trading bots have backtesting functionality, which allows traders to evaluate their tactics against historical data to see how effective they are. Based on the results of these testing, traders can fine-tune their tactics.
Monitoring and Alerts: Traders can monitor the performance of their bots using a user-friendly interface. Bots frequently update open trades, profit and loss, and overall portfolio performance in real time. When certain circumstances are met, they can also transmit warnings or notifications.
Continuous Operation: Crypto trading bots are available 24 hours a day, seven days a week, which means they may execute deals even while traders are sleeping or unavailable. This constant activity is especially beneficial in the cryptocurrency market, which never sleeps.
Here is List Best Crypto Grid Trading Bots Apps
Pionex
Coinrule
Cryptohopper
Vestinda
Bitsgap
WunderTrading
3Commas
CryptoHero
Trality
Quadency
TradeSanta
HaasOnline
Bybit Grid Bot automation
Binance Grid trading bot
Altrady Grid Bot
15 Best Crypto Grid Trading Bots Apps
1.Pionex
Pionex provides a diverse choice of trading pairs as well as powerful trading tools to both novice and expert cryptocurrency traders. The Grid Trading Bot, for example, allows users to automate their trading methods by creating grids of buy and sell orders.
This novel strategy allows traders to profit from price changes within a predefined range, making it a popular option for those looking for a passive income stream in the unpredictable cryptocurrency market.
Pionex also provides various trading bots and an easy-to-use interface, making it an appealing option for traders wishing to diversify their crypto portfolio or experiment with algorithmic trading tactics.
2.Coinrule
Coinrule is a simple cryptocurrency trading software that allows both new and expert traders to automate their trading methods without requiring considerable programming knowledge. Coinrule, which was launched in 2018, has a straightforward interface that allows users to easily build, test, and deploy trading rules and strategies, making it accessible to a wide spectrum of traders in the fast-paced world of cryptocurrencies.
The platform integrates with a number of top cryptocurrency exchanges, giving traders a comprehensive toolkit for making trades, monitoring portfolios, and minimizing risks. Coinrule's real-time monitoring and notifications keep users up to date on market developments, allowing them to quickly adjust their tactics.
3.Cryptohopper
Cryptohopper is an AI-powered bot that makes cryptocurrency trading accessible, enjoyable, and worthwhile for anyone. strive towards perfection. Put in the effort. Every day, learn something new.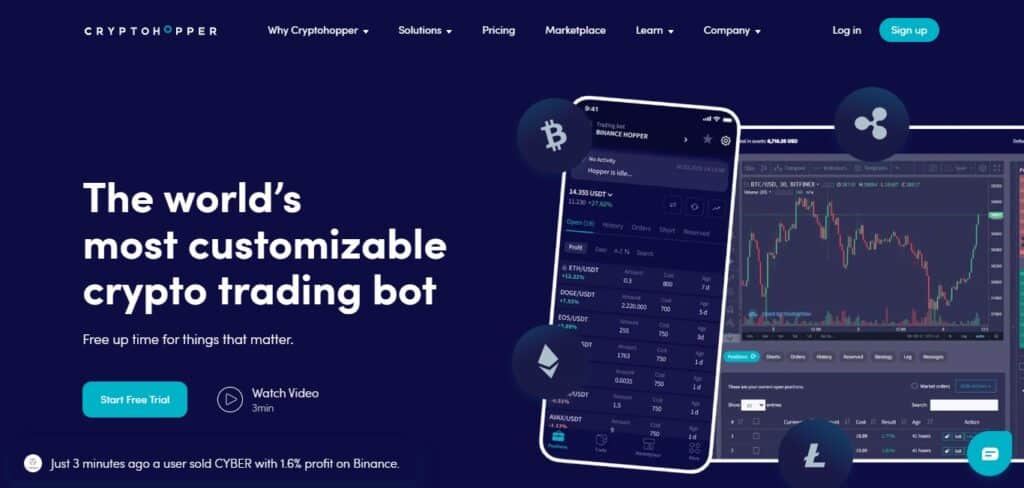 Join forces with our incredible team. And expand quickly. Every month, we improve and innovate a bot that handles over nine million transactions worth an estimated $2 billion USD.
4.Vestinda
Trade with your neighborhood. We simplify automatic trading without sacrificing strategy for traders like you.
5.Bitsgap
Bitsgap is one of the greatest bitcoin trading bots for easily managing your crypto holdings. This tool can analyze over 10,000 cryptocurrency pairs and choose coins with the most potential. With a few mouse clicks, you may construct your bot strategy.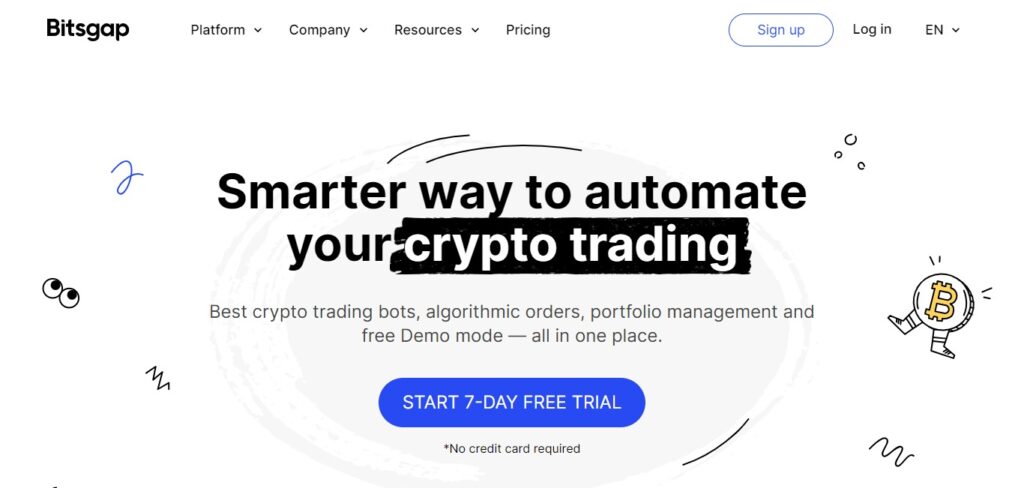 Bitsgap is a comprehensive crypto trading bot that includes Grid Bot, Futures bots, Smart orders, and Trailing Up & Down features for efficient trading. It is compatible with a variety of exchanges, including Binance, Kraken, and Bitfinex, and it simplifies a variety of trading activities. Bitsgap is priced at $29 a month and offers a 7-day free trial for newbies to explore its capabilities.
6.WunderTrading
WunderTrading is a leading trading bot platform that enables traders to easily automate their trades and generate passive cryptocurrency income. It also offers a social trading network where users can mimic professional traders' trades.
WunderTrading's crypto trading bot includes features such as DCA Bot, Copy Trading, Arbitrage, and the ability to trade across all API accounts at the same time.
It works with major exchanges including Kraken, Binance, and Coinbase PRO. WunderTrading offers a free lifetime plan as well as paid subscriptions ranging from $9.95 to $44.95 per month, including a 7-day trial for its PRO plan.
7.3Commas
3Commas is dedicated to assisting traders in maximizing profit success by reducing investor risks and limiting exposure to losses. 3Commas is a popular choice among traders because it does not require the installation of additional software and is already integrated across a significant number of exchanges. Traders may design, link, and alter their crypto trading strategies by focusing on giving essential tools and easily adjustable features.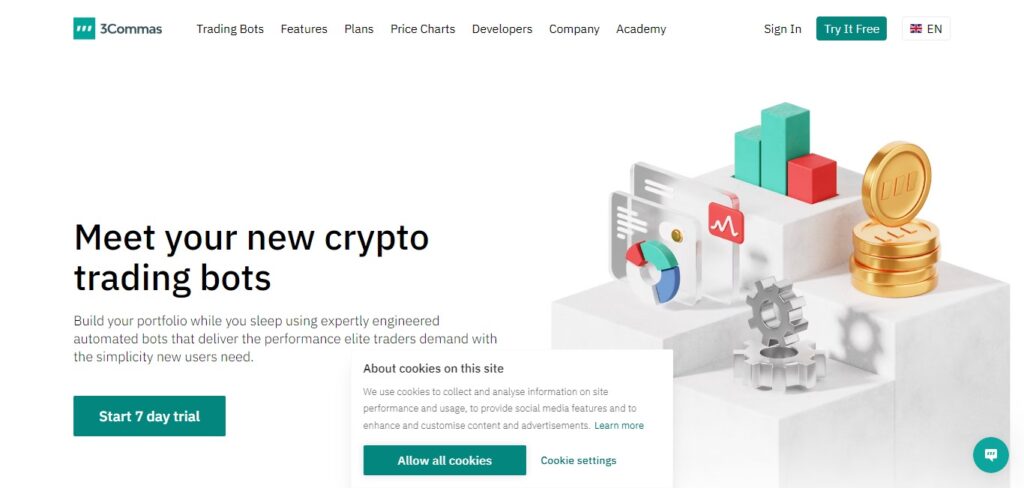 3Commas is a comprehensive cryptocurrency trading platform that offers a variety of bots such as DCA Bot, Futures Bot, and GRID Bot. It integrates with leading exchanges like Binance, Coinbase Pro, and Bitfinex. It caters to mobile consumers by offering apps for both the iOS and Android platforms. 3Commas offers a lifetime free basic plan to encourage consumers, giving easy access to its services.
8.CryptoHero
CryptoHero is a reputable cryptocurrency trading bot with features appropriate for novice to advanced traders. It provides a variety of bots that enable traders to profit in bull, bear, and range-bound markets.
It provides a Bots Marketplace where you can buy tested bots put up by professional traders. New users can quickly deploy the bots with a few clicks. CryptoHero provides web and smartphone access, allowing traders to trade from any location at any time.
9.Trality
Trality allows cryptocurrency traders to automate their own investment strategies or rent tactics developed by professional quants. Trality advanced crypto trading bots allow users to hire specialized trading techniques or create their own using Trality bot builder tools.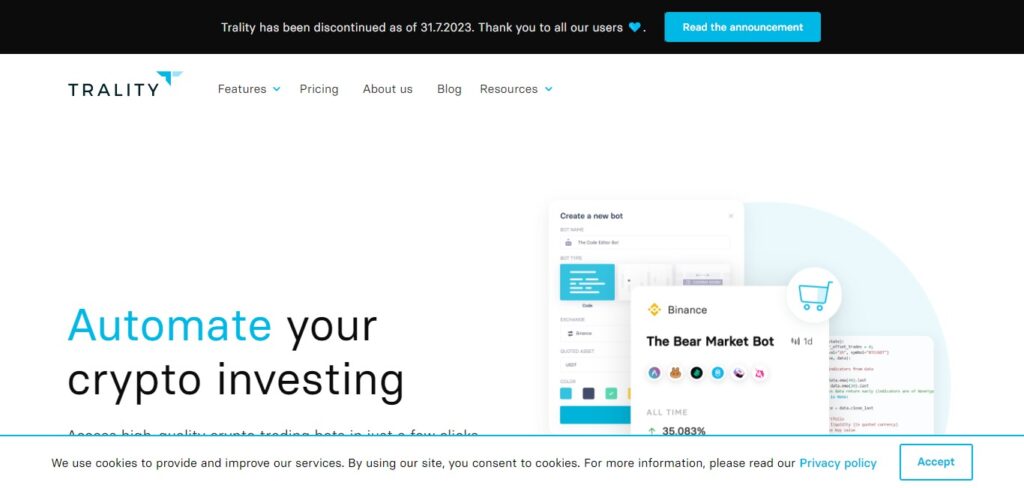 It interacts with major exchanges such as Binance, Kraken, and Coinbase Pro, making it suitable for both beginners and specialists. Trality, which has specialized apps for iOS and Android, offers a lifetime free base plan as well as premium choices. A referral program and a wallet bonus scheme are two additional benefits.
10.Quadency
Quadency is a digital asset management tool that offers institutional and retail traders an automated trading solution. It simplifies the cryptocurrency investment procedure.
Accumulator, Bollinger Bands, and Mean Reversion are just a few of the tactics available with the Quadency crypto trading bot.
Integrating seamlessly with major exchanges including as Binance, Kraken, and Coinbase Pro gives traders with a complete toolkit for maximizing their trading.
Quadency is unique in that it is available for free on both iOS and Android devices, enabling broad accessibility for all trading lovers.
11.TradeSanta
TradeSanta is one of the greatest trading bots for easily managing your risk. This application allows you to select the method that best suits your trading style, as well as establish your target profit amount and close the deal at the appropriate time.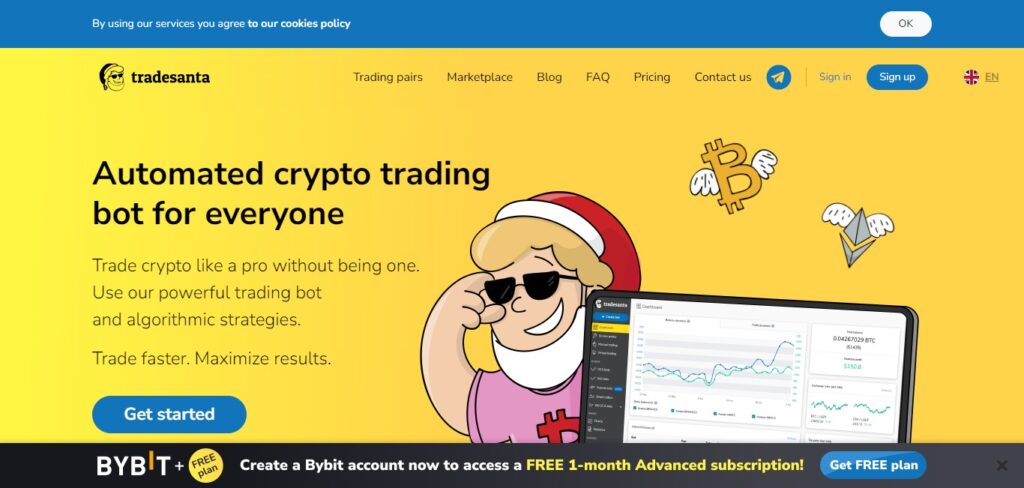 TradeSanta provides specific strategies such as MACD, RSI, and Bollinger Bands to help traders optimize their strategy. It delivers a simpler trading experience by being compatible with significant exchanges such as Binance, Bitfinex, and OKEx. TradeSanta, which has specialized apps for iOS and Android, offers a 5-day free trial, which is made even more tempting by its cost-effective free pricing plan.
12.HaasOnline
HaasOnline is one of the most established and well-known crypto trading bot sites. Over 37 exchanges are available for automated trading. Create bot strategies with a single mouse click or build your trade bot line by line.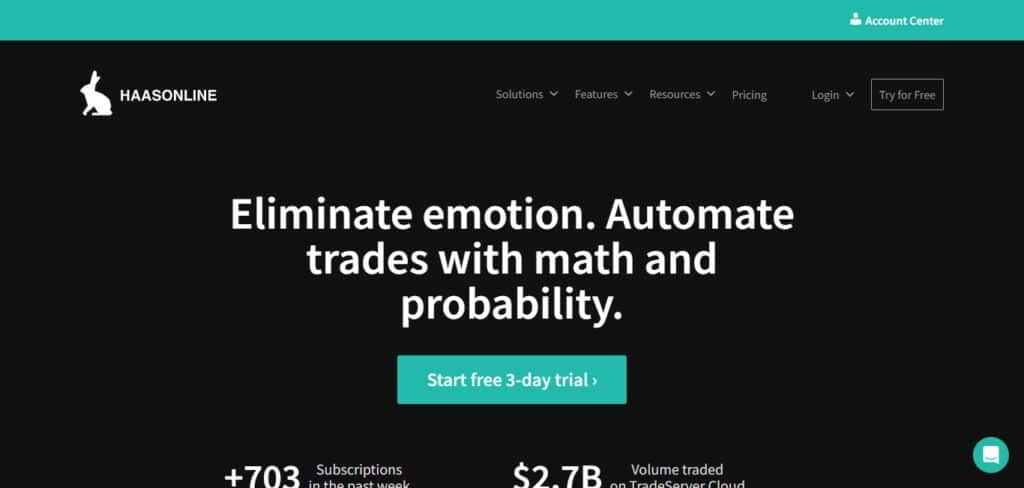 The HaasOnline crypto trading bot distinguishes itself by its capacity to replicate a wide range of trading methods, from Accumulation and Arbitrage to Scalping and Futures Bots. It provides a versatile trading platform that is integrated with a number of exchanges, including Binance, Kraken, and Coinbase Pro. HaasOnline offers a lifelong free basic plan as well as alternatives for both free basic and premium subscriptions, providing to a variety of trading demands and experiences.
13.Bybit Grid Bot automation
Bybit is a cryptocurrency exchange that provides a variety of automation tactics, such as grid bot trading. Because you will be operating your bot directly on the exchange, you will not experience the API delay or other issues that we see when utilizing third-party technologies.
14.Binance Grid trading bot
Binance, the world's largest cryptocurrency exchange, includes a grid bot. Many Binance users are unaware of it, and if you are seeking for a grid bot, you can use the one provided by Binance.
You must have a Binance futures account to access this functionality. If you don't already have one, you may create one by clicking this link or by going to the Futures tab in your Binance account. If it asks for a referral code, enter 37705785.
15.Altrady Grid Bot
It was quite difficult for to choose the best grid bot tool for position Choose Altrady after careful consideration and trial of all tools.
Altrady is a trading platform that connects to over 30 cryptocurrency exchanges through API. You can use the grid bot method once you've linked to an exchange.
Best Crypto Trading Bots Conclusion
Finally, in the volatile realm of cryptocurrency, crypto grid trading bots and applications have evolved as valuable tools for traders. These complex algorithms provide a systematic and automated trading method, assisting users in capitalizing on market movements and maximizing returns while reducing risks.
The finest grid trading bots and apps include an easy-to-use interface, extensive customization possibilities, and real-time data analysis, allowing traders to quickly adjust to changing market conditions. Furthermore, these systems can run continuously, eliminating the need for regular monitoring and allowing traders to effortlessly manage a diverse portfolio.
However, because the crypto market is still extremely speculative and prone to unforeseen events, it is critical to exercise prudence and select trusted platforms. Crypto grid trading bots and apps can be significant additions to a trader's arsenal, boosting their ability to traverse the complicated and ever-changing crypto market with the appropriate approach and wise deployment.
Best Crypto Trading Bots FAQ
What is a crypto grid trading bot?
A crypto grid trading bot is a software application that uses a grid trading approach to automate cryptocurrency trading. Grid trading entails arranging a grid of buy and sell orders at predetermined price levels, allowing traders to profit from price swings within a given range. These bots make trades using algorithms, allowing users to gain on market volatility while reducing operator interaction.
How do I choose the best crypto grid trading bot app?
Consider elements such as dependability, security, convenience of use, and the number of supported cryptocurrencies and exchanges when choosing a crypto grid trading bot program. Look for customer ratings and testimonials, and see if the bot provides configurable trading techniques to match your risk tolerance and trading objectives. Additionally, be certain that it offers real-time data, extensive analytics, and responsive customer assistance.
Are crypto grid trading bots safe to use?
The security of crypto grid trading bots is determined by the app's security measures as well as your personal diligence. Use a trustworthy and well-established bot provider and adhere to best practices for securing your cryptocurrency holdings, like as establishing two-factor authentication on your exchange accounts and employing secure API keys.
Can I make a profit with crypto grid trading bots?
Profits from crypto grid trading bots are not guaranteed and are dependent on market conditions, the strategy you choose, and the bot's performance. While grid trading can be a profitable method, you must carefully observe the market and alter your settings as necessary. Furthermore, be prepared to lose money and only invest what you can afford to lose.
Are there free crypto grid trading bots available?
While some crypto grid trading bots provide free versions or trial periods, more advanced capabilities frequently require a subscription cost. Because free bots may have limits, it's critical to assess their capabilities and compare them to paid options to choose which best meets your needs.