About Arken Finance
Arken Finance is a blockchain-based platform that aims to simplify the complexities of decentralized finance (DeFi) by providing abstracted services and tools for developers. With its innovative approach, Arken Finance enables developers to create DeFi applications with ease and efficiency, without needing to have extensive knowledge of the underlying blockchain technology.
Additionally, the platform offers tools and services to help traders or users navigate across multi-chain environments, making it easier for them to access and interact with various DeFi protocols. Arken Finance is dedicated to creating a more user-friendly and accessible DeFi ecosystem, which will ultimately lead to greater adoption and integration of blockchain technology in the financial sector.
| Compound | Facts |
| --- | --- |
| Defi Coin Name | Arken Finance |
| Short Name | $ARKEN |
| Max Supply | 10,000,000,000 $ARKEN. |
| Ethereum Contract | 0xAf5db6E1CC585ca312E8c8F7c499033590cf5C98 |
| Chat Option | Click Here To Visit Compound Chat |
| Document | Click Here To View Document |
| Official Website | Click Here To Visit |
The Future is Multi-chain
As the number of users, use cases, and transactions grow, more chains with diverse technology are inevitable. This increases the complexity of software development and user experience. To simplify these, Arken developed Abstraction Layers on L1, L2, and protocol layers.
The Technology Abstraction Layer handles protocol and chain incompatibility, while the User Experience Abstraction Layer unifies the user experience across multiple chains and dApps, creating powerful tools and accelerating multi-chain growth.
Multi-chain Trading Portal with Next-level Tools
Navigating across multi-chain, protocols, and millions of liquidity pools with Arken's powerful trading portal. From multi-chain token search, see the price charts, to best rate swap, place limit order, stop-limit, and many more – all in one interface, same experience across every chain.
Discover Opportunities in Market
Make the most of real-time cryptocurrency analytics and insights.
Get The Best Price Across 1.4M+ Pools
Save more on every swap through our real-time route optimization engine.
Limit Order & Stop Limit
Set conditional orders on DeFi with Arken's automated infrastructure to take profits and protect losses fast and safe.
Real-Time & Precise Price Data
Gain control over your trades and confidently react to market movements with our real-time, accurate token price charts.
All-in-One DeFi Infrastructure for Private Funds
Self-Custody & Security
Empower investors' full control over their assets, trace all activities, and secure them on the blockchain. Only investors can withdraw their own funds.
Breakthrough DeFi Limitations
Managing funds in DeFi may be challenging (lack of comprehensive trading tools, technical integration barriers, scattered liquidity, etc.) Arken overcomes these barriers for you.
Break Through DeFi Limitations With Our Solution
Self-managed Fund
Investors can self-manage their own funds through Arken's user-friendly interface. Your funds are deposited in the pools, securely written with smart contracts.
All-in-One Tools & API
Exercise the full potential of your strategy with our swap engine, limit order & stop-limit order. Our API resembles CEX integration.
Maximize Liquidity Access
Aggregating from 1.4M+ pools, Arken efficiently finds liquidity in milliseconds with minimal price impact and slippage.
MEV Protection
The private infrastructure eliminates the risk of unwanted attacks such as front & back running and sandwich attacks.
Decentralized, Unified
Focus better on building your core features. The API abstract the complexity of hundreds of protocols and millions of liquidity pools into unified APIs that are consistent across multi-chain and make your code future-proof.
Price API
Get an accurate historical price data of any token at any point in time via the fastest indexing engine.
Swap Engine API
Swap any token at the best rate. Swap Engine API scans & searches through millions of pools and possible swap routes in milliseconds. Our API simplifies different DEX APIs into one, across multiple networks.
Insider API
Level up your market insights with insider API. They can provide various market data such as 24-hr stats, trading volumes, etc.
$ARKEN Token
$ARKEN, the native token which facilitates Arken Finance tokenomics as a utility token, backing the protocol's ecosystem and offering real yields to holders. This will enable a robust ecosystem around utilities, rewards, and staking — each carefully designed to drive strong growth of Arken Finance.
Arken's ecosystem encompasses various products and protocols, and $ARKEN utilities play a crucial role in supporting their growth. These utilities serve multiple purposes, including but not limited to:
1.Facilitate decentralized governance within the Arken ecosystem
2.Provide fee rebates to liquidity providers on the Arken Pool
3.Act as a utility token for various protocols and products within the Arken ecosystem, such as the aggregator protocol, decentralized private fund, and future product
4.Early access privileges to new products, protocols, and innovations for $ARKEN holders.
How to Participate
Arken Token
Arken token will be used across multiple protocols and services in and around Arken Ecosystem. We are releasing an initial batch of Arken token to help users abstract the complexity of DeFi.
Provide Liquidity
To make Arken Token able to support the growing of protocols and applications, we need help expanding the liquidity of Arken Token. Unlike the hyper-inflated farming mechanics, Arken's Liquidity Providers will receive Arken Options we pioneered.
Roadmap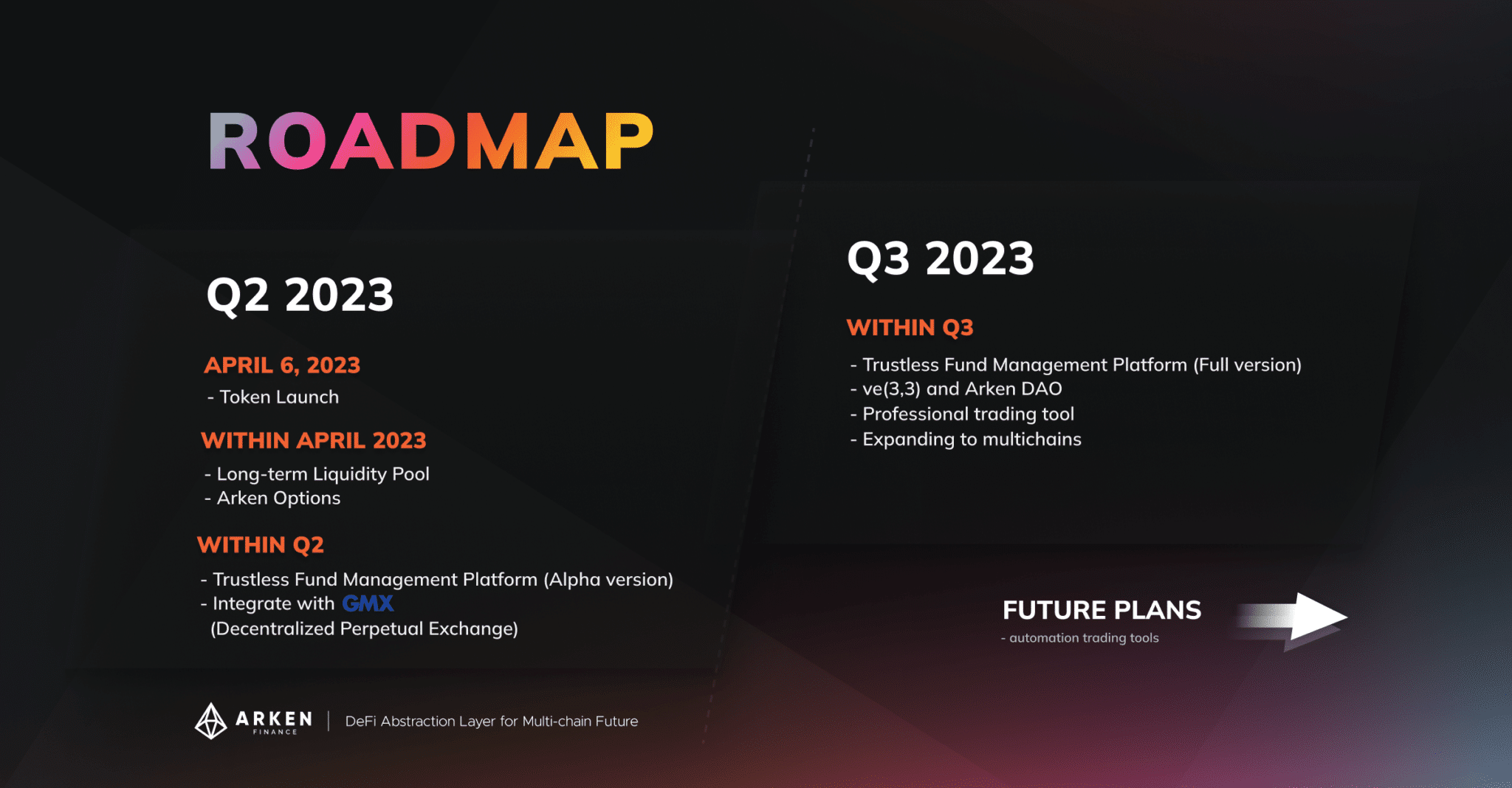 Conclusion
In conclusion, Arken Finance is a revolutionary platform that is changing the way developers approach decentralized finance. By abstracting the complexity of DeFi, Arken Finance is making it easier for developers to create applications, which will ultimately lead to a more user-friendly and accessible DeFi ecosystem.
Moreover, the platform's tools and services help traders and users navigate multi-chain environments, enabling them to access and interact with various DeFi protocols with ease and efficiency. Overall, Arken Finance is a promising solution for those looking to enter the world of DeFi and for those seeking to develop innovative solutions in this space.