About APass Coin
APass Coin is a membership-based experience center, which integrates DIDs, quests, level up system, market and GameFi. They try to use the traditional economics logic to create a self-balancing token $APC from mining to consumption. This does not fit the vision of decentralization. This try to change this unfair phenomenon on $APC, everyone can participate in mining, pay labor, and get benefits. The mining method is fair to everyone, your income will not decrease as the scale of the capitalist increases, and you will always own your mining share without looking at anyone's face.
APass Coin Point Table
$APC Token
$APC is an important ecos cycle token of APass. $APC has abandoned the halving/equal sharing model (artificially creating vicious deflation), and abandoned the fast-running Ponzi model (artificially creating hyperinflation), but around value creation and the market's invisible large-hand liquidity demand, in the entire blockchain Ecology is the first natural currency that is adaptive, self-balancing, and closest to the traditional currency logic designed in line with Adam Smith's classical monetary theory.
Mining $APC requires the purchase of a domain name, and each mining will also consume GAS fees, which is costly. Therefore, when the supply of $APC exceeds the demand of $APC, the value of $APC will decrease, suppressing the desire to produce more $APC. At the same time, the low price will lead to a corresponding increase in the amount of $APC that enters the black hole for destruction after application. The market will automatically balance the amount of $APC.
Refer & Earn
Refer your Friends to APass and earn up to 20% commission on every new register.
Anyone can become a promoter, as long as you apply for a invitation code, you don't need to register a domain name yourself
After the promoters meet the upgrade performance, click the upgrade button to increase the rebate ratio
Invitation codes can only be used when registering a new domain name. Subdomains and renewals cannot be used.
How to publish a quest
APass Coin very much welcome you to build an ecosystem together with! Currently, you can requires submitting an application if you want publish some quests. They will launch the custom quest publishing platform as soon as possible. Of course, for security reasons, all tasks need to be tested and reviewed before going live.
Specified buyer
When creating a trade, if the specified buyer is checked, it will be valid after entering the address or domain name to verify the validity. For the trade of the designated trading party, other people who know the TRADE-ID can view them, but cannot trade them. This option is especially useful in cases of gifting assets (the wants list is empty).
Why Choose APass Coin?
Unlimited supply
No pre-mining, the official and the capital do not hold coins
The mining mode is inherently resistant to the Matthew effect of capital, and everyone can mine and hold
The foundation continues to purchase $APC and burn it to maintain the balance of liquidity.
Where Can You Buy APass Coin?
Tokens Can Be Purchased On Most Exchanges. One Choice To Trade Is On AnimeSwap, As It Has The Highest APT/APC. e Trading Volume, $8,947 As Of February 2021. Next is OKEx, With A Trading Volume Of $6,180,82. Other option To Trade Include APT/APC And Huobi Global. Of Course, It Is Important To Note That Investing In Cryptocurrency Comes With A Risk, Just Like Any Other Investment Opportunity.
Market Screenshot

APass Coin Supported Wallet
Several Browser And Mobile App Based Wallets Support APass Coin. Here Is Example Of Wallet Which APass Coin – Trust Wallet For Hardware Ledger Nano.
Roadmap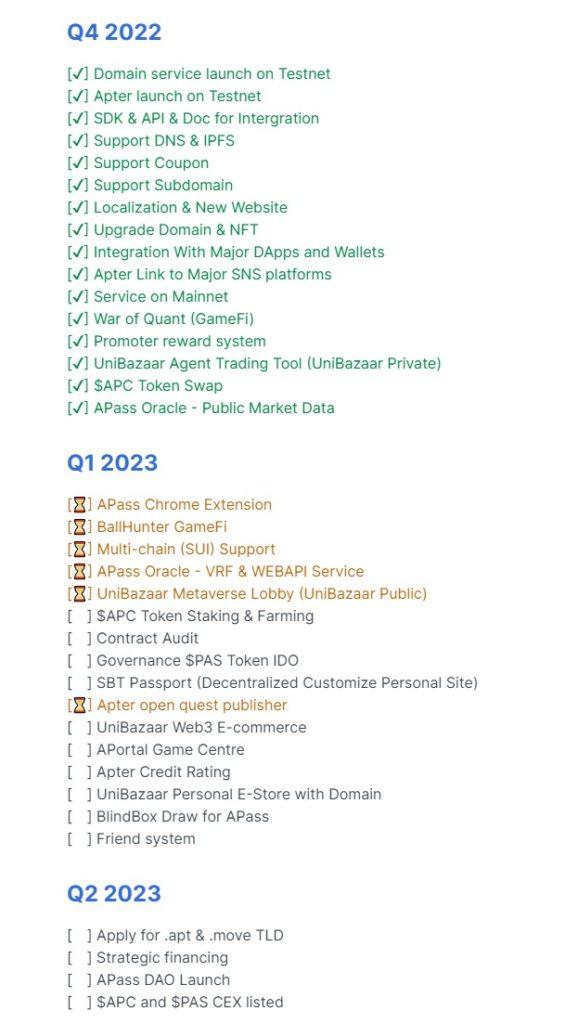 FAQ Of APass Coin
here I Can Find APass Coin Whitepaper?
You Can Find APass Coin Whitepaper By Clicking Here.
Where I Can Buy/Sell Balancer Token?
You Can Buy or Sell Balancer Token On Some Popular Exchange For Example – AnimeSwap.
What is Circulating Supply Of Balancer Token?
Circulating Supply Of Balancer Token Is 60,000.00 APC.