About 2023 MOON Coin
2023 MOON Coin is a deflationary, reflection token deployed on the Binance Smart Chain (BSC). The 2023 MOON contract consists of four key features as static rewards, auto burn, development fee acquisition, and liquidity acquisition. Each 2023 MOON transaction will be taxed at 10% of the transaction amount.
Then a 7% fee will be redistributed to all existing holders through a rebasing mechanism, 1% will be burned by transferring to the dead wallet, another 1% will be transferred to the development wallet, and the remaining 1% will be accumulated internally until sufficient capital is gathered, and the total tokens accumulated will be split with half being converted to BNB and the total being supplied as liquidity.
2023 MOON Coin Point Table
Vision
The vision of the 2023 MOON team is "to build a crypto asset with ever-growing value that
delivers high returns and the best possible safety features to its holders". 54% of the total 2023 MOON tokens allocated for pre-sale and as the commission of the PinkSale. These tokens have distributed among pre-sale contributors soon after the finish of the presale.
Token Distribution
10% of the total 2023 MOON tokens will be allocated for distribution on Airdrop campaigns and reward programs such as meme contests and the mini-game platform. These tokens have been locked at PinkLock with a stage-wise release schedule before the starting of the pre-sale.
Funding for individuals
They uphold values of inclusion, peace, transparency, freedom of organization and speech. Space should be in the hands of the people, not any one nation or private entity. 2023MOON will support funding for individuals to go to space and fund future space research and exploration as it fits into the mission of becoming a governing body for the moon.
It is very important to note that the core team has not pre-mined any tokens for yourselves. They have not given "special terms" to any Venture Capitalists, Influencers, Angel Investors, Rich Friends or Family, or any other person. They are all being treated equally.
Why Choose 2023 MOON?
Each 2023 MOON transactions will be taxed at 10% of the transaction amount and will be used to implement the key features listed below. 7% of the taxed amount will be re-distributed to all existing holders based on the number of tokens held by them. So the holders can earn a passive income just by retaining 2023 MOON tokens in their wallets.
1% of the taxed amount will be transferred to the development wallet. It will be used for future
development of the project as specified in the road map, marketing campaigns, audits, and payment of the developers and team members. This fund will be managed according to the discretion of the core development team.
Where Can You Buy 2023 MOON?
Tokens Can Be Purchased On Most Exchanges. One Choice To Trade Is On PancakeSwap (V2) As It Has The Highest 2023MOON/WBNB. e Trading Volume, $8,947 As Of February 2021. Next is OKEx, With A Trading Volume Of $6,180,82. Other option To Trade Include 2023MOON/WBNB And Huobi Global. Of Course, It Is Important To Note That Investing In Cryptocurrency Comes With A Risk, Just Like Any Other Investment Opportunity.
Market Screenshot

2023 MOON Supported Wallet
Several Browser And Mobile App Based Wallets Support 2023 MOON. Here Is Example Of Wallet Which 2023 MOON – Trust Wallet For Hardware Ledger Nano.
Roadmap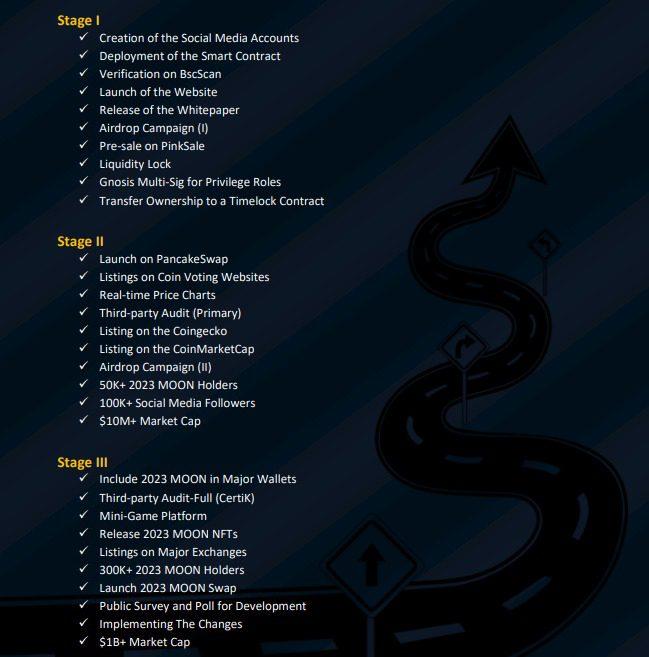 FAQ Of 2023 MOON Coin
Where I Can Find 2023 MOON Whitepaper?
You Can Find 2023 MOON Whitepaper By Clicking Here.
Where I Can Buy/Sell Balancer Token?
You Can Buy or Sell Balancer Token On Some Popular Exchange For Example – PancakeSwap (V2).
What is Circulating Supply Of Balancer Token?
Circulating Supply Of Balancer Token Is 190,000,000,000 2023MOON.